A Calmer You, by Sonal Kalra: I caught the random drops of joy
When two viral videos proved clutter-breakers amid all the bitterness.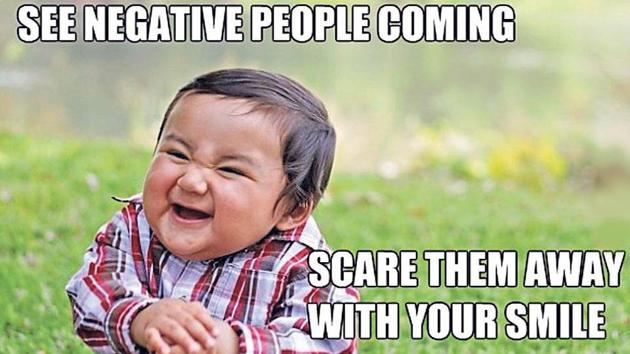 Published on Mar 09, 2019 04:43 PM IST
In the last few days, two of my posts went viral on Twitter, with over 1.2 million and 9 lakh impressions respectively, and still counting. Both comprised videos that I came across randomly on WhatsApp, and the subject of each was totally different from the other.
One video showed passengers and staff at an airport clapping and cheering for our armed forces soldiers, filling our hearts with pride. The other showed a brilliantly talented schoolboy dancing to a Bollywood number at his farewell, paying tribute to his teachers, who in turn, join him in the dance. As I said, the videos were very different, and the only common strand — apart from the fact that they got massively shared on social media — was that they made the viewer smile.
As I write this, I'm scrolling through hundreds of responses that I got on the above-mentioned posts. Some phrases common to a lot of those comments are 'heart-warming', 'brought tears of joy' and 'goosebump-inducing'. What's interesting is the reaction from social media users of diverse demography is pretty much the same. And that's not just from all nooks and corners of India but also from Indians settled across the world. The 'schoolboy dancing for teachers' video, for instance, has thousands of responses from Pakistan also, where, too, apparently the tweet went viral, making people fondly recall their own school days and teachers. Anyway, the larger point here is that in the maze of angry outbursts and aggressive political exchanges that one has got used to seeing (and admittedly even participating in) on social media, a random smile-inducing moment has shown the power to be a clutter- breaker.
And this is why, it is important — a study by an NGO in the US has found that in a survey done last year, over 88% of people across social media confirmed to having confronted or noticed people being cruel and mean towards each other. Does not come as a surprise, does it? Outrage is the name of the game — sometimes justified, sometimes not. Especially in times of the changing political climate in the country, hamaare mann ka mausam bhi bigad gaya hai.
The other day, I was checking my screen-time usage of social media that has been steadily climbing up in the past few months, and I tried to correlate it with my overall level of anxiety or anger. Trust me, I could sense the depth of how stressful some bitter or angry WhatsApp forwards or tweets or Facebook posts had left me. And this was not related to any particular ideology or affiliation that I felt inclined towards. Some posts were PLAIN MEAN. So, from poking fun all these years at those who send motivational good morning messages on WhatsApp groups — you know the ones that come with a neat quote written next to a pretty flower or a fruit basket — I actually started reading some of them. Of course, the cynic in me was itching to roll my eyes at the melodrama of the cheesy posts, but somewhere deep down it also started to provide me a momentary relief from the heaviness of all the serious, angry stuff I was anyway subjecting myself to, over a large part of the day.
Coming back to the viral posts of the soldiers getting applauded and the teachers dancing with the student, for me, their unexpected popularity kinda broke some myths and left me with these learnings for myself. If I'm lucky, you might agree.
1) We may think that social media users are hungry for only hard-hitting posts. But in reality, most people are scrolling through these platforms mindlessly, as a possible distraction or habit, with no real agenda. Every once in a while, we can try sharing positive stuff to see how it works. Bitterness may make us go viral. Happy posts will make us go joyful.
READ |A Calmer You, by Sonal Kalra: I love exams. Bring them on
2) We may think that our love for a certain political ideology is supposed to define our view of our love for the country. Not true. The fact that two opposing sides are so aggressively defending their ideology only proves that they've not given up on the dream to run the country as per their affiliation. The nation is beyond left or right. And so are those who wear a uniform to protect it — all of it — left, right or centre. Therefore, when such people are applauded, the happiness of watching it doesn't remain anyone's exclusive prerogative.
READ |A Calmer You, by Sonal Kalra: No, your parents' house is NOT your house
3) A student-teacher relationship seems to have gone beyond merely discipline and strictness. Times are changing. People are changing. The generation of today is immensely gifted and immensely more expressive than before. It was sheer beauty to see that young boy touch the feet of his teachers, and dragging them for a dance — with the same swag and confidence. It was equally overwhelming to see the teachers respond with child-like, infectious enthusiasm. There's so much hope and optimism in those few precious minutes. Go ahead, watch!
And finally, the moot point of it all. We can keep looking for big things to happen in our quest for happiness in life. Even as random drops of happiness are falling all around us, unexpectedly, but regularly. At times, let's just choose to stand in the rain, and catch them.
Sonal Kalra attempted to dance and make a video of herself so that it could go viral. So far whoever has seen it, is down with viral. Mail her at sonal.kalra@ hindustantimes.com or facebook.com/sonalkalraofficial. Follow on Twitter @sonalkalra. A Calmer You is now available online as compiled volumes in three books
Close Story