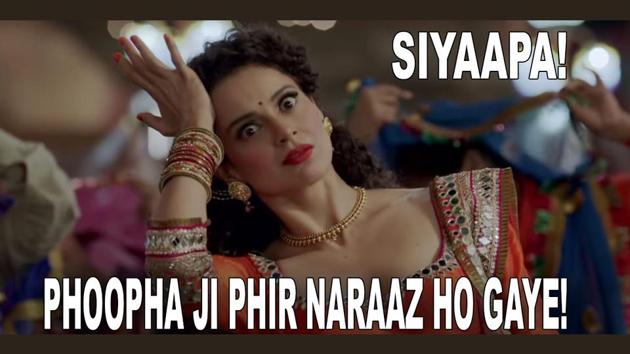 A Calmer You, by Sonal Kalra: Oh, how we love celebrity weddings!
They just don't have the stress and tension of the ordinary nuptials
UPDATED ON DEC 01, 2018 06:14 PM IST
Hello, people! It's raining celebrity weddings and how. Have you had your fill — of elaborate accounts of the lavish food, the haldi-mehndi details, the outfits fit for royalty? And of course, the beautiful photos that'll make you look back at the photo album of your own holy union with your 'Mrs' and cringe at never getting those perfect poses.
Do you want more? Well, there's more coming your way this week, and by the time this year ends, the entire country would heave a collective sigh at having seen more embroidery in this one month than during the entire lifetime of our last eight generations.
Anyway, jokes apart, celebrity weddings are great. They are so dream like, so perfect. Itna perfect that all the usual stresses in the wedding of an aam aadmi (not Kejriwal's) do not even touch them. I thought more about this and figured that #DeepVeer or #Nickyanka may be investing a lot of effort in ditching the paparazzi and keeping their guests from leaking unflattering photos on social media, but they still have it easy. Because in their kind of wedding, they don't have to deal with these tensions…
1. Naraaz Phoophaji: Raise your hand if a wedding in your family saw a rishtedaar get all upset and sulking? Arrey, you just need to raise a hand, not stand up in grief. I know. There is no Indian wedding that does not see some relative (mostly known as damaad) get all agitated about not getting enough respect and attention. Aap kuchh bhi kar lo, they basically come prepared to throw tantrums. This trait actually unites weddings across communities and religions in India with a common thread of mental tension. But this tension doesn't arise in celebrity weddings, you see. Imagine if you are Anushka or Deepika or Nick Jonas' phoophaji? You will be thanking all your gods that you got invited to the wedding among the 40-50 exclusive guests and being bundled to an exotic destination 80% of Indian subcontinent hadn't even heard of. You will, of course, be busy flaunting that invite to your own phoophaji. Where's the scope of throwing tantrums about not being received at the gate?
2. Khaana kam pad gaya: One of the biggest stresses for the host in a normal Indian wedding is 'kuchh kam na pad jaaye,' which basically ends up in someone taking the responsibility of counting the plates vis-à-vis the caterer's estimate of the number of guests. And then, of course, the more benevolent or the more romantic relatives decide to eat from the same dish, while making sure they tell the host, 'Aapki ek plate bacha di!' Cut to the picturesque locales of Lake Como in Italy. Plates count karne ka matlab hi nahi ji, the only thing you can count is your blessings. Change the plate for every course. In fact, eat the plate itself, for all they care. You are royalty for them, and lavishness is the name of the game. Stress factor — nil.
3. Baraat is late: Now this one, my Punjabi brethren, will particularly relate with. Baraat pretending to walk, when most people are matching their pace with the daaru wali gaaadi's speed. And a bunch of those in your family — who are the happiest that your bachelor life is going for a toss — dancing away so wildly in front of the ghodi that she must be wondering who's the naughtier animal among yours and her species. And in all this dancing and moving at the speed of half a metre per hour, bechari dulhan is waiting in the green room of the farmhouse, wondering if the beauty parlour should have indeed called her in for makeup at 4pm. Because the baraat isn't likely to land up before midnight. Cut to the celeb wedding, please. Everything as per plan — no ghodi, no delay. The groom and bride will enter together, in the most fairytale setting. Na ladke waale stressed, na ladki waale. Because unki vaise bhi chalegi nahi. The only one calling the shots is the wedding director. Tension over!
I can go on and on, but then you know what the gist is. Celeb weddings are the best, at least, for the guests. And guess what, kitna shagun daalna hai, uski bhi tension nahi. The celeb couples don't expect gifts. Just for your own satisfaction, you can try giving a lifaafa. An empty one. No one will bother, because the fancy wedding directors in the fancy world don't sit with a notebook to record how much shagun you've given. Damn, our ordinary lives!
Sonal Kalra wants to be born as a celebrity in her next life. And have at least three weddings. At Lake Como, Jodhpur and Bathinda. You might be invited to the Bhathinda one, but don't come with an empty lifaafa.
Mail your thoughts on celeb weddings at sonal.kalra
@hindustantimes.com or on Facebook at facebook.com/sonalkalraofficial. Follow on Twitter @sonalkalra
Close