A tale worth retelling: Story of a selfless Chennai milk-lady
Dec 18, 2015 11:12 PM IST
At a time when self-interest is regarded as a stepping stone to our notions of success, at a time when we teach our children that ambition is good and aspiration a quality to be striven for and at a time when we are strident in our demand for our rights, we need to be reminded that selflessness is also a virtue and that as citizens we have duties too
The photograph is a bit grainy. Wearing a faded purple raincoat, an empty bucket hitched to her waist, the woman has her back to the camera. You can't tell if she's young or old but you can see that she's walking alongside an apartment building. Ahead on the flooded road are a few cars and motorcycles, still submerged. The circular ripple caused by the knee-high water she is wading through suggests a slow, measured movement. As if she's on a mission that requires deliberate, unhurried focus.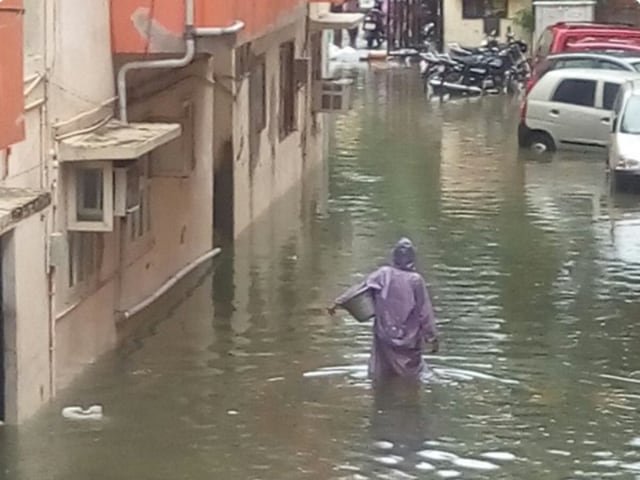 It's no longer raining. And there is no other human being visible in the frame. Yet, the night before the photograph was taken, it had rained incessantly as Chennai faced its heaviest rainfall in over a century. The person who took the picture, Padma Ramani, was visiting a niece at the Srividhya Apartments when she peeped out of her window and saw the milk-delivery woman, as usual, doing her rounds at 6am.
Ramani's nephew, Ramanathan S, who works with the news website The News Minute, knew the delivery woman as someone who had been supplying milk 'for years' and uploaded the photograph to Twitter. He certainly didn't anticipate the reaction.
Buzzfeed India picked it up, so did digital content platform ScoopWhoop. It was the lead picture in a story on the Chennai floods at UK-based The Independent newspaper's website. It was on Huffington Post India. It was there in the language press.
When Ramanathan went to interview the by-now famous 'milk-lady' Radha a few days later, he says, the 60-year-old seemed surprised to see him. She had woken up at 4am as she does every other morning, reached the milk cooperative, Aavin, to pick up the supplies and then had headed over to fulfil her delivery responsibilities. "So many people dependent on me, how could I not go?" she asked. Both Radha's children, it turns out, have good jobs and she does not need to work. But for her the milk cooperative 'is not just a job'. "I made my life out of it. I'll do it as long as my body allows it," she said.
Radha didn't have to get to work. Nobody would have rebuked her for failing to show up on a day when milk was being sold in the black market for Rs 100 a litre. That she did says something about her work ethic and the pact that she has made with her customers.
It says something also about our times that a small act of basic decency should be viewed as something worthy of telling and repeating. After all, there is no great heroism on display; no lives are being saved. Apparently 15 other women from the same cooperative turned up for work that morning. And, yet, these tiny acts seem to have become so scarce that we feel we need to cling to them as an emblem and reminder of our humanity.
Why did the photograph get that sort of reaction, I ask Ramanathan. "I think people want to be inspired in the face of a tragedy. They want to see somebody standing up to it," he says.
In the morning after a disaster, there is hope that human beings will find their better selves. That morning, innumerable ordinary Chennai residents on the ground and on social media did just that as they pitched in, volunteered, sent out relief packets, prepared home-cooked meals, and even rescued stranded animals.
At a time when self-interest is regarded as a stepping stone to our notions of success, at a time when we teach our children that ambition is good and aspiration a quality to be striven for — India ranked a low 106 out of 145 nations in the art of giving finds a recent Gallup poll — and at a time when we are strident in our demand for our rights, we need to be reminded that selflessness is also a virtue and that as citizens we have duties too.
Sometimes it takes an accidental photograph taken early in the morning in the midst of devastation to remind us of our better selves.
"Exciting news! Hindustan Times is now on WhatsApp Channels
Subscribe today by clicking the link and stay updated with the latest news!"
Click here!