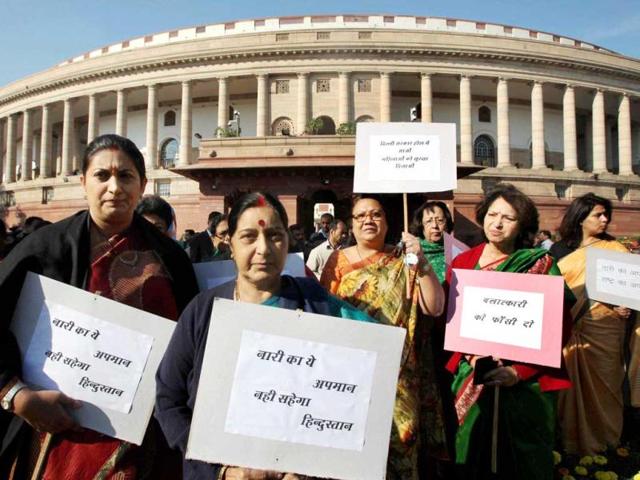 Crises call for leadership
What citizens need to see is a serious, united political class determined to throw its weight behind gender justice, writes Namita Bhandare.
None | By namita.bhandare@gmail.com
UPDATED ON JAN 04, 2013 10:23 PM IST
Forget for a minute the water cannons and tear gas on protesters on the streets of Delhi. Forget for a minute whether hanging or chemical castration is the best way to punish rape. Forget for a minute whether we should name a road or a law or an award after the 23-year-old student who died after being gang-raped and tortured in a moving bus in Delhi.
Ask only this: what now?
On the streets and through online petitions, citizens have forced the government to respond with a series of measures, among them, the setting up of a judicial commission, establishing fast-track courts and the announcement of crisis centres in district hospitals across the country. It is a beginning.
With a 30-day deadline that runs out on January 22, the three-member Justice JS Verma Commission has started work. It is looking at existing laws, identifying loopholes and making recommendations — legal, social, cultural — on how to reduce sexual violence against women.
Yet, beyond the babble of outrage and outrageous statements (dented/painted, 'consensual' rape, adventurous women etc), is an issue that goes beyond a single rape — horrific as it is. You cannot talk about sexual violence unless you also talk about discrimination that begins before birth with sex selective abortions. And nothing can be achieved unless there is a change in mindset. As citizens we cannot expect the government to tell us how to bring up our sons and daughters. But until that sweeping social change takes place, we need legal frameworks and safeguards that act as deterrents to violence as well as punishment for those who think they can get away with all forms of violence against women.
But what is Parliament's commitment? When Parliament reconvenes in the third week of February for the budget session will it be back to walk-outs and boycotts? Will it bury the commission recommendations in committees and sub-committees? Will it continue to drag its feet on bills that have been pending, some for seven years? Will it resort to tokenism and pass unconsidered laws?
Much of women's' legislation in this country has been built, quite literally, on the blood and bodies of women: the gang rape of social worker Bhanwari Devi led to the framing of guidelines on sexual harassment at the workplace (yes, that bill is also pending in Parliament). The rape of a 16-year-old tribal girl, Mathura, inside the compound of a police station led to amendments in the Evidence Act. And does anyone know how many women were burned alive before the Dowry Prohibition Act was toughened with additional sections in the Indian Penal Code?
For all the ferocity of the protests, perhaps the most disappointing reaction has come from young politicians who responded by and large with silence, leaving statements of regret, shame and promises of justice to more seasoned elders.
But politicians should consider this. When the citizens of this country cast their vote in 2014, 110 million people between the ages 18 and 23, comprising 14% of the vote share, will be voting for the first time. If the street protests of the last week of 2012 teaches us anything, it is that these young people will be looking closely at issues of governance and justice.
Crises call for leadership. If the political class, and that includes the Opposition, is to regain any semblance of moral authority it urgently needs to adopt confidence-building measures that go beyond populist demands for death sentences and chemical castration. These might include calling for a session in advance of the budget session so that it can thoroughly discuss the recommendations of the Verma Commission. Some of the bills before it, including the Criminal (Amendment) Bill have raised concerns among women's groups. These need to be debated threadbare. What citizens need to see is a serious, united House determined to throw its weight behind gender justice.
It must do this if for no other reason, then for its own credibility.
Namita Bhandare is a Delhi-based writer
Twitter: @namitabhandare
The views expressed by the author are personal
Close