Delhi is asking: can AAP bounce back?
The dharna episode and his resignation were not received well by a section of his voters. People wanted him to run the government for five years and serve. This was seen by some as running away from responsibility. Kejriwal was oblivious of these things as he nursed national ambitions.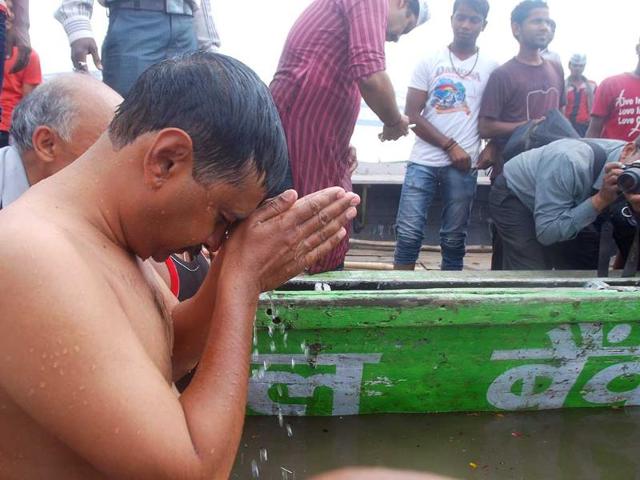 Updated on May 29, 2014 01:53 PM IST
Hindustan Times |
, New Delhi
By a columnist
The Aam Aadmi Party (AAP) had stunned political pundits by its sizzling performance in the Delhi state assembly elections late last year. It emerged as the second largest party with Arvind Kejriwal defeating the three-time Delhi chief minister Sheila Dikshit. BJP+ got 32 seats (+9), AAP 28 (+28), Congress 8 (-35) and others 2 (-2). Most pollsters gave the AAP less than 10 seats except Today's Chanakya which was bang on.
HT Explains: How Arvind Kejriwal got it all wrong
The elections were very closely and keenly contested.
· 27/70 seats (40% of total seats) were decided on a victory margin of <5%. Out of these close seats, 13 were won by BJP+, 10 by AAP, 2 by Congress and 2 by others.
· On 23/70 seats the victory margin was less than 5,000 votes. Out of these close seats, 11 each were won by BJP+ and AAP and 1 by others.
· 5 seats were won by a mere <1,000 vote difference; AAP won 4 of these and BJP+ 1.

The results threw a hung assembly. The BJP declined to form the government as it did not have the numbers. In a way, it was a setback for the BJP and Narendra Modi as the saffron party won three state assembly elections in Rajasthan, Chhattisgarh and Madhya Pradesh handsomely, except for Delhi. This failure to form the government was despite the strong anti-incumbency wave against the Congress at the Centre as well in Delhi. Plus BJP's PM candidate had campaigned extensively in Delhi.

AAP's novelty factor, its leader Arvind Kejriwal's honest image, innovative door-to-door campaigning, people's participation in selection of candidates, drafting of manifestos and transparent funding caught the imagination of the people. The AAP was able to convince the Delhi voter that Congress and BJP were two sides of the same coin. Support from traditional Congress vote bank of the poor, downtrodden and minorities propelled the AAP to become the second party. Congress lost 35 seats and majority of them were lapped up by the AAP.

With BJP's refusal to form the government and its drubbing in other states, Congress leadership was hell-bent on denying Delhi to the BJP. So, it went ahead and gave a letter of unconditional support to AAP to the Lieutenant Governor. This was done so that the score didn't become 4-0 but 3-1, saving the face for Congress. AAP decided to ask the people and carried a referendum on whether it should form government with the support of Congress which it had opposed tooth and nail in the elections. After an SMS/email campaign, AAP declared that majority of the people want it to form a government and aam aadmi Kejriwal became the CM of Delhi. He fulfilled his lower power tariffs and free water promise (though with some terms and conditions) as soon as the government assumed its duties.

But, soon the government became embroiled in controversies - Somnath Bharti episode to name one - and Kejriwal used his favourite tactics of dharna to get some police officers removed. After 49 days, Kejriwal resigned from the post of Delhi CM when he failed to get his pet lokpal bill passed in the assembly. He accused the BJP and the Congress of conspiring and conniving to defeat the bill under pressure from Mukesh Ambani against whom he filed an FIR.

The dharna episode and his resignation were not received well by a section of his voters. People wanted him to run the government for five years and serve. This was seen by some as running away from responsibility. Kejriwal was oblivious of these things as he nursed national ambitions.

The AAP fielded 400+ candidates across India and Kejriwal took on Modi thinking he would be lucky the second time. This decision pinned him to Varanasi and he was not able to campaign extensively across India. The AAP fared badly in elections winning just four seats, that too in Punjab, where Kejriwal didn't even go to canvass for votes. In Delhi, the AAP lost all seven seats by big margins, though its vote share increased. A lot of people who voted for AAP in state elections voted for Modi-led BJP in the national elections.
An analysis of the seven Lok Sabha seats and the assembly constituencies, which fall under it, show that the AAP lost its support base in Chandni Chowk, East and North Delhi. In these three constituencies, the AAP had won more seats than the BJP in the assembly elections but BJP won all these Lok Sabha seats comfortably.
After their loss in the Lok Sabha elections, AAP leaders have started issuing statements that perhaps they should not have resigned from Delhi. Some leaders also started back channel talks with Congress and expressed a desire to form the government again. After a snub from Congress, Kejriwal issued a statement that they won't form a government and are ready for polls.
Kejriwal has since been sent to judicial custody till June 6 in a defamation case filed by BJP leader Nitin Gadkari. Kejriwal refused to furnish a bail bond of Rs. 10,000 and has instead preferred to go to jail to gain sympathy - some may say. In effect, he has already started his election campaign. Shazia Ilmi and Captain Gopinath have resigned from the AAP creating fissures in the party. This is not expected to have much impact on AAP fortunes in Delhi.
This brings us to the moot question; can AAP still make a comeback in Delhi in the state elections? It looks difficult at this stage. However, impossible is possible in politics.
The BJP is on a roller coaster. Modi is seen as the pro-development man. A feel good factor with strong pro-people decisions in initial months will see the BJP through even if it just manages to retain its vote share of Lok Sabha.
The BJP will play on the flip-flop of Kejriwal and his team, their inexperience and their shying away from responsibility. This will be compared with the 14 years of good governance in Gujarat. BJP will preach that a same party-led government at the Centre and in the state will lead to better relations and prosperity of Delhi. BJP might prop up Kiran Bedi against Kejriwal to negate his clean, honest and anti-corruption crusader image. Plus it will focus on the four seats which it lost by more than 1,000 votes to the AAP.
Though there could be surprises for the BJP. State elections are fought on different issues which are more local. It could suffer from over confidence. There are leadership issues as well with Harsh Vardhan elected to Lok Sabha. Kiran Bedi is an outsider and the party cadre may not support her - AAP may pray for that.
The BJP has won all the seven Lok Sabha seats, however, the silver lining for the AAP is that it has increased its vote share too. With Congress decimated in the Lok Sabha polls, its vote share of 15% will plunge further and will be up for grabs. Delhi is the karmabhoomi of Kejriwal and many other AAP leaders. They have strong local connect and its network of volunteers and door-to-door campaigning is difficult to replicate. Some unpopular decisions of the NDA government under Modi (if any) can provide a chance to the AAP to come back.
Whatever said and done, people did experience a less corrupt government in the 49 days that the AAP was in power. Some voters have a soft corner for the AAP and may be lured and give them a chance. They see themselves in Kejriwal. For a lot of people, he still is the aam aadmi who took on the mighty system and the political class and defeated them. Voters of the AAP who shifted to the BJP in Lok Sabha polls may come home to AAP in the state elections.
Only time will tell what unfolds in Delhi, though currently it is advantage BJP.
However, if the AAP is able to wean away the majority of Lok Sabha voters from Congress then their vote share would be equal to that of BJP's. This will make the contest pretty interesting. Large section of voters who voted for the Congress--15% and mostly Muslims and Christians--could switch sides to AAP. The AAP is close to Congress ideologically than the BJP and this would also facilitate the shift. People who voted for Congress in Lok Sabha elections as they felt it was better positioned to defeat the BJP at the national level. At the state level, the AAP is definitely better positioned to defeat BJP.
(i) Hindus consist of 82%, Sikhs 4%, Muslims 12%, Christians 1% & Others 1% of population of Delhi. (2001 Census).
(ii)BJP+ mentioned in the article means BJP + Shrimoni Akali Dal.
(The views expressed are personal.)
Close Story