Donald Trump is acting more like a CEO than a President. And that is a problem
May 26, 2017 01:24 PM IST
To be fair, Donald Trump's predecessors didn't exactly take a righteous message to the House of Saud, but Trump has inflated its importance with his worship of the bottomline.
Let's face it: We are turning into, literally, a species of killjoys. The prime examples of this evolutionary trait are those that comprise the Islamic State or Al Qaeda and their adherents outside the West, or even India for that matter. Their latest outrage, in a repetitively numbing pattern, was obviously in Manchester, targeting children at a concert. In the IS joyless vision of the world, you can't have that. That's why their foot soldiers have attacked the Friday the 13th gig in Bataclan in Paris or a nightclub in Orlando. Nowadays it appears that if you want to stop to smell the roses, it could be they are part of a bouquet left at a makeshift memorial after another jihadi strike.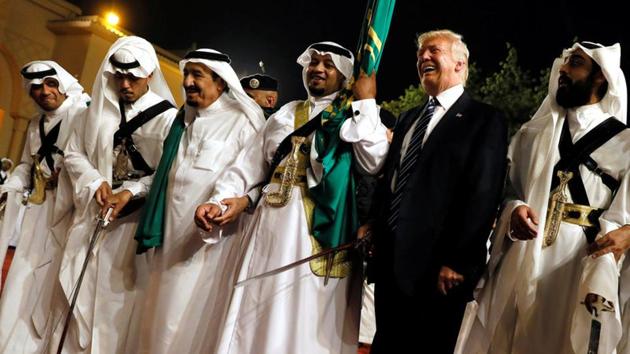 That brings us to the American President's maiden grand tour; a leap of faith. Donald Trump has often blustered about obliterating the Islamic State. That he would place Saudi Arabia at the centre of that objective points to a kink that may well jinx his Administration (beyond the drip, drip, drip of leaks that's this White House's version of the Chinese water torture). In the worldview where MAGA (make America great again) is magic, Trump is given to operating less like a political executive and more the CEO; which brings forth its own set of problems. Main among them is an approach where crafting the deal garners more interest than any principle.
So, $110 billion can buy Riyadh a free pass on attitudes that have been adopted with great brutality by the terrorist hordes: Like the place of women in society (locked away like family possessions), gays (stoned to death), free speech bloggers (flogged), tolerance for other faiths (non-existent). The new facet of this unholy alliance is branding Iran the biggest terrorist threat to the world. The bereaved in Manchester, Nice, Brussels or Boston aren't exactly wailing over suicide bombers inspired by Tehran. To be fair, Trump's predecessors didn't exactly take a righteous message to the House of Saud, but Trump has inflated its importance with his worship of the bottomline.
After curtsying before the Saudi King, Trump royally namechecked him as a "wise man" in a churlish speech at the headquarters of NATO in Brussels. The courtesy of before gave way to hectoring leaders of the Alliance nations: "NATO members must finally contribute their fair share and meet their financial obligations," he said, to side-eyed glances and grimaces, not necessarily caused by the bright sun. Once again the ledger led the way, as he lectured about 23 of 28 NATO nations not meeting their financial obligations. This is foreign policy conducted as commerce, putting a new spin on that phrase, checkbook diplomacy.
This is a presidency where snark (and snarls) take the place of good humour, but Trump may not find much joy in this path dictated more by balance sheets than a code of ethics. The last laugh, unfortunately, may just go to the humourless hordes.
Anirudh Bhattacharyya is a Toronto-based commentator on American affairs
The views expressed are personal
Exciting news! Mint is now on WhatsApp Channels
Subscribe today by clicking the link and stay updated with the latest financial insights!
Click here!