For Clean India, do not sweep your dirt under the carpet
Oct 24, 2014 12:11 PM IST
In many countries, people who litter roads are liable to be taken to court and fined. Will it take generations before such laws become feasible in India?
Anyone taking on the task of cleaning up India — not in the metaphorical sense of getting rid of corruption but in the literal sense of streets without garbage and canals and rivers as clear as the Blue Danube — is undertaking the labours of Hercules. Perhaps the more appropriate comparison would be to Sisyphus who was doomed for all eternity to roll a boulder up a mountain only to have it roll down again. (I know, I know, Dina Nathji, Hercules' labours were first undertaken by a character in some Indian epic and Sisyphus wasn't gifted the first eternally rolling stone!)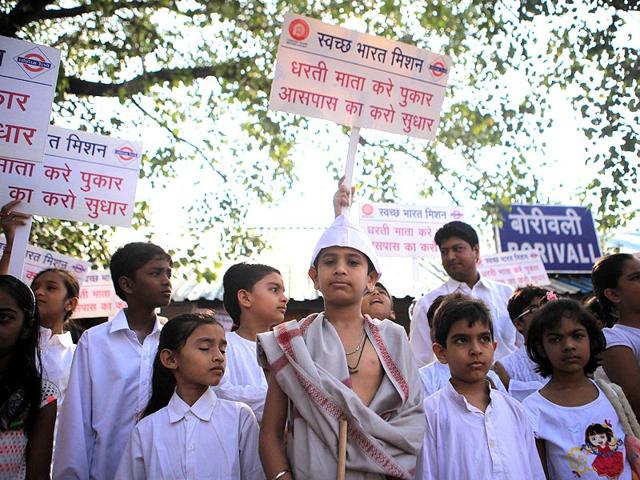 That Prime Minister Narendra Modi wants to tackle all filth is commendable. It has been an ideological wish before, as cleanliness was, according to the Mahatma, akin to Godliness, but the wish had no transformative mechanism to make it come true.
Now the 'prime sevak' launches a campaign to clean up India. The campaign as announced is recognisably Indian as it contains a mixture of practical plans with the money and mechanism to implement them together with dramatic gestures of ministers wielding brooms and school-pupils swearing oaths to devote 100 hours a year to the task.
In my bathroom in London I have a framed poster which I picked up on the pavements of Mumbai. It is a primer set out like a comic-book page in praise of ' good habits' and depicts a young male character waking up early, saying his prayers, 'visiting the latrine' and having a balti-bath — this panel being labelled "Clean Liness".
One can't fault the intentions of the poster but point to the fact that two thirds of rural houses in India don't have the depicted squatting 'latrine' and that in an urban slum such as Dharavi in Mumbai there is on average only one toilet for over 200 users.
Now the Swachh Bharat Abhiyan promises to build 11.11 crore toilets in the next five years. If the target can be met and the allocated funds resist being swallowed by India's scam-pollution, it will contribute a great deal to 'good habits' and 'clean liness'.
Acknowledging that India needs these is in itself an advance in public mentality. In the early 1960s VS Naipaul wrote AnAreaof Darkness, his first book about India. It said that Indians defecate in public places. This caused a storm of nationalistic denial and criticism. I was in college in Pune at the time and couldn't understand the indignation. Didn't I each day on the way to college by bicycle pass signs on walls saying 'COMMIT NO NUISANCE' above fresh and malodorous evidence of committed nuisance? The writer was telling us what we collectively refused to see. The prime minister's 11.11 crore plan is an open and welcome acknowledgement.
There have been free-enterprise and philanthropic schemes to address this toilet problem before. I am thinking of the initiative of the Sulabh group in the cities. When these began to pop up I came across a little celebratory rhyme which failed to acknowledge its rhythmic debt to John Masefield: "I must go down to the Sulabh again To the Shulab Shauchalay — A rupee a pee Two for a poo Everything short of a lay" If the Modi plan had come along a few years earlier the poster in my bathroom would have, in the picture next to the one urging 'latrine-going', shown our hero saluting the Tricolour and taking his 100-hours oath which includes getting a hundred others to do the same — a sort of boy-scout Ponzi deal or environmental pyramid-selling. Why does experience with public vows and New Years' resolutions make me somehow doubt if it will work?
If it does the 100 hours will possibly be devoted to sweeping pavements or moving dumped garbage, one of the symbolic plagues of the nation poised to give rise to real ones. If the given figure of 1,27,486 metric tonnes of waste generated in the country per day is true, it will take more than oaths from even millions of school children to clear it up. Not that the authors of the good-pupil oath expect it to do much more than raise awareness and a feeling of guilt among school children.
When I was one of those in Pune my awareness didn't need raising. Litter and garbage were everywhere. I was aware of houses kept spotless by sweeping and dumping one's refuse in the public space. Personal perhaps, but no such thing as social cleanliness. The municipal corporation had a fleet of stinking grey trucks carrying garbage away. They had the letters PCB painted on them and schoolboys with sharp wits and poor spelling would say they stood for Poona Cent Bottle.
In England over the last 30 years attitudes to waste have, through legal initiative, changed. In very many cities householders who don't separate their garbage into recyclable waste and organic garden and food waste are liable to be taken to court and fined. So also people who discard fast-food or cigarette packets on the pavements.
(Farrukh Dhondy is an author, screenplay writer and columnist based in London. The views expressed by the author are personal)