Hey Ram! We need better netas
I truly run out of words - except to appeal to Lords Rama and Krishna to give us better netas with more intelligent repartee than we have had in years.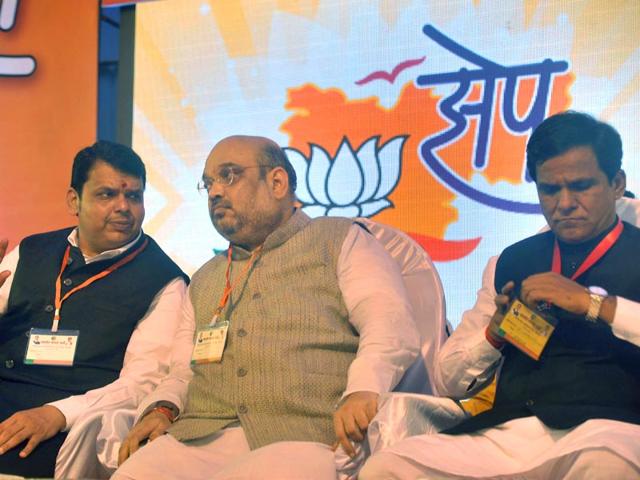 Updated on May 26, 2015 10:03 PM IST
I think Maharashtra's young chief minister, Devendra Fadnavis, got it a tad bit wrong. If at all he had to resort to Indian mythology, he may have erred by equating BJP president Amit Shah with Lord Rama. I have visceral reasons for opposing that comparison but let's just assume he is right. So if Shah is Lord Rama, then who is Narendra Modi? Laxman? Oh no! It must surely be the other way round - Shah walking closely behind Modi, implementing his policies without question, much as Laxman did Rama's.
Fadnavis is correct, though, in equating the state BJP with Hanuman who did not know his strengths until Lord Rama made him aware of them. But I think Fadnavis got rather carried away by his isolation in his own party. None of his ministers care for him as their boss, thinking of him as too young and inexperienced, and the single reason that Fadnavis is chief minister is because Shah got along with him best. Fadnavis is essentially a diplomat and he handled the delicate and fractious situation during his party's break up with the Shiv Sena with such smoothness that the Modi-Shah duo was left with no choice but to anoint him CM.
But, clearly, six months down the line the hostility of his own men is getting to him and Fadnavis thought he would seal his relationship with Shah by some misplaced flattery. That has earned him a lot of social media ridicule, for Shah certainly is no 'Maryada Purushottam'. However, those on social media might be too young to remember there was similar outrage when VP Singh, as UP chief minister, under similar pressure from state Congressmen, equated Rajiv Gandhi with Lord Krishna, telling then Prime Minister Indira Gandhi that Rajiv was the only one who could take the Congress from strength to strength (as they believe of Shah vis-à-vis the BJP today).
We know how that story ended - Singh dropped all comparisons to Lord Krishna ending up as Rajiv's bitterest enemy no sooner than he sensed a weakening of the then PM and soon manipulated himself into that high office.
I am not saying Fadnavis will do the same - he is an essentially decent man trying to do a difficult job under extreme circumstances. But I wonder why some of the best, most intelligent and capable leaders in the BJP have a tendency to put their foot in their mouth, as even some of the stupidest Congressmen never did.
I would have thought defence minister Manohar Parrikar was the brightest star in the Modi Cabinet - he is an IIT graduate and not known to suffer fools gladly. In my part of the country, we have always known he was the RSS' second choice for PM after Nitin Gadkari, until Modi upset their calculations. Using reformed terrorists to kill terrorists has always been government policy, at least in J&K. But, as defence minister, was Parrikar at liberty to give that away? Now Pakistan is free to blame India for every terrorist attack by its own Taliban - if they do not already blame Indian agencies for much of the violence on their home soil.
There have been other BJP ministers who have drawn flak for their sometimes unsavoury ('Ramzade-Haramzade' and 'beef eaters can go to Pakistan') and sometimes outright ridiculous ('collecting urine from multiplexes to solve drought problems in Maharashtra') comments that beat even ex-NCP minister Ajit Pawar's attempt to urinate in dams for the same purpose or Rajiv Gandhi's 'naani yaad dila doonga' comment of yore.
I truly run out of words - except to appeal to Lords Rama and Krishna to give us better netas with more intelligent repartee than we have had in years.
Close Story
Personalise your news feed. Follow trending topics