Making Delhi age-friendly will secure our own future
Jun 20, 2016 02:03 PM IST
Busy planning for the future, urban centres often forget the elderly. But bad city infrastructure affects the aged way more than the young who have the agility and the resourcefulness to find their way around.
In this time of smart cities, Delhi is also aspiring to stride into the future. Modes of transport are becoming faster, neighbourhoods getting free Wi-Fi and public services going online. Already one of the world's biggest urban sprawls, the boundaries of the national capital region are becoming limitless.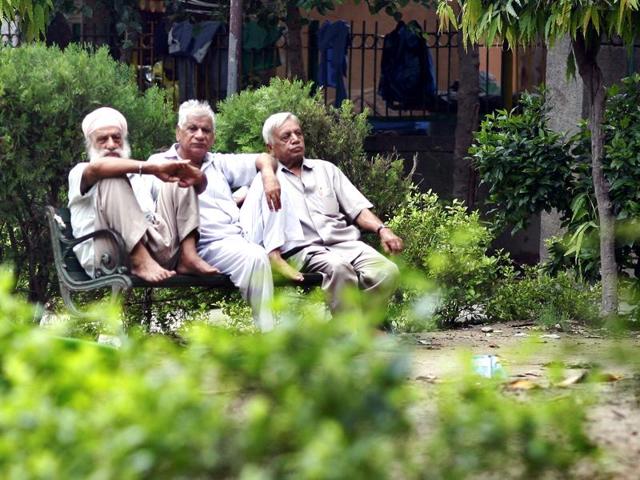 All these are great news for the young and the mobile. But where do the elderly fit in?
Old age is the most unexpected thing that happens to a person, said Leon Trotsky. Even the best retirement plans fall short when physical infirmity slows one down. The less unfortunate find failing health, economic insecurity, social isolation and, at times, even abuse in store. Ageing in place — the ability to live in one's own home and community regardless of agility and income — is probably the least one can ask for.
It's not a big ask. All that the elderly need is a neighbourhood where it is safe to cross the street and walk to the bank or a post-office; from where one can safely take a bus or the Metro to travel longer distances when one can't drive anymore. A neighbourhood with a local dispensary, a hospital close by and a grocery store that delivers supplies home; a community hall and parks for daily social interactions; a citizens' council that listens to their concerns; and volunteers or social workers for counselling and handling emergencies.
Unfortunately, not many cities provide these basics. Busy planning for the future, urban centres often forget the elderly. But bad city infrastructure affects the aged way more than the young who have the agility and the resourcefulness to find their way around.
A 33-city survey by the World Health Organisation (WHO) had found mobility and accessibility to be the biggest issues among the senior citizens in Delhi. The city provided for concessional travel but the application process was considered cumbersome. Older people had difficulties when bus drivers would not stop close enough to the kerb for them to get on and off the bus safely. Autorickshaws overcharged and signages for Metro stations were inadequate.
Safe walking space has been another big concern. The Centre for Science and Environment in Delhi found that footpaths were available in only 55% of the total road length that it surveyed. Only 10-15% of the total road stretch had footpaths built according to the norms on height and width. None of the stretches had a continuous footpath.
In the WHO survey, the elderly in Delhi asked for age-friendly features incorporated in building bylaws. They said common areas in the buildings were often neglected. Staircases were dirty and dark. Public toilets were few. Most of them did not have arrangements for the disabled. A caregiver was quoted saying recreation for most of the elderly would be talking to their friends or relatives on the phone.
All it takes is a little sensitivity. For example, New York City is slowing down for its senior citizens. The city has added four seconds to the time pedestrians are given to cross some busy intersections. It has also constructed pedestrian safety islands, widened kerbs and medians, narrowed roadways, and installed new stop controls and signals to accommodate the pace of the elderly. The local shops and restaurants give access to their toilets to older people, as well as providing chairs to rest.
In Manchester, the first city in the UK to be recognised as age-friendly by the WHO, senior citizens were asked to research what makes an age-friendly city. They found that for most people, it was human contact, rather than high-tech gizmos, that were important – such as door-to-door community visits for people unable to use public transport, The Guardian reported this April.
Read more: Delhi's senior citizens crave for family, feel neglected
Youth is all about future and that promising path invariably leads to old age. As compared to our national average of 8%, Delhi's percentage of aged — above 60 years — population is just 5.9%. For a youth-dominated city, Delhi has no excuse for not doing all it can to make its social and physical infrastructure more age-friendly. With our eyes set on everything futuristic, how much far sight will it take us to secure our own future?