Opinion | Women in public life are fair game
Personal attacks targeting women candidates diminish women's opportunities in participating fully in public life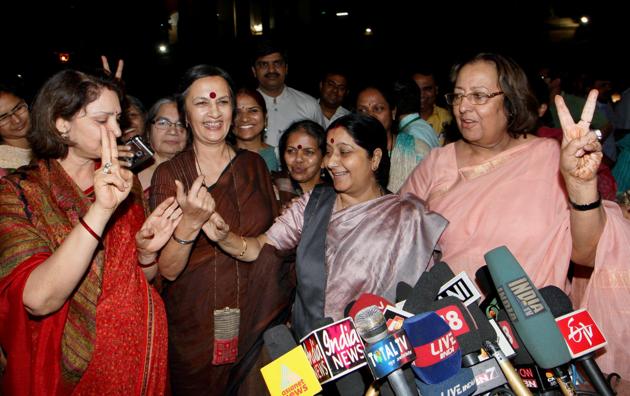 Updated on May 17, 2019 06:29 PM IST
Political pundits have been debating on whether 2019 is the most ugly, personal, below-the-belt election campaign. Comments, including by the Bharatiya Janata Party's (BJP's) Pragya Thakur who called Mahatma Gandhi's assassin a deshbhakt, have plumbed new depths. Her belated, so-called apology notwithstanding, we now at least know that certain women can be as foul-mouthed as some men.
What isn't new in 2019 are the personal attacks on women candidates.
From the time Ram Manohar Lohia called Indira Gandhi a goongi gudiya, women in public life have been fair game. This election, targets have included Aam Aadmi Party candidate, Atishi Marlena, whose accomplishments as a St Stephen's College topper and Rhodes scholar did not arm her with immunity from a vicious pamphlet attack. The BJP's Gautam Gambhir denied that he was behind it, but stopped short of an outright condemnation of it.
The Samajwadi Party's Azam Khan continues an old attack on the BJP's Jaya Prada, this time commenting on her underwear. Elsewhere, a BJP MLA talks of Mayawati's "daily facials" and wonders if she dyes her hair. Congress minister in the Madhya Pradesh government, Sajjan Verma, says BJP's Hema Malini "keeps performing dance across the country" to get votes.
These are not just ugly words. This is gender-based verbal violence that "hinders the participation of half of the world's population, thus undermining the democratic exercise and good governance and as such creates a democratic deficit," finds a worldwide study by the Inter-Parliamentary Union.
The effect of these personal attacks is not merely to defeat a political opponent, but to diminish the opportunities of independent, capable women and deter them from entering public life.
No wonder women politicians often find it safer to make their debut under the protection of powerful patriarchs. Dynastic politics helps men too. But when women come as bahus and betis, it is that much more difficult for rivals to speculate about their personal lives.
Of the 8,048 candidates contesting this election, only 711, or 8.8%, are women, finds Ashoka University professor, Gilles Verniers. At both the BJP and Congress, nearly half of these women come from political families, analyses Sofia Ammassari, a research associate at Trivedi Centre for Political Data. Even at the Trinamool Congress and Biju Janata Dal, parties that have earmarked 41% and 33% tickets for women, as many as a third and a fifth of the women candidates have the backing of political families, finds Ammassari.
Personal attacks on women candidates continue for several reasons. They continue because there is no consequence or cost to this misogyny. What action was ever taken against the Congress's Sanjay Nirupam for attacking Smriti Irani on live TV? They continue because this misogyny very often comes from the top; Narendra Modi calling Sunanda Tharoor, the late wife of Shashi Tharoor, a " ₹50 crore girlfriend" in 2012, for instance, tells the rank and file about the sort of language that is acceptable at election time.
But mainly, they continue because we, as voters, don't demand better. We don't vote out those who lead these attacks. And in this way, we aid and abet them.
Namita Bhandare writes on social issues
The views expressed are personal
Close Story