Shiv Sena's leaders, members should worry about attack on Kulkarni
Updated on Oct 22, 2015 09:40 PM IST
The people who ought to be worried about the Shiv Sena's attack on Sudheendra Kulkarni are its leaders and members, writes Farrukh Dhondy.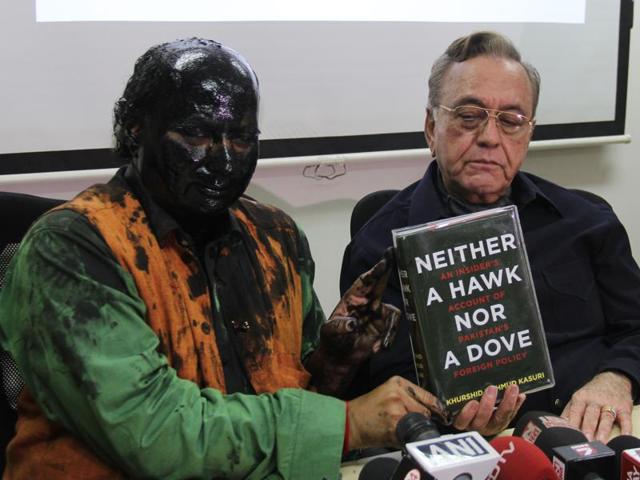 Having your face blackened with ink is not as inconvenient as having a sentence of death hanging over your head for holding an opinion, writing a novel or sponsoring a debate. As Lady Macbeth might have said, "a little water clears us of the deed!"
If, of course, indelible ink was used in the attempt to mark or disfigure the victim, the sort used on thumbs at Indian elections, then water will probably not do the trick. It would take several washings with hard-core fabric soap.
I read reports in the British press that Sudheendra Kulkarni, the writer, secularist, ex-adviser to Atalji and Advaniji, has had ink (some reports called it black paint) thrown in his face by Shiv Sainiks who objected to his sponsorship of a Pakistani politician's book. The reports said he had to be treated in hospital to remove the marks and ameliorate the effects it may have on his skin.
The other report in the British press concerns the cancellation of a concert by Pakistani singer Ghulam Ali after Shiv Sena protests and threats about holding it in Mumbai. Again, there can be no dispute that ink attacks and cancelled concerts are condemnable but lesser sanctions than the murder of thinkers who express opinions that one doesn't agree with.
When Ayatollah Khomeini passed his fatwa, a call to murder disguised as 'an opinion', on Salman Rushdie, VS Naipaul characteristically quipped that it was "an extreme form of literary criticism". I believe that Salman courageously and with good humour took the remark as it was intended — a witticism. At the time it was remarked that Ayatollah Khomeini couldn't read the English version and that the book hadn't then been translated into Farsi. He must have relied for his condemnation on interpretations. Judging from the subsequent interpretations of the Quran and of concepts such as jihad by extremists, these representations of The Satanic Verses may not have been entirely reliable. But then Khomeini was not by all accounts a seeker after literary truth.
The ink attack on Mr Kulkarni had, I presume, nothing to do with the quality of Khurshid Mahmud Kasuri's book Neither a Hawk, Nor a Dove: An Insider Account of Pakistan's Foreign Policy. It is unlikely that the Shiv Sainik's attack was a form of historical objection, factual contention or a comment on Mr Kasuri's literary style. Their leaders claim that it was a protest against Pakistan's sponsorship of terror and that it was a 'non-violent' form of protest. I doubt if Mr Kulkarni will agree.
It's worth pointing out that this is the third time an associate or leading light of the BJP has met with Hindutva or Indo-nationalist objection to an association with Pakistan. Lal Krishna Advani ran into deep trouble within his party when on a visit to Pakistan he said that Muhammad Ali Jinnah was probably misunderstood. Then poor Jaswant Singh was pilloried and expelled for writing about the Qaid-e-Azam, a dogmatic barrister who won a court case and got lumbered with a country whose ideology he couldn't support.
Why Mr Kulkarni's sponsorship of the former foreign minister's memoir should be seen in any way as supporting Pakistan, its policies or even its silence on terrorism is deeply puzzling. Surely the best thing to do about the historical rift in the subcontinent is to try to heal it and one of the avenues towards this destination is a historical exchange which can and should lead to the most vociferous, even inconclusive, debate.
The Shiv Sena must be aware that ink attacks in the interests of Maharashtrian nationalism are not doing that nationalism any good. They must realise that attacks on books and musical recitals are seen all over the world as manifestations of the sort of intolerance that the Isis displays for anyone not of their narrow religious persuasion. I am not equating the throwing of ink to the beheadings and crucifixions that the Isis carries out, but the Shiv Sena should realise that as a party of government, acting within the law is not only a good but a necessary idea.
The report of the attack on Mr Kulkarni was paralleled in one UK newspaper with a report on the call for a change in the law by a British female victim of an acid attack.
The 23-year-old victim had sulphuric acid thrown in her face and lost one ear and was disfigured for life despite having undergone copious plastic surgery. No, she didn't write a book or express a controversial opinion. She was attacked by associates of a former irate boyfriend now serving a jail sentence of 13 years.
Will those responsible for the assault on Mr Kulkarni be brought to trial? The British newspapers, after reporting the attack, will lose interest and not follow it up. The international public is probably indifferent to the internal politics of the Maharashtrian coalition and to whether an ink-attack merits a jail sentence and compensation for Mr Kulkarni. The people who ought to care are the leaders and members of the Shiv Sena itself if it doesn't want the reputation of the Third Reich outfit with those initials.
(Farrukh Dhondy is an author, screenplay writer and columnist based in London. The views expressed are personal)
Read More:
'Pak agent Kulkarni taught lesson by passionate Mumbaikars': Sena
Pak actors Fawad, Mahira Khan won't be allowed in Maharashtra: Sena