There are a few similarities between Catalonian and Indian independence movements
Apr 11, 2019 02:40 PM IST
The lesson Catalonia can take from India's freedom struggle isn't just one from Gandhi but from what happened afterwards. Partition showed how easy it is to turn neighbours into enemies
As I sit here writing from the city of Barcelona in Spain, helicopters are buzzing in the sky. Every night around 10 pm thousands of people in this city, and in neighbouring cities, bang pots and pans outside their windows to register their anger at the government. The streets are lined up with police vans.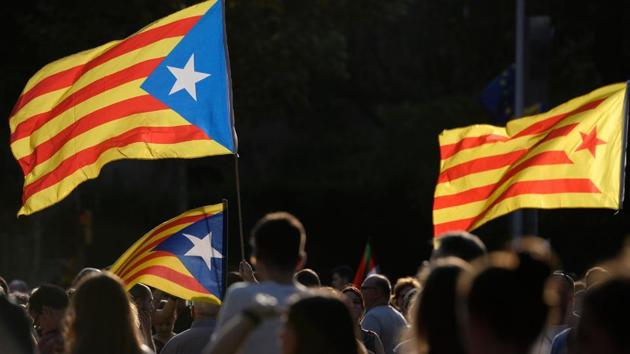 Some people have compared this situation to me to the Indian freedom movement against the British Raj. No, I'm not joking about this. I sent them a link to the Wikipedia page for the Bengal famine and asked if two million people had been deliberately starved here too. They changed the subject.
But actually there are some similarities. The political leaders here have learnt from Mahatma Gandhi's tactics quite well.
Let me briefly explain what is going on. Barcelona is the capital of the state of Catalonia, the richest region in Spain. A significant proportion of Catalans have always wanted their state to be an independent country, claiming their distinct culture, language and history, along with a list of grievances against the Centre, justified separation.
But two big problems stood in their way. Independent courts had ruled the move for separation was illegal as the constitution forbade it. The law needs to be changed first. Second, support for independence wasn't that high. A poll of public opinion a few weeks ago found it at around 40%. Half the people here wanted to remain a part of Spain.
The movement for separation (or independence, depending on where you sit) hit upon a cunning plan. To provoke the national government they called for a vote to settle the issue. The central government, led by an incompetent prime minister, fell straight into the trap.
The separatists adopted a Gandhian approach: There would be no violence of any kind. They wanted to do this peacefully, if not legally. The PM, in a bid not to look weak and ineffective as he did most of the time, sent in heavy-handed police to stop the vote from taking place. Disaster ensued.
On the day of the vote, Sunday October 1, videos and pictures of grandmothers being brutally beaten by national police were shared all over Facebook, Twitter and Whatsapp. Anyone could see police officers spraying gas into the faces of people standing peacefully at polling stations.
The backlash to police brutality was swift. On Tuesday, hundreds of thousands of people across the state gathered to protest. One popular banner read: "I'm not pro-independence but I cannot stay at home while they hit my people." The separatist movement had checkmated the prime minister.
Instead of talking about the legality of the vote, the debate is about police brutality. International opinion is also largely on the Catalan side. Who isn't moved by the sight of grandmothers being beaten by the police?
A showdown is imminent and Spain is facing its biggest political crisis in decades. The Catalonian leaders are in a hurry to declare independence before people start asking how it would all work.
They have a good reason to hurry. Most Catalans who didn't want independence boycotted the referendum because they thought it was illegal. Now they're being rapidly pushed towards separation without being asked.
People are so frequently consumed in politics by what is directly ahead that they miss the bigger picture. The standoff in Catalonia isn't a victory but a tragedy for its people because it will drive a sharp knife right through society. It will divide them for decades to come. It will split families and relationships. It will make people bitter.
The lesson Catalonia can take from India's struggle isn't just one from Mahatma Gandhi but from what happened afterwards. Partition showed how easy it is to turn neighbours into enemies. It showed how that divide can turn ugly and violent.
Look to the UK if you want a more recent example. The referendum to take it out of the EU sharply divided the country and now dominates the debate above all else. There's even a joke going around that perhaps India can advise on partitioning the UK.
Once you poison a society with hate and suspicion, turning neighbour against neighbour, it can take decades for the wound to heal. Sometimes longer. As Mahatma Gandhi found out to his cost, once hatred is unleashed even noble intentions cannot shield you from the poison.
Sunny Hundal is a writer and lecturer on digital journalism based in London
The views expressed are personal