Pakistan must punish Sabeen's killers or risk international opprobrium
Apr 28, 2015 10:45 PM IST
Pakistan must trace the killers of the rights activist; otherwise it risks international opprobrium.
In an article in The Guardian, Pakistani author Kamila Shamise describes the port city of Karachi as a city 'of many horrors powered by even more guns, and fear makes most people live in a silence that becomes complicity'. But human rights activist Sabeen Mahmud was cut from a different cloth: She steadfastly refused to be a part of that manufactured 'silence', and ultimately paid a terrible price for her courage.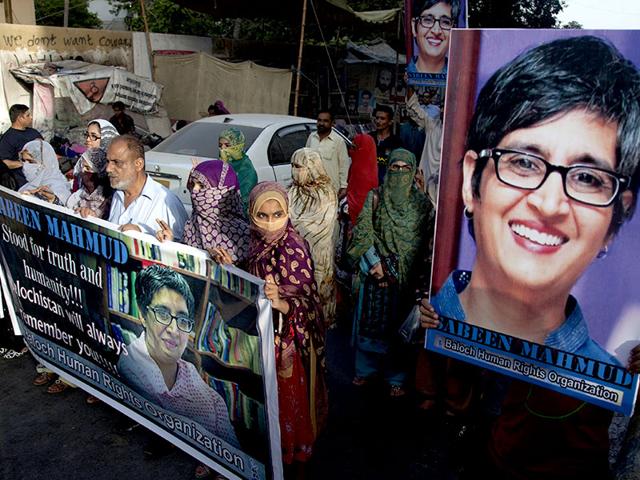 Last week, she was shot dead shortly after hosting an event on Balochistan's 'disappeared people', in Karachi, a topic that is a no-go area for the media and activists in that country.
Resource-rich Balochistan is the largest of Pakistan's four provinces and also the most impoverished, and it has been racked by a separatist insurgency since 2004. There have been strong allegations that the army is overseeing a campaign of killing opponents in the province though it denies any such thing.
Mahmud wanted to set up a 'minuscule postmodern hippie outpost, a safe haven for artists, musicians, writers, poets, activists, and thinkers to escape the relentless tyranny of the city for a little while'.
She did manage to do it with her T2F, a venue for concerts, readings, science courses, art exhibitions and political activism. Mahmud is the latest among a long list of activists and journalists including Rashid Rehman, Perween Rahman, Murtaza Rizvi, and Masood Hamid who have been killed. Similar attacks have been made on senior journalists like Hamid Mir, and Raza Rumi, though both survived.
Pakistan is not one of easiest of places to work as journalist and activists and many have blamed the military and intelligence agencies for Mahmud's murder.
The Pakistan army has announced a probe and assigned resources to the case but not many are convinced that this would lead to any arrests. In fact, three days after the attack on Mahmud, Dawn reported that investigators have found no match for the casings of the bullets that killed her.
Pakistan must do everything it can to find and punish the killers; otherwise, once again, it will be clear that the State sees such dissenting voices as security threats.
If the case remains unsolved, it could be one more round of international opprobrium for Pakistan, which is already battling terror stains. More importantly, it would rupture the already strained relationship between the liberals and the State.