Afghanistan cricket fans recall centuries-old Dehradun link in Bangladesh series
Afghanistan, who are playing the series against Bangladesh at the Rajiv Gandhi International Cricket stadium, have ties with Dehradun that goes back for over a century.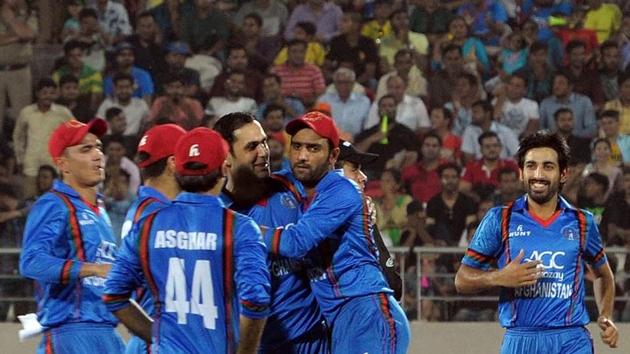 Updated on Jun 07, 2018 03:11 PM IST
The Afghanistan cricket team might be away from home while hosting to Bangladesh for a three-match T20 series here, but playing in the Doon valley will still make them feel at home. Not many would know that Afghanistan has a Dehradun connect going back by a century.
For long, Mussoorie, 35 km uphill from here, was the abode of Dost Mohammad Khan, founder of the Barakzai dynasty and one of the prominent rulers of Afghanistan. The Kabul Palace in Dehradun and Balahissar Palace in Mussoorie were built in the early 20th century for Afghan rulers in exile in India.
While Dost sought refuge in Mussoorie from the British for more than six years after losing the first Anglo-Afghan war (1839-1842), his grandson Yakub Mohammad was exiled to India in 1879. Like his grandfather, he too chose the Doon valley, becoming the first Afghan to formally settle down in Dehradun.
Amanullah Stanikzai, 22, an engineering student in Dehradun and a cricket enthusiast, is proud of his country's roots in the valley. "It's wonderful to be studying in a place where our rulers once lived and the Afghanistan cricket team is making it home. We feel lucky and at home. It is commendable that BCCI has made a provision that all teams visiting India will play against Afghanistan in Dehradun. It is a great moment for us Afghanis, who have longed to see the nation rise in a sport.
"I'm going to watch the matches with eight local friends of mine. Rashid (leg spinner Rashid Khan) is my hero, I want to get a selfie clicked with him," said the student, who hails from Kabul.
Saif Ur Rahman Ahmadzai, who graduated from a Chandigarh college, is here with his Afghan friends to watch the matches against Bangladesh.
"What Rashid Khan and Mujeeb ur Rahman did this IPL was fantastic. It would be exhilarating to watch the Afghanistan team in action," said Saif, 24.
Dehradun's Mangla Devi Inter College was once an Afghan palace where Yakub lived. His extended family and servants permanently shifted base to the valley, which was also the birthplace of Afghanistan's penultimate King, Mohammad Nadir Shah.
The Afghanistan team's media manager, Lutfullah Stanikzai, felt qualifying for the 2019 World Cup and getting Test status is testimony to the war-torn nation's rapid progress in cricket.
"Even the extremists in the country don't oppose cricket activities and follow the sport. It would be momentous to see Afghanistan play their first Test in Bangalore."
Afghanistan captain Asghar Stanikzai also exuded excitement. "It feels great to be in Dehradun. Sharjah and Greater Noida have been our home grounds as well and now we have Dehradun. The best thing about this place is it looks like Afghanistan with mountains surrounding the stadium. It feels like home."
The BCCI decision to give Afghanistan the chance to play practice matches against every touring team has been welcomed by those associated with Afghan Cricket. "It's great news for Afghanistan cricket that BCCI has announced that each team touring India will play us first. It is good for our cricket. The format doesn't matter, what matters is we will play more games and get exposure. It is also great for the people of Afghanistan as they really love the game," said skipper Stanikzai
Close Story
Personalise your news feed. Follow trending topics