Afghanistan spinner Rashid Khan revels in success, says 'dreams do come true'
Rashid Khan talks about his frenzied popularity at home, on Afghanistan's historical first Test against India from June 14 and how ready are his side's batsmen to face Indian spinners in that Bangalore game.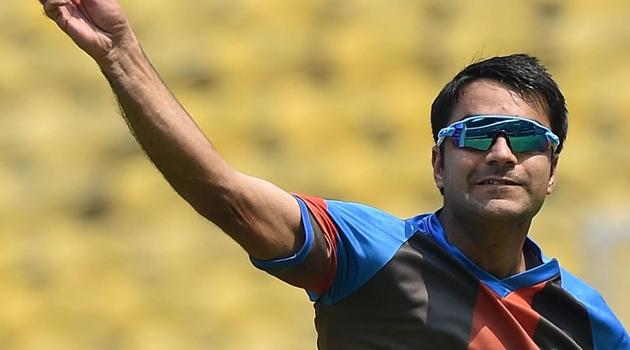 Published on Jun 07, 2018 11:00 AM IST
It's rare to see fans cheering a cricketer who is not from their national team. The crowd at the Rajiv Gandhi Stadium in Dehradun have been rooting and shouting slogans praising Afghanistan leg-spinner Rashid Khan against Bangladesh.
"Raa-shid, Raa-shid" they have chanted, such has been the 19-year-old's impact in Afghanistan's series win over Bangladesh after capturing the imagination of Indian fans in IPL.
ICC's top-ranked T20 bowler, role-model for youth in war-torn Afghanistan and a match-winner, Rashid is all things rolled into one.
READ | Afghanistan beat Bangladesh by six wickets in second T20I, clinch series
With 43 ODIs and 32 T20s under his belt, he talks about his frenzied popularity at home, on Afghanistan's historical first Test against India from June 14 and how ready are Afghanistan batsmen to face Indian spinners in that Bangalore game.
Excerpts:
The rise of Afghan cricket has a lot do with the success of its spinners. How is Afghanistan producing world-class spinners?
Like India is known to produce world-class batsmen and England, Australia and Pakistan are known for churning out top-class seamers, Afghanistan has become a nursery for producing spinners.
We have got fantastic off-spinners, leg-spinners and left-arm chinamen in domestic cricket. It has a lot to do with the natural talent we have.
Also, the conditions and wickets in Afghanistan are conducive to spin. Youngsters fancy turning the ball.
You are a craze in Afghanistan and cricketers all over the world are talking about your spin bowling…
The response back home has been overwhelming. I have got so much love in India. My life has changed in the last two years. I never dreamt I would be playing for my country, top T20 leagues and bowling at top-batsmen of the world this early.
READ | How IPL 2018 helped Afghanistan's Mujeeb ur Rahman raise his game
But it looks like dreams do come true. Life is all about unexpected turn of events. I have tried to remain focused, believe in my skills and give my best. God has been kind. My family and friends are very proud of my achievements.
It must have been quite a learning experience having Sri Lanka spin legend Mutthiah Muralitharan as bowling coach in IPL team Sunrisers Hyderabad. How did his presence elevate your performance?
He is a living legend, I grew up watching him rattle batsmen. Whenever I would go to Murali sir during nets, he would tell me I had been bowling superbly and he doesn't need to tell me anything. Once he said I was bowling with much more effect than he ever had in his career.
He also said the skills I have at this age are higher than his. That was a big compliment. He always told me to enjoy cricket and believe in my bowling skills.
Afghanistan will make history when they play India in their first Test in Bangalore. How is your form in the build-up?
It is going to be a great contest for Afghanistan, taking on a top team like India. I might have done well in T20 and ODI cricket but Test cricket will be new for me.
I am looking forward to test myself in the longer format and bowl according to situations and wicket and execute plans session-wise.
READ | Blasts keep happening, we need to focus on cricket: Afghanistan pacer Shapoor Zadran
I don't need to do anything special, only bowl in the right areas. Playing against Bangladesh has given us impetus ahead of the Bangalore Test.
India too has a spin-heavy attack with R Ashwin, Kuldeep Yadav and Ravindra Jadeja there. How prepared are Afghanistan batsmen for this challenge?
Our batsmen have been playing well in the last six months. Asians are generally good facing spinners, that too in the sub-continent.
They have been training with spinners like Mohammed Nabi, Mujeeb-Ur-Rahman, Zahir Khan and me with total dedication. We can try to give our best without thinking about the result.
Topics
Close Story