Aussie injuries leave Cummins, Lyon to do the heavy lifting
Feb 05, 2023 09:01 PM IST
With Starc and Hazlewood set to miss the first Test in Nagpur, Australia's choice of spin twin to Nathan Lyon becomes crucial
Australia's batting group has been grinding it out on scuffed up surfaces facing local spinners in its quest to be prepared for India's spinners, who often hog the limelight in home Tests. But their own bowling attack is beginning to appear frail with the number of absentees for the series opener at Nagpur growing by the day.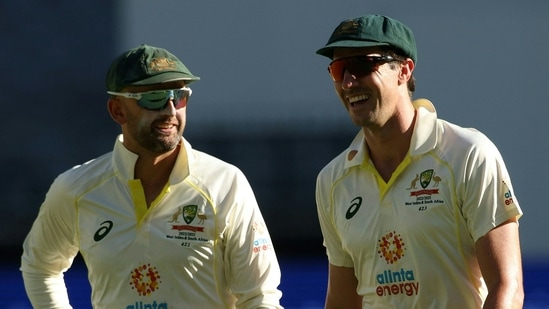 The latest addition to the list was fast bowler Josh Hazlewood who all but confirmed that he wasn't a doubtful starter merely for the first Test but also the next one starting four days later in Delhi. Hazlewood's Achilles injury depletes Australia's pace attack further with left-arm Mitchell Starc preparing to be fit only for the second Test and all-rounder Cameron Green, even if he plays in Nagpur, not fit to bowl following finger surgery.
"Not sure about the first Test. It's still a few days away but it's sneaking up pretty quickly. Second one is obviously straight after as well. So, we'll play it by ear over the next week and next few days and hopefully Tuesday goes well," Hazlewood offered his injury update before Australia's final training session at Alur in Bengaluru on Sunday.
With two of Australia's famed pace trio likely to miss the first Test, Victoria's Scott Boland is set to partner captain and spearhead Pat Cummins. Boland, the second Indigenous cricketer to play Tests for Australia, after Jason Gillespie, has had a late but phenomenal start to his career picking up 28 wickets in six Tests at an incredible average of 12.21.
The strapping 33-year-old fast bowler is yet to play a Test away from home though and would be thrown at the deep end in conditions entirely alien to him.
In his debut Test at home in Melbourne against England – of pre-Stokes and McCullum -- Boland ran through their batting line-up returning figures of 4-1-6-7 in the second innings. He relies heavily on movement off the surface and in India, his best chance for creating an impact would be by reverse swinging the old ball. It is an art he will have to acquire on the job to ease Cummins' workload.
Of course, the Australian selectors would have known about the three injuries before landing in India. That explains the presence of 10 bowling options in the 18-member touring party. The other quick is Western Australia express pacer Lance Morris.
Having earned the nick name 'wild thing' for his high pace, Morris, by his own admission, "doesn't want to be that channel bowler". He would rather "intimidate and blast them out", as quoted by Cricket Australia website. It is unlikely that India would be hospitable and lay out pitches that suit his bowling.
Cummins has spoken about keeping the option of using three pacers – their strength – with Travis Head to fill in with part-time off-breaks. But with Green's all-round skills not available to balance the attack, they may pick a second specialist spinner to partner Nathan Lyon.
That choice will have to be thought through as India's star-studded batting line-up would cash in on any weakness. Off-spinner Todd Murphy, 22, is the youngest player in either squad. Compared to the other spinners he's competing with – left-arm-spinner Ashton Agar and leg-spinner Mitchell Swepson – he has the best first-class average (25.20). However, inexperienced and being of the same ilk as Lyon, Australia run the risk of their spin attack becoming unidimensional against a pre-dominantly right-handed Indian batting line-up.
Australia will get the first look of the pitch at Nagpur's Jamtha Stadium on Monday, but Cummins doesn't rule out even getting Steve Smith and Marnus Labuschagne to roll their arms over with their leggies. "Do we want variation or just two off-spinners? So, there's no reason why we can't go that way. Travis bowls really good off-spin. We've plenty of variety to choose from," Cummins said on Saturday.
Swepson appears more likely, having played four recent Tests in the sub-continent, against Pakistan and Sri Lanka.
One way or the other, Cummins and Lyon – they have 674 wickets between them – will have to do the heavy lifting. And they could do with some inspired performances of the Steve O'Keefe kind. The little-known left-arm spinner took 12 wickets in Australia's upset win on a square turner at Pune in 2017.