'India cricket team: Ganguly gave it spine, Mahendra Singh Dhoni gave it brains'
Jan 05, 2017 11:51 PM IST
Mahendra Singh Dhoni, who stepped down as India cricket team's limited overs captain, has won almost every international silverware. He will continue to play a wicket-keeper-batsman
Mahendra Singh Dhoni has been receiving rich tributes after he decided to step down on Thursday as the limited overs captain of the Indian cricket team.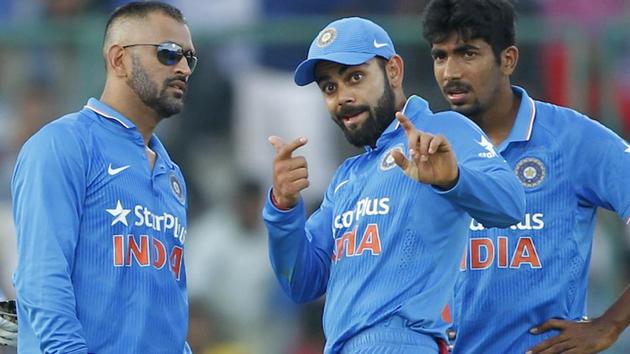 The 35-year-old wicketkeeper-batsman, who rose from the cricketing backwaters of Jharkhand to lead the game's most passionately-followed team, will stand aside as captain immediately, but will remain available to play in the limited overs series against England later this month. Mahendra Singh Dhoni is expected to retain his place in the squad.
Former England captain Michael Vaughan said Dhoni timed the decision to quit captaincy just perfectly.
Dhoni quit Test cricket in late 2014, with India having topped the rankings in the game's longest format under his inspiring captaincy, which was marked by innovative field-setting and smart marshalling of his bowlers. Virat Kohli , India's Test captain, should be taking over Dhoni's mantle.
Known initially for his flowing locks and swashbuckling batting, with the latter making him an automatic choice in limited overs squads, Dhoni was first put in charge of India's 20-over team which won the inaugural World Twenty20 in South Africa in 2007.
Mahendra Singh Dhoni soon became their one-day captain and in 2011 he sealed India's 50-over World Cup victory with a six at Mumbai's Wankhede Stadium to etch his name permanently into the country's cricketing folklore.
Former Test batsman and TV expert Sanjay Majrekar paid glowing tribute to Mahendra Singh Dhoni and the way he handled the Indian team under pressure. Another Test batsman Aakash Chopra had a similar view.
Since his international debut in a one-dayer against Bangladesh in 2004, Dhoni has become a household name in India and inspired a Bollywood biopic in 2016.
The decision to quit limited overs captaincy was "well though out" said Dhoni's close friends. Sachin Tendulkar sent out his own personal message to Dhoni.