'Mahendra Singh Dhoni has made a great sacrifice for Virat Kohli'
Jan 05, 2017 11:18 AM IST
Mahendra Singh Dhoni resigned as Indian cricket team's limited overs captain when he was still good for more, says former stars. Virat Kohli is Dhoni's natural successor, they feel
Mahendra Singh Dhoni has made a "great sacrifice for Virat Kohli," said former Indian Test opener Chetan Chauhan. In an exclusive chat with HT on Wednesday, Chauhan said Dhoni was good enough to play till the 2019 ICC World Cup in England.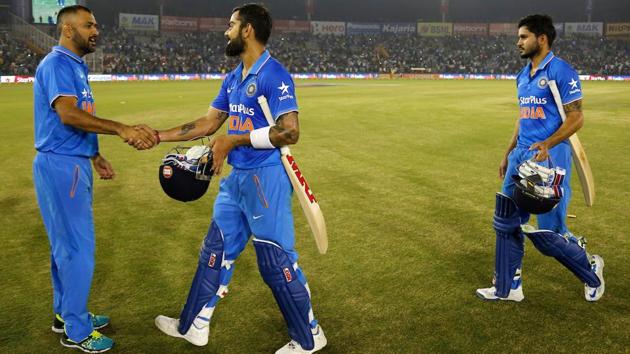 "He is an elegant and calculative captain. He was fit enough to play for India till the next 50-overs World Cup. Well, now that he has quit, Dhoni has set the platform for Virat Kohli to take over," Chauhan said.
Mahendra Singh Dhoni not only holds the record for most matches as captain of an international side, with 331 games across all formats, but also is the only captain to have won all three ICC Trophies -- ODI World Cup, World Twenty20 and Champions Trophy. That's quite a benchmark for Kohli.
"He is a phenomenal success story. Being from a small town like Ranchi and then leading the country, is a great achievement.
"Dhoni is a perfect athlete with a good cricketing mind. He has gone with grace as a captain. All credit goes to him. He is still good behind the wicket and hardly misses anything," said former wicket-keeper Daljit Singh.
'Well thought out decision'
"It was a well thought out decision," said Dhoni's close friend and confidante Arun Pandey.
"You don't take decision like this overnight. It was well thought out. Dhoni thought this was the right time to step aside and continue playing as wicketkeeper batsman," Pandey said.
Talking more about Dhoni's decision to step down, Pandey said: "His thinking was that he has built the crux of the team now (for future and next World Cup) and it is the right time to give up captaincy. He is not someone who would cling on to something. For him, the team's interests are first and foremost."
Former cricketers including Sourav Ganguly had earlier backed Virat Kohli to take over from Dhoni in all three formats.
Pandey said that did not put pressure on Dhoni to quit.
"Dhoni is beyond all this. A chunk of current cricketers playing for India blossomed under Dhoni. Now he thinks it is the right time to step aside for the larger interest of the team.
"Not many would do that but Dhoni has done that. It has always been India first for him," added Pandey.
(With PTI inputs)