India's Kuldeep Yadav move catches Australia off-guard in Dharamsala Test
Mar 25, 2017 09:48 PM IST
India surprised Australia batsmen by handing chinaman bowler, Kuldeep Yadav, his Test debut, while all focus was on skipper Virat Kohli's injury and how the hosts would deal with the batting challenge
Kuldeep Yadav's debut caught Australia unawares on Saturday as the young chinaman bowler grabbed four wickets to help dismiss the visitors, who had elected to bat, for 300 on the first day of the series-deciding final Test. (Day 1 blog)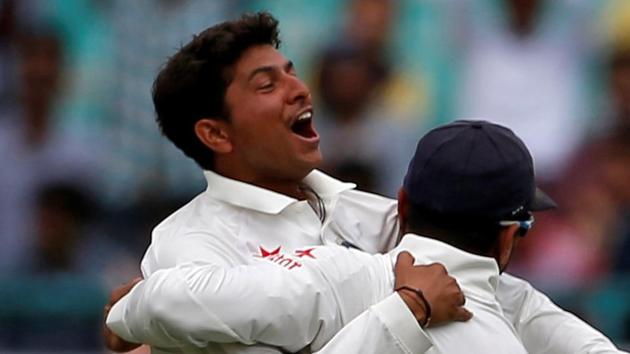 With India skipper Virat Kohli's shoulder injury grabbing all attention heading into the deciding Test, the Indian team management delivered a master stroke by including Kuldeep as the third spinner. (SCORECARD)
The 22-year-old delivered crucial strikes to finish with 4/68 as the visitors were dismissed close to stumps at the HPCA Stadium, making its debut as a Test venue.
Focus elsewhere
The logic was that uncapped batsman Shreyas Iyer, having flown in as cover once Kohli was seen struggling to get fit to lead India, will be included to bolster the batting, especially in the absence of its best batsman.
The other change in the playing eleven was focused on Ishant Sharma, as the pace bowler, despite bowling his heart out, had struggled for wickets. While Bhuvneshwar Kumar, and not Mohammed Shami, replacing Ishant was a mild surprise, Kuldeep's choice was nothing short of an ambush on the Aussies.
The Australia camp was focused on the impending captaincy change, with Ajinkya Rahane expected to take over, and the possible opportunity a weakened batting line-up would present their bowlers.
Mystery element
But the Indian team management quietly threw in a bowler the Australia batsmen know little about. India coach, Anil Kumble, who has spent a lot of time with he 22-year-old spinner from Uttar Pradesh, and who strongly believes that taking 20 wickets is what decides contests, could have played a crucial role in catching Australia off-guard.
Kuldeep, who took 5/60 for India A against an England XI before the previous Test series, showed great composure as he struck an excellent length to force the batsmen to play him. The Australia batsmen simply were not prepared for Kuldeep's bag of tricks as their focus would have been mainly on tackling R Ashwin and Ravindra Jadeja.
And Kuldeep's brilliant show eased the pressure on his senior spinners, who were both not getting much purchase on a first-day pitch where the ball spin and bounced only if pitched well up.
He first forced the well-set David Warner to edge to slip, and then confounded both Peter Handscomb and Glenn Maxwell, bowling them with deliveries they had little idea about.
Kuldeep Yadav wasn't done yet as yet had the attacking Pat Cummins caught and bowled for 21 to reduce Australia to 245/7 and exposing their tail. It was his strikes that helped India pull things back after Australia headed into lunch on 131/1.
Fresh spin
Indian spinners have a history of making an even bigger impact, though the Australia second innings will show what more tricks Kuldeep has in his bags.
Leg spinner Laxman Sivaramakrishnan, who handed Kuldeep the cap ahead of the match in the morning, captured 12 wickets in his first home Test – second overall, the teenager bowling India to an eight-wicket win over England at Mumbai in 1984.
Another leg-spinner, Narendra Hirwani, whose tips are said to have added potency to Jadeja's bowling, grabbed 16 wickets on debut, against West Indies at Chennai in 1988.