Shami-Siraj team up to rout New Zealand, hand India ODI series
Jan 21, 2023 09:24 PM IST
The Kiwis were shot out for 108 before India eased to an eight-wicket win, sealing an unassailable 2-0 win in the three-game series
A meek New Zealand batting performance meant the Raipur crowd will have to wait for another time to watch a full 100-over India match at the Shaheed Veer Narayan Singh International Stadium. The hosts packaged all the entertainment for them in 54.4 overs itself on Saturday.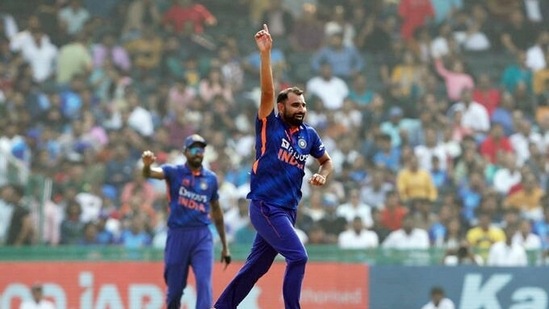 After dismissing New Zealand for 108 in 34.3 overs, India chased down the target in 20.1 overs by scoring 111/2, which included skipper Rohit Sharma's 51 (50b, 7x4, 2x6). The eight-wicket win gave them an unassailable 2-0 lead in the series.
Cricket fans in Raipur had witnessed IPL action, a match of the now defunct Champions League T20 and some masters cricket before. But 22 years after Chhattisgarh was granted statehood, this was their first taste of international cricket.
They arrived in droves to fill the 65,000-capacity venue wearing India blues, expectant that their batting stars would serve them another run-fest. Instead, India's bowlers, particularly the new ball duo of Mohammed Shami (6-1-18-3) and Mohammed Siraj (6-1-10-1), took over to own the day.
Shami-Siraj show
Shami and Siraj will soon be leading India's attack in the Border-Gavaskar Trophy Test series against Australia with Jasprit Bumrah out. They quickly realised that the seam movement on offer might be even more than what they get to see in Test cricket at home. They put on a demonstration of how to reap rewards by bowling in unison.
It's well known that the ball obeys Shami's bidding when he gets the seam presentation right. On the day, he got the ball to move in the air and off the surface. Not prodigiously, but enough to unsettle the Kiwi batters.
Shami drew first blood getting Finn Allen (0) in the first over, couple of outswingers followed by the in-swinger. If Shami threatened with his upright seam, Siraj caused trouble with his wobbled seam variety. His mix-ups have made batting appear difficult for New Zealand batters, and when he got one to seam away from Henry Nicholls (2), the left-hander edged to first slip.
Together, Shami and Siraj were accumulating so many dot balls it appeared New Zealand had stopped looking to score.
In the seventh over, Daryl Mitchell (1) tried to push forward to negate Shami's swing, only losing his balance to give a return catch that Shami accepted. Shami's control over swing stood out.
"Isn't it said that if you love something a lot, it becomes yours," Shami said after the match. "I never thought I will have such a good seam position. I try to hit the seam, doesn't matter how the wicket is. I like it more when I can see the seam in the air."
After eight overs, the visitors were 10/3. Shami's figures read 4-1-5-2 and Siraj's 4-1-4-1. Curiously, Sharma took them off and brought on Hardik Pandya and Shardul Thakur. The India skipper later said it was to manage his key pacers' workload for the all-important Australia Tests.
So out-of-sync were the Kiwi batters that they continued to tumble against India's pace support cast as Pandya and Thakur consistently kept hitting attacking lengths. Pandya's one-handed return catch to send back Devon Conway (7) was more spectacular than his celebrations, suggesting he now backs himself to be among the wickets regularly.
In the eleventh over, Thakur got Kiwi captain Tom Latham (1), caught at first slip pushing away from the body, leaving them reeling at 15/5.
If the visitors still had to make a match of it, the centurion from the last match Michael Bracewell had to play another blinder. Shami, re-introduced into the attack, wasn't going to allow that.
After being carted for two boundaries from two full deliveries from around the wicket, he switched to over the wicket and bowled a sharp, short ball that brushed Bracewell's (22) blade on way to the keeper, ending the Kiwi resistance.
Siraj 28, is quickly learning the ropes of leading the pace attack, having developed his outswinger. When it seams and the batters can't gather courage to hit out, Shami becomes the more dangerous. In Bumrah's absence, the two know they have to step up this season. They gave an exhibition of the magic they can conjure when it all comes together.
"You don't usually see this type of seam movement in India, you generally see it outside India. These guys have some serious skills. They work really hard and it's great to see them being rewarded," said Sharma.
The final ODI will be played in Indore on Tuesday.