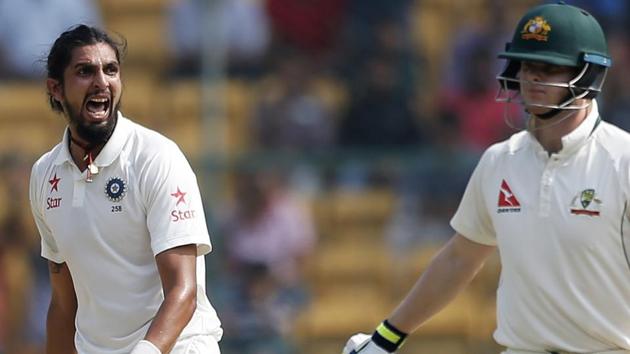 Ishant Sharma vs Steve Smith pantomime gives Twitterati plenty to chirp about
Ishant Sharma's banter with Australia captain Steve Smith may have left some cricketers aghast but it has also led to a deluge of reactions and memes on social media.
UPDATED ON MAR 06, 2017 06:17 PM IST
For purists of the longest format of cricket who want to watch an even contest between bat and ball, there couldn't have been a better session than what India and Australia provided in the first few hours at the M Chinnaswamy Stadium on the second day. (SCORECARD)
While the Indian bowlers were a disciplined lot, trying to defend their first innings total of 189, Australian batsmen were at their resilient best to thwart the attack.
The session of 29 overs accounted for just 47 runs and two wickets, but it was gripping action throughout.
Ishant Sharma however ensured that there was something else for a section of fans to whom the sport means nothing but entertainment.
It was in the 27th over and Steve Smith was beaten by a delivery that kept low and went behind to the wicketkeeper. Clearly charged up, Ishant Sharma had a weird way to up the ante.
He made a bizarre mimicry aimed at Steve Smith, and all that the Aussie skipper could do was to retort by simply nodding his head sideways.
Smith defended the next delivery with ease and as the ball rolled back, he looked at Sharma with an animated face. Ishant Sharma, too, could be found swaying his head (and his ponytail) during the follow-through and when the whole thing was shown on the giant screen, no one, including captain Virat Kohli, could hold back their laughter.
Social media, too, had a field day with the reactions going viral. While a few former cricketers found it to be against the spirit of the game, the Twitterati were all at work, busy making memes and adding funny captions to the entire drama.
Close