India vs Australia Highlights, 2nd Test, Day 3: India on top as bowlers restrict Australia to 133/6 at Stumps
Hindustan Times, New Delhi |
hindustantimes.com
Dec 28, 2020 01:07 PM IST
India vs Australia Highlights 2nd Test Day 3: The day belonged to Team India as they dominated the proceedings on Day 3. The bowlers were in excellent form as they picked up six wickets despite Umesh's injury. Australia managed to score 133 runs at the end of day's play and have a lead of 2 runs. The Indian innings ended after the tailenders fell quickly at the end. India were bowled out for 326 runs with a lead of 131 runs in the second Test. Ravindra Jadeja got to his 15th Test fifty moments after stand-in captain Ajinkya Rahane was run out for 112. Jadeja was then dismissed by Mitchell Starc for 57. Centurion Rahane, and Jadeja started afresh aiming to take a sizable lead close to 200 on Day 3 of the 2nd Test in the Melbourne Cricket Ground today. India stand-in captain Ajinkya Rahane's sublime century not only took India past Australia's first innings total of 195 comfortably but also ensured they got through the second new ball and an entire session without losing a wicket. Ravindra Jadeja was the ideal foil for Rahane's innings as the duo's unbeaten stand took India to 277/5 at stumps on Sunday, giving India a lead of 82 runs. Follow Ind vs Aus 2nd Test Day 3 scorecard
12:36 hrs IST
Rahane on captaincy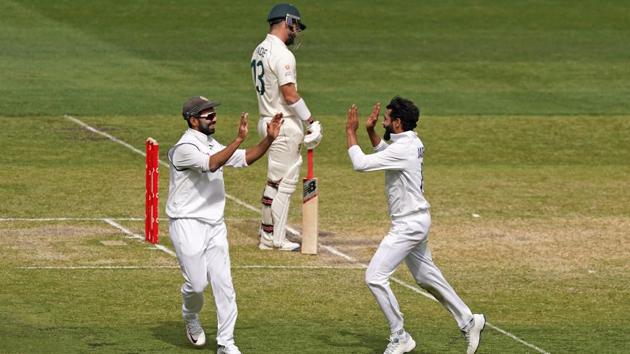 'Captaincy is all about backing your instinct. You've got to back your gut feeling. Credit to the bowlers, they bowled in the right areas,' Rahane said after the match.
12:31 hrs IST
STUMPS!
Green and Cummins have managed to keep their wickets and still keep Australia in the game. At Stumps, Australian score read 133/6.
12:26 hrs IST
Australia lead
Australia are now leading India as Cameron Green hit a boundary. However, the lead is only of 2 runs. The start of Day 4 would be crucial in the outcome of the match.
12:16 hrs IST
3 overs left in Day's play
India still lead Australia by 5 runs and with only 3.4 overs left in the day's play, would look to remove Green or Cummins before Stumps.
12:06 hrs IST
Dropped catch
Ashwin got an edge off Green's bat but Pant could not hold onto the ball. Missed opportunity for India. Only 6 overs left in the Day's play.
12:00 hrs IST
Bouncer Barrage
Bumrah has used a lot of bouncers on Day 3. He has continued to pitch it short to the Australia batsmen.
11:50 hrs IST
Jadeja to Cummins: FOUR
Jadeja bowled a full delivery and Cummins was quick to catch onto it as he heaved it over long off for a boundary. Green also hit a four a ball later as Australia batsmen look to score runs.
11:43 hrs IST
Bumrah is back
Rahane has brought back Bumrah in a bid to rattle the new batsmen. India are looking to end the proceedings today itself and Bumrah could be the one to start the windfall of wickets.
11:33 hrs IST
Indian domination
India have the chance to dismiss Australia on Day 3 itself. They need just 4 wickets and Australia still trail India by 26 runs.
11:22 hrs IST
SIXTH WICKET DOWN
Jadeja has removed Tim Paine with the extra bounce. The ball took a faint edge off Paine's bat and Pant took the catch. Umpire called it not out but India took the DRS. The review showed the faintest of edges even though hotspot did not show anything. The decision was changed and Paine had to leave the field. Australia in big trouble.
11:18 hrs IST
Two new batsmen
Two new batsmen, Tim Paine and Cameron Green, are at crease and the bowlers would look to attack them.
11:10 hrs IST
Siraj to Head: OUT
Mohammed Siraj has managed to get an edge off Head's bat. The ball went to the slips and Agarwal took a good catch. Australia 98/5
11:01 hrs IST
WICKET
Jadeja has got the breakthrough. He has removed a set batsman in Matthew Wade. The ball missed the bat and hit Wade on the pads. Jadeja appealed and the umpire raised his fingers. Wade went for the DRS but wasted a review. Australia 98/4
10:56 hrs IST
Ashwin looks threatening
Even though the wicket isn't turning much, Ashwin has still looked dangerous with the ball with his line and length.
10:46 hrs IST
Chirpy Pant behind the wickets
Rishabh Pant said that Travis Head is trying to play Ashwin on the backfoot. Ashwin picked up on that and bowled a quicker delivery which Head failed to read and almost gave away his wicket.
10:38 hrs IST
A close call
Travis Head played a leg glance and Shubman Gill was kept their specifically for that shot. But the ball fell just in front of him.
10:31 hrs IST
Mean bouncer by Bumrah
Bumrah bowls a bouncer and it strikes the helmet of Matthew Wade. Immediately protocols are followed to see if there is any signs of concussion on Wade.
10:25 hrs IST
Tight over from Ashwin
A lot of questions are being asked now. Wade is looking to be positive but not get anything loose from Ashwin. He did sweep him well but Siraj at the square leg boundary dived to his right to keep it down to 2. Australia 78/3 now, still trail by 53 runs.
10:18 hrs IST
Bumrah cleans up Smith
BOWLED round his legs! What a big wicket for India. Steve Smith can't believe it. He stands his ground, the third umpire looks at the replay and yes it clipped the top off leg stump. Smith has to go for 8. Bumrah got one to come back in, Smith went across his stumps a bit more than comfort, misses it, and the ball clips the top of leg stump.
10:16 hrs IST
Ashwin to Wade: FOUR
A misfield by Mayank Agarwal releases the pressure, Mathew Wade will get a boundary. It was flighted delivery by Ashwin, Wade hit it straight with a flat bat, Mayank at mid-off was a bit slow off the blocks, had to put it in the dive, but it went through.
10:13 hrs IST
A maiden from Bumrah
back-to-back maidens. First from Ashwin and then from Bumrah. India applying pressure on Smith and Wade from both ends now. Really important stage of the game.
10:06 hrs IST
Ashwin bowls a brilliant over
Grip, turn, bounce there was everything in that over from Ashwin and sometimes a combination of all three, like Matthew Wade found out in the second delivery. A maiden tot start by the ace off-spinner.
10:00 hrs IST
Day 3, final session
Jasprit Bumrah starts the proceedings after Tea for India. India would hope he can once again give India the breakthrough.
9:42 hrs IST
Tea
Wade and Smith have seen through the Ashwin-Bumrah combo in the last few overs to head into Tea with a score of 65-2. Australia are still 66 runs behind India's first innings total.
9:37 hrs IST
Boundary
Wade has played a beautiful straight drive off Bumrah. The ball has raced to the boundary.
9:30 hrs IST
Bumrah into the attack
Rahane has brought back Bumrah into the attack before Tea. He would be looking to get a breakthrough before the players head back to the dressing room.
9:24 hrs IST
Ashwin vs Smith
Ashwin has been getting Steve Smith out in the series. Smith has looked a little nervous against Ashwin in this innings also. But can Ashwin get the better of him again?
9:15 hrs IST
4 runs
Wade flicked the ball to the square leg with Shubman Gill giving it a chase. Gill managed to save the boundary but Wade and Smith's running between the wickets resulted in four runs being added to the scoreboard.
9:07 hrs IST
Another DRS call
Siraj again persuaded Rahane to go for the DRS call after the umpire turned down his appeal. The ball had pitched outside leg and India have wasted the review.
9:04 hrs IST
WICKET
Ashwin has bamboozled Labuschagne with an impeccable delivery. Labuschagne edged a straighter delivery into the hands of Rahane at first slip. Important wicket for India. Australia 42-2
8:59 hrs IST
Cautious Wade
Matthew Wade has been playing very cautiously in this innings. He has scored 6 runs in 46 balls. He is an attacking batsman but Indian bowlers have bowled well to him.
8:50 hrs IST
DRS
The ball has struck Labuschagne's pads and India have gone for the DRS after the umpire turned down the appeal. The DRS showed the ball was hitting the top of the bails. Two umpire call decisions have gone against India.
8: 46 hrs IST
Ashwin- Key for India
A lot will depend on Ashwin in this innings if India would want to win this Test match. He is their leading spinner in Tests and Rahane would count on him to deliver.
8:37 hrs IST
Siraj brought back
Mohammed Siraj is going to shoulder more responsibility with Umesh leaving the field. He has to keep his line and length together.
8:30 hrs IST
Ball not swinging
The ball isn't doing a lot right now. It isn't swinging a lot and we could see the spinners from both sides soon.
8:22 hrs IST
Ashwin into the attack
Rahane has brought Ashwin into the attack to rattle the Australian batsmen with some spin. Australia 21/1
8:15 hrs IST
Injury to Umesh
Umesh Yadav has pulled an injury in his left leg. Immediately after bowling a delivery, Umesh called for the physio and went off the field. India are already missing the services of Ishant Sharma and Mohammed Shami and Umesh's injury add to the woes.
8:07 hrs IST
Quick singles
Australia continue to take the quick singles. India have had chances to inflict run-outs but have missed their chances. The singles are releasing the pressure on the batsman.
7:58 hrs IST
Labuschagne - Key batsman for Australia
Marnus Labuschagne will be eager to stamp his authority on Test match. The Indian bowlers would have a plan against the batsman and it will be an interesting battle to watch.
7:51 hrs IST
OUT
Yadav has got an edged off Burns' bat and the umpire has given it. Australia opted for the DRS but Hotsport revealed an edge off Burns' bat. Australia 4/1
7:45 hrs IST
DRS
Bumrah struck Burns on the pads and went for the appeal. Umpire turned it down and India decided to take the DRS. The replays showed that the ball might have hit the wickets but the decision went to umpire's call.
7:42 hrs IST
Run-out chance missed
Ashwin had the opportunity to dismiss Joe Burns with a direct hit but he missed and the batsman survived.
7:35 hrs IST
Big Appeal
Jasprit Bumrah did not waste time to set the momentum as he struck the pads of Matthew Wade on the very first delivery. He appealed but the umpire turned it down.
7:30 hrs IST
Second Innings begins
Australian batsmen are out on the field and play is about to resume.
6:55 hrs IST
OUT
Jasprit Bumrah also goes back quickly as he is dismissed by Nathan Lyon. India score 326 runs in the first innings and have a first innings lead of 131 runs.
6:50 hrs IST
WICKET
Ninth wicket down for India. R Ashwin dismissed by Josh Hazlewood for 14 runs.
6:47 hrs IST
WICKET
Lyon drew a drive from Umesh. It was too good a delivery for a tailender as Umesh edged one to Smith at first slip. India 325/8
6:43 hrs IST
Useful partnership
Both Ashwin and Umesh have added some runs in the lower order for India. The lead is now 128 runs and India still have 3 wickets in hand.
6:35 hrs IST
Big Appeal by Australia
Umesh tried to heave it over long on but the ball missed his bat and hit his pads. Starc went for the appeal but the umpire turned it down.
6:27 hrs IST
FOUR
Umesh Yadav has swept Nathan Lyon towards fine leg. He is going to go for his shots.
6:19 hrs IST
Ashwin dropped
Anther Australian fielder drops a catch and it wasn't that difficult either. Marnus Labuschagne would be really disappointe for letting that one go. It was short on the pads, Ashwin wanted to pull it but got an inside edge and went straight to the leg slip fielder, who dropped it.
6:15 hrs IST
Starc gets Jadeja for 57
OUT! The plan has worked for Australia and Mitchell Starc. Jadeja wanted a piece of Starc and the big left-armer kept peppering with short stuff. Jadeja went for the pull, made good connection but it went straight to the deep mid wicket fielder, who juggled but hold on to the catch. Jadeja goes for 57 and India are 306 for 7 now.
6:07 hrs IST
Lyon starts proceedings after drinks
Nathan Lyon has the ball in hand as we resume play after the drinks break. He is up against his counterpart Ravichandran Ashwin, who is desperate to get some runs and help India inch closer to the 150-run lead.
5:57 hrs IST
Lyon to Jadeja: Four
FOUR! Hammered! Another short ball, this time Jadeja rocks back and nails the pull down to the deep mid-wicket fence. Superb stroke and it brings up 300 for India.
5:52 hrs IST
A Testing over from Starc
Mitchell Starc's come back over was a good one. He tested Jadeja around the off stump and also off the backoot with a couple of quick bouncers. Australia sense the opportunity now. If they can get Jadeja out now then they have the bowlers to make light work of India's tail.
5:42 hrs IST
Fifty for Jadeja
Now he will get to his fifty. 15th one of his Test career and perhaps the most in-control and important one of his career. Out comes the sword celebration and India's lead also crosses the three-figure mark.
5:35 hrs IST
Ajinkya Rahane is run out
Oh dear! That looks close and yes it is even closer than you think. Ajinkya Rahane is short of crease. What a big breakthrough for Australia against the run of play. Jadeja took off for quick single perhaps too anxious to get to his fifty but to be fair to him Rahane never said no and it never looked like he was struggling but as it turns out his bat was on the line. Rahane's brilliant innings comes to an end. India 294/5
5:28 hrs IST
Nathan Lyon comes in
Bowling change for Australia, Nathan Lyon replaces Mitchell Starc as we see first glimpse of spin early on Day 3. It will be interesting to see if he gets some turn.
5:26 hrs IST
Maiden from Cummins
A much better over from Pat Cummins and Australia, a maiden. They tried bowling a couple of bouncers to Rahane and the India stand-in captain did appear a bit uncomfortable, particularly while tackling the second one.
5:21 hrs IST
India looking good
Nothing seems to be happening off the pitch. Cummins did try a couple of bouncers but they were safely negotiated by Jadeja. Starc has been bit all over the place today morning so far, meaning India's overnight batsmen Rahane and Jadeja have started off smoothly. Their lead now inching towards the three-figure mark.
5:16 hrs IST
Cummins to Jadeja: FOUR
Soft hands the key there. Jadeja has made sure not to push at the ball and it paying him rich dividends. Nothing much wrong with that ball from Cummins, Jadeja played it with soft hands and it just hit the outside part of his bat and raced away through the vacant slip cordon for the first boundary of Day 3. India 290 for 5.
5:15 hrs IST
Bouncer theory to the wrong batsman?
Sanjay Manjrekar and Nick Knight in the commentary box sure think so as Australia give a barrage of bouncers to Ravindra Jadeja and not a single one to Ajinkya Rahane, who had got a glove while fending the last ball of Day 2.
5:09 hrs IST
Jadeja is away
Ravindra Jadeja scores first runs of Day 3. Both the Indian overnight batsmen now off the mark. It was a length delivery from Starc, Jadeja got behind it, pushed it wide of the bowler to get a single.
5:04 hrs IST
Cummins starts with a bouncer
Hello Ravindra Jadeja! says Pat Cummins. What snorter of a delivery to get first thing in the morning. That fizzed over his head in no time. That will wake Jadeja up completely. Pat Cummins doesn't need any warm-up, just runs in a the start of a day and bangs it in at full pace to let the batsman know about his intentions.
5:02 hrs IST
Firs runs for India on Day 3
Mitchell Starc strays down the leg side and Ajinkya Rahen tucks it off his pad to get a couple of runs. A nice little gift to start the day for the India skipper. India 279 for 5 as Starc finishes his incomplete over to kickstart Day 3.
4:58 hrs IST
Players walk out
Ajinkya Rahane and Ravindra have made their way out into the centre and so are the Australians. We are all set for the action to begin. It's a beautiful morning at the MCG.
4:55 hrs IST
India vs Australia live: Day 3 pitch report
"It will only become harder and quicker, we are not sure about the moisture in there but it should come on to the bat well," says Ajay Jadeja. Glenn McGrath says "It will be the best batting day".
4:50 hrs IST
Australia still in the game, says Glenn McGrath
Former Australia fast bowler Glenn McGrath believes if Australia and get a couple of wickets early and bowl India out cheaply on Day 3, they will be in the game. But he also agreed they will have to bat rally well to back in this Test.
4:46 hrs IST
Can India bat Australia out?
Well,there is no reason to say they can't but it won't be an easy task, like it wasn't on Day 2. The key for Ajinkya Rahane and Ravindra Jadeja will be to start afresh, forget what happened yesterday, and try to get through the first hour of Day 3. With a lead of 82 runs behind them, their confidence will be sky high but their biggest threat will again be Pat Cummins.
4:42 hrs IST
India vs Australia live score Day 3: Rain an unlikely threat
Rain did force a slightly early Tea and stumps on Day 2 but the weather forecast of Melbourne for today doesn't show similar signs. There is very little chance today as we can expect a largely uninterrupted Day 3 between India and Australia at the MCG.
4:36 hrs IST
Say hi to Jadeja the Test batsman
We sang praises of Ajinkya Rahane's hundred and will continue to do so for a long time. It was that good and impactful an innings but what Ravindra Jadeja did at the other end was nothing short of brilliant. The all-rounder who missed the first Test showed why India were so desperate to get him back in the XI. While there were never doubts about Jadeja the bowler and batsman, Jadeja the batsman in Test cricket never seemed to be the bankable one. He proved all his doubters wrong by playing a chanceless (stress on this word) unbeaten knock of 40.
4:31 hrs IST
Captain Ajinkya Rahane or batsman Ajinkya Rahane?
Well it's tough a choice as both versions have been simply outstanding in this Test match but one would have to say the batsman Ajinkya Rahane will take the cake as it was too good an innings on Day 2. Yes, he got a chance and a few edges went here and there but which Test match hundred doesn't have these? That Rahane was in control of 88% of his shots on Sunday speaks volumes about his innings against a top quality bowling attack. India were down but Rahane said they are not out. He took India to a position where they can now dictate terms in this Test by slamming his 12th Test ton and first one as captain.
4:24 hrs IST
What happened in Day 2?
A LOT! And majority in India's favour. Shubman Gill and Cheteshwar Pujara rode their luck early on Day 2 to get through the tough period before both of them fell to Pat Cummins. In the second session, Rahane lost Hanuma Vihari early but stitched a momentum changing significant partnership with Rishabh Pant in which the latter was the aggresser. When Pant was dismissed by Mitchell Starc against the run of play, India were still some runs away from Australia's total but by the time rain forced a slightly early stumps, India were 82 runs ahead as Jadeja and Rahane had put together an unbeaten stand with the stand-in captain leading from the front with his 12th Test century. India were at 277 for 5 at stumps.
4:15 hrs IST
India vs Australia live cricket score 2nd Test Day 3
There will be spring in every Indian cricket fan's step today when play begins today on Day 3 of the IND vs AUS 2nd Test in Melbourne. There is every reason to be overjoyed if you are on the Indian side thanks to their 'dominant' display yesterday. Pardon me for sounding a bit biased but I can't help it. The 82-run lead with 5 wickets in hand is music to the ears as wait for the first ball of Day 3. You can catch all the live action of India vs Australia 2nd Test Day 3 here.