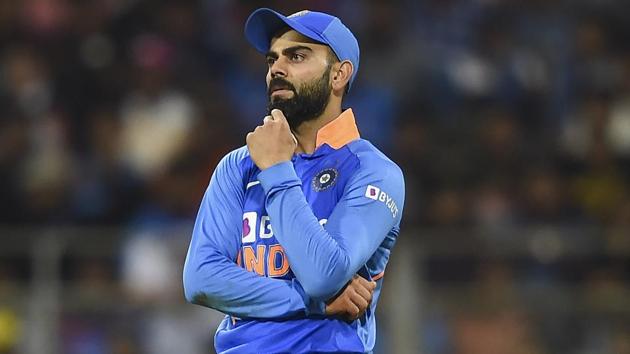 Zampa finds a chink in Kohli's tough armour
Virat Kohli has struggled against Adam Zampa at times and the Australia spinner revealed his approach while bowling at the India skipper.
Rajkot | By Sanjjeev K Samyal
UPDATED ON JAN 16, 2020 11:51 PM IST
Cricket matches have meaning deeper than just results. They are also about those mini-battles between the world's top players. These contests embellish the bigger contest.
As an added attraction in this ongoing India-Australia ODI series, the go-to side attraction remains Aussie leg-spinner Adam Zampa throwing down the gauntlet to the best batsman in the game, Virat Kohli.
Zampa has been humble by not claiming any big advantage. But he has triggered this talk based on his impressive record against the Indian skipper, where he has claimed Kohli's wicket four times in the 11 ODIs they have faced-off in. The leggie repeated the feat again in the opening match of this series, when he induced Kohli to hit a return catch at him, triggering a middle-order collapse at the Wankhede Stadium that India didn't recover from.
READ: Team India's 87-year-old superfan Charulata Patel passes away
But the Australians will be aware that Kohli has got runs in this period as well, so it's not a one-sided rivalry. It's just that Australia's think-tank feels their best chance against Kohli is to attack him early with leg-spin, like they did in Mumbai on Tuesday. "We basically just find that Kohli finds leg-spinners hard to line up early in his innings, to be honest," said Zampa. "He's such a great starter, even the other day he was 16 off 14 or whatever it was, how much energy he brought to the crease, his running between the wickets, some of the cover drives he played off the quicks."
The 27-year-old, who will play his 50th ODI in Rajkot, added that it was key to vary bowling plans against Kohli. "It's important to try and have a game-plan for him, so we figured out for that last game that it would be good to start with leg-spin to him. It might be different next game," Zampa said. "As it's been mentioned, I've got him out four times in the last year or so it's nice to have that confidence to bowl to him at the start of his innings." Kohli too had spoken about Zampa's threat at the start of the series, paying him rich tribute by suggesting the leggie's presence helped Australia win the five match ODI series, also played in India, last March.
READ: Pak pacer Amir reacts after Kohli gets 'Spirit of Cricket' award
Highlighting his approach when bowling against Kohli, Zampa spoke of the importance of being an attacking bowler. "It's got to be an attacking approach. If you're on the back foot and have a defensive mindset then that's when he can get on top of you," he said. "The most important thing playing in places like India against these guys is to have a little bit of character. You probably know you're going to get hit for boundaries but it can really get worse if you make that affect you." With India in a do-or-die situation, and the team's fortunes so heavily dependent on Kohli, the stage is perfectly set for his battle with the leg-spinner. Zampa, however, is ready for India's premier batsman going hard at him.
"He still scores at over 100 (strike rate) against me. He is a very hard guy to bowl to. If you bowl a bad ball to him he can get on top of you but if you let that affect you he gets on top of you even more," acknowledged Zampa. "He's one of the toughest guys I've ever had to bowl to, particularly after Game 1, Game 2 coming up tomorrow I think he will be even more switched on. It's a big challenge."
Close