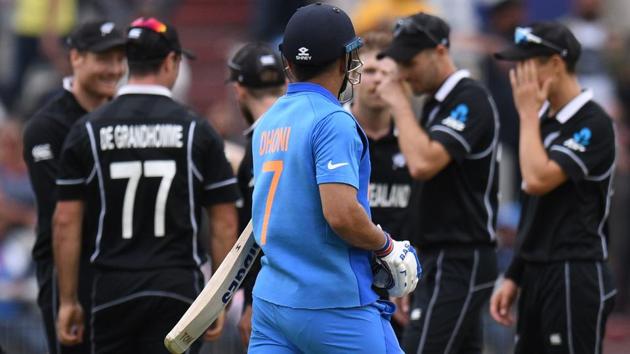 India vs New Zealand Highlights, 1st Semi-Final World Cup 2019: Jadeja's heroics in vain as New Zealand beat India to enter final
As it happened: New Zealand edged India by 18 runs to seal a place in the final for the second time in as many editions of the tournament. Ross Taylor's 74 and Kane Williamson's 64 helped the Kiwis put on a total of 239 runs on the board in 50 overs on reserve day after Tuesday's play was washed out due to rain. India then suffered a top-order collapse but a century stand between Ravindra Jadeja and MS Dhoni revived the chase. In the end, both were dismissed in quick succession as India lost the match in the last over.
India vs New Zealand, highlights:
UPDATED ON JUL 11, 2019 12:05 PM IST
19:40 hrs IST
Virat Kohli on the defeat
'Bad 45 minutes in the knockouts puts you out of the tournament. Very proud of the way we played. Our shot selection could have been better but other than that, really proud of the way we played in the tournament. Credit to New Zealand as to how they bowled in the initial stages of the match. Jadeja changes the game in such a short time and his partnership with Dhoni was amazing. But cricket is a game of margins and it showed in the end with the run out.'
19:32 hrs IST
MOTM
Matt Henry is adjudged the man of the match for his outstanding performance. He ended up with outstanding figures of 3/37. He says that it is great feeling to have helped the team enter the final of the World Cup.
19:25 hrs IST
New Zealand win
Yuzvendra Chahal is the last Indian batsman to fall and with that New Zealand have won the match by 18 runs. Ravindra Jadeja's heroics went in vain as the Kiwis sealed a place in the final for the second time in as many editions of the tournament.
19:20 hrs IST
Six and out
MS Dhoni sent a billion fans intro frenzy with a huge six off Lockie Ferguson. But then, Martin Guptill effected a direct hit to dismiss the former India captain. Bhuvneshwar Kumar is the next batsman to be dismissed as India are nine down. 23 runs needed off the last over now.
19:15 hrs IST
Jadeja departs!
In trying to up the ante, Ravindra Jadeja is dismissed by Trent Boult for 77. The left-hander top edges the ball and Kane Williamson take a good high catch to break the partnership. Bhuvneshwar Kumar joins MS Dhoni in the middle. India need 31 off 12.
19:08 hrs IST
Excellent over from Henry
Mat Henry comes up with a sensational over under pressure as he gives away just five singles in the over. Trent Boult to bowl the 48th over as India need 37 off 18 deliveries.
19:02 hrs IST
100-run stand
Jadeja and Dhoni have put together 100-run stand off just 99 deliveries. Then, Jadeja edges a ball for a boundary as India score 10 runs off Trent Boult's overs. 42 needed off 24 deliveries. This is going to be thrilling ride. Everyone please fasten your seat belts!
18:57 hrs IST
Fourth six for Jadeja
Ravindra Jadeja hits Lockie Ferguson for a huge six over long-off. There was now fielder there and it made it easy for Jadeja to go for that shot. 10 runs from that over as India are going along with the chase nicely.
18:52 hrs IST
Jadeja living dangerously
James Neesham could have dismissed Ravindra Jadeja twice in the over but on both the ocassions the ball landed in front of the fielders. First, the Jadeja top-edged the ball in front of Ross Taylor at leg slip and then he hit the ball in front of the fielder at long-on. India need 62 off 36 now.
18:47 hrs IST
Stat attack
Fifty for Jadeja
His 11th ODI fifty
His 3rd against New Zealand in ODIs
His 1st WC fifty
The first number 8 Indian to score a fifty in WC matches
The first player to score a fifty at number 8 in a WC semi final match
18:42 hrs IST
Fifty for Jadeja
Ravindra Jadeja brings up his half-century off just 39 deliveries and he comes his with his usual sword celebration. The Indian fans too are back in business. Three boundaries and three sixes have helped Jadeja go past the 50-run mark. But he of all people will know job is half done.
18:38 hrs IST
Another six for Jadeja
Bits and pieces hits his third six off the innings and bowler Santner sees the ball go over deep mid wicket ropes. 9 runs came from that over as India are now starting to put the pressure on the Kiwi bowlers. Stunning stuff this from Jadea as he has revived India's chance on his own.
18:34 hrs IST
Jadeja on the attack
Ravindra Jadeja has made a match of this single-handedly and he leading their charge in the chase. He hits Lockie Ferguson for a boundary and then India score five runs off the remaining five deliveries. India now need 90 off 60 deliveries and the match seems to be heading right down to the wire.
18:29 hrs IST
Second six for Jadeja
Ravindra Jadeja is not going down without a fight as he comes down the ground and hits Mitchell Santner for a huge six down the ground. Second six of the innings for Jadeja as Santner concedes 10 runs off the over. India need 99 off 66 deliveries.
18:23 hrs IST
Super shot from Jadeja
Mat Henry drops the ball short and Ravindra Jadeja hit the ball towards mid wicket for a boundary. Five runs off that over from Henry as he has now bowled 9 overs in the innings. The partnership between Dhoni and Jadeja is worth 39 now off 45 deliveries.
18:18 hrs IST
Tidy over from Henry
Trent Boult has been taken off after just one over in the second spell as Kane Williamson keeps his two overs for the final stages of the innings. Mat Henry comes into the attack and he bowls a four-run over. He too has now bowled 8 overs and his figures read 3/27.
18:11 hrs IST
Jadeja shows intent
Ravindra Jadeja is making MS Dhoni run hard between the wickets and that is resulting in India upping the run rate. Five runs came from Mitchell Santner's over as India continue to stay alive in the match.
18:07 hrs IST
Excellent timing from Dhoni
MS Dhoni hits a perfect straight drive off Trent Boult and the ball goes away for a boundary down the ground. Boult concedes 8 runs off his first over in the second spell. In eight overs, Boult's figures read 1/26.
18:01 hrs IST
First six of the innings
Ravindra Jadeja comes dancing down the track and hits James Neesham for a huge six straight over his over. With that, India have crossed the 100-run mark and the southpaw tells the fans the match is not over yet.
17:57 hrs IST
Stat attack
Hardik Pandya dismissed for 32 (62). 1st time dismissed by a spinner in ODIs this year. 4th time dismissed by Santner in ODIs, now the most times by a bowler to Pandya in ODIs
17:51 hrs IST
Pandya departs
Like Rishabh Pant, Hardik Pandya too throws away his wicket as he is dismissed by Mitchell Santner for 32. The right-hander went for the slog sweep and top edged the delivery in the air. Kane Williamson take a good catch at short mid wicket. India are six down in chase now and staring down the barrel.
17:46 hrs IST
Decent over for India
James Neesham gets hit for 7 runs in the over as India are nearing the 100-run mark now. MS Dhoni hits couple of shots towards covers to show that the match is still alive for India. These two have been batting well and need to continue for most parts of the innings.
17:40 hrs IST
Required rate jumping up
India's scoring rate is at 2.96 at the moment and the required rate has gone up to 7.14 now. Pandya and Dhoni are just keeping India alive in the match as boundaries are hard to come by at the moment. Singles are the order of the day!
17:34 hrs IST
Excellent from Ferguson
Lockie Ferguson has now bowled 5 overs and he has conceded just 12 runs. He hasn't picked up a wicket so far but he has created chances. Dhoni and Pandya will have to do something spectacular if India are to enter the final.
17:27 hrs IST
Dhoni needs to hold fort
Hardik Pandya has done well on one end and he has scored 26 runs off 47 deliveries thus far. MS Dhoni need to give him support from the other end and the two will have to build a partnership to keep the Kiwis at bay for as long as possible.
17:20 hrs IST
Pant departs
Mitchell Santner picks his first wicket of the day as he gets rid of Rishabh Pant for 32. The southpaw lost his patience and hit the ball into the hands of Colin de Grandhomme at mid wicket. India have lost half their side as MS Dhoni joins Hardik Pandya in the middle.
17:16 hrs IST
Another tidy over
James Neesham keeps a check on the scoring rate and gives just one run off his second over. India still have few batsmen left and so these two need to just keep on batting and take India's score closer to the target.
17:11 hrs IST
Maiden over
Spinner Mitchell Santner comes into the attack and he bowls an excellent first over as it is a maiden. Although he didn't give away any run, he didn't threaten Hardik Pandya as he defended the deliveries quite comfortably.
17:05 hrs IST
Runs for Pant
Rishabh Pant hits his fourth boundary of the innings as James Neesham concedes 8 runs off his first over. Short and wide from Neesham and Pant went after the delivery. The ball took a thick edge and went for a four towards third man. 20 overs have been bowled now and India are way behind the required rate.
India 70/4 after 20 overs means that we will now have a result in this game.
BTW as per DLS India's par score is 110 (behind by 40 runs)#SemiFinal1 #CWC19 #CWC2019#IndvNZ #IndvsNZ#NZvInd #NZvsInd

— Mohandas Menon (@mohanstatsman) July 10, 2019
16:58 hrs IST
Good over for India
With boundaries hard to come by, Pant and Pandya are relying on singles and doubles and they score 9 runs off Colin de Grandhomme's second over. India are slowly and steadily rebuilding the innings despite some impeccable bowling from the Kiwis.
16:52 hrs IST
Half-chance
Lockie Ferguson makes Hardik Pandya hit the ball in the air but to India's luck, the ball lands away from Martin Guptill, who was fielding at short mid wicket. This is the second time Ferguson has been denied a wicket today. 4 runs came from his over as India cross the 50-run mark.
16:46 hrs IST
Good first over from CDG
Colin de Grandhomme bowls a good first over and gives away just 4 runs. India need to just build a partnership and steady the ship. Pant and Pandya have shown they can bat on this track and they need to weather this storm that has wrecked the Indian boat.
16:40 hrs IST
Second boundary for Pandya
Hardik Pandya hits Matt Henry for a boundary towards sweeper cover and this is his second boundary of the innings. Pant and Pandya are trying to stitch a partnership and bail India out of trouble. So far they have added 19 runs off 27 deliveries.
16:32 hrs IST
Dropped!
India should have been five down but James Neesham drops a tough chance at short mid wicket and Rishabh Pant survives for 18. The ball was hit hard and Neesham let the ball go in between his hands. Lockie Ferguson cannot believe his luck as he almost picked a wicket on his first ball of the day.
16:25 hrs IST
India has hope
Matt Henry provided the first breakthrough by producing an outside edge of Rohit's bat and Tom Latham took an easy catch behind the stumps. Kohli was sent back into the hut by Trent Boult, who trapped him LBW for 1. The India skipper opted for the DRS but umpire's call was retained. Rahul too nicked a Henry delivery into the hands of Latham for 1.
India have now set an unwanted record in the history of World Cup semi-finals. 5/3 is the lowest total for the loss of three wickets in World Cup semis. Earlier, Australia held this unwanted record as they were reduced to 8/3 against Windies in the 1996 edition of the tournament in Mohali.
Read more about here.
16:22 hrs IST
Karthik departs
By jeez, that is a stunner from Jimmy Neesham. Length ball on off, Karthik takes the front foot forward, opens the face of the bat, the ball flies to the right of Neesham who sticks out his right hand and grabs an absolute corker. New Zealand are on the charge, they are absolutely relentless.
16:16 hrs IST
Pant, Karthik seeing off this phase
After the top order demolition, Pant and Karthik are looking to see of this phase. This has been a proper test, the ball has swung around, but these batsmen are tying to combat the storm.
15:52 hrs IST
KL Rahul goes back
This is collapse, this is massive. KL Rahul offers a meek bat to the ball which is outside off and the ball takes the shoulder of the bat and Tom Latham takes the catch. Boy, this is some start for New Zealand, India are on the mat.
15:37 hrs IST
Kohli out
Man, this is a colossal moment in this World Cup. Boult traps Kohli, India on the mat, they are rocked early here and India are on the mat early here. Now, this is set up so nicely, New Zealand are flying, India are stunned, the crowd has lost its voice.
15:39 hrs IST
Rohit departs
Length ball angled in, it then hits the seam and decks away just a touch, Rohit lunges forward, ball takes the edge and Latham takes the catch comfortably. Dream start for New Zealand, this is a huge wicket and India have been rocked early.
15:31 hrs IST
Chase commences
Out walk Rohit Sharma, KL Rahul. New Zealand need early wickets, they cannot contain this Indian batting order. Trent Boult has enjoyed himself against Rohit Sharma. Will he get the in-form Rohit another time? India are the favourites, but well, they have to score these runs and there is pressure of the semis.
15:23 hrs IST
Innings over
Jasprit Bumrah bowls an excellent last over and concedes just seven runs off it. With that, New Zealand end their innings at 239/8 in 50 overs. Ross Taylor top scored with 74 while Kane Williamson hit 67. For India, Bhuvneshwar Kumar was the pick of the bowlers as he scalped 3/43. Four other Indian bowlers scalped one wicket each.
15:18 hrs IST
Third wicket for Bhuvi
Mitchell Santner hit Bhuvneshwar Kumar for the first boundary of the day but the India pacer hit back by getting rid of Matt Henry for 1. The right hander hit the ball straight into the hands of Virat Kohli at long-on. Kiwis are eight down now.
15:13 hrs IST
Spectacular catch from Jadeja
You just cannot keep Ravindra Jadeja out of the game as after effecting a brilliant direct hit, he takes a blinder at deep mid wicket to get rid of Tom Latham for 10. Bhuvneshwar Kumar has picked his second wicket of the innings as Kiwis are seven down now.
15:09 hrs IST
Direct hit from Jadeja
With boundaries hard to come by, Kiwis were settling for singles and doubles and Ravindra Jadeja has put an end to that as well. He effects a brilliant direct hit from mid wicket to get rid of Ross Taylor for 74. Kiwis are six down now and Tom Latham has been joined by Mitchell Santner in the middle.
15:04 hrs IST
Good over for NZ
Excellent running between the wicket helped New Zealand score 8 runs from Bhuvi's over. There were three doubles in the over and couple of singles as well. New Zealand will look to get closer to the 250-run mark. Jasprit Bumrah to bowl his second last over of the innings now.
14:59 hrs IST
Match begins
The two sets of players are out in the middle and we are about to get underway at Old Trafford. Bhuvneshwar Kumar has the ball in his hands and he will complete his over by bowling the five deliveries. Tom Latham is on the non striker end and Ross Taylor will face the first ball of the day.
14:52 hrs IST
All set in Manchester
The match will resume at 3:00 PM IST and Ross Taylor and Tom Latham will be at the crease for New Zealand. Bhuvneshwar Kumar will complete his 9th over by bowling the first five deliveries of the day. He and Jasprit Bumrah will complete the 50 overs for India.
14:44 hrs IST
Kohli the bowler
Virat Kohli is warming up by bowling on the practice pitches. Before the game, he had joked he is a very 'lethal bowler'. In the past as well, he himself has said he has a very funny bowling action and it has now come to the fore in Manchester.
Look who's having a bowl at Old Trafford 👀#INDvNZ | #CWC19 | #TeamIndia pic.twitter.com/15MCblN1ht

— Cricket World Cup (@cricketworldcup) July 10, 2019
14:35 hrs IST
Weather update
It seems weather gods have relented and sun is playing hide and seek in Manchester. Indians fans have painted the city blue once again, which is known for its 'Red' dominance over the years. We should (dare we say) have a full match today.
🤦‍♂️ Shaky first touch from Kohli
💥 'Ave it from Pant
👐 Safe hands from Dhoni

India might not have been taking their ⚽ warm-ups all that seriously!#INDvNZ | #CWC19 | #TeamIndia pic.twitter.com/3b09swTHvK

— Cricket World Cup (@cricketworldcup) July 10, 2019
14:27 hrs IST
Reserve day gets thumbs up
Former India cricketers Sourav Ganguly and VVS Laxman tell the official broadcaster that they are happy with the reserved day format. Laxman says: "A team can be at the top of their game in the league stage but can be beaten by rain in the knockouts so this format is
14:20 hrs IST
Break timings
After New Zealand have completed their innings, there will only be a 10 minute break before Indian batsmen will be out in the middle to begin the chase. It seems that rain could be the only thing that could put the breaks on the match, if at all.
14:11 hrs IST
Pitch report
Sanjay Manjrekar tells the official broadcaster that the pitch has returned to its original form which would be slow. So it could to be a struggled for the batsmen once again. Yesterday, Kane Williamson and Co couldn't light up Manchester with their batting but they still managed to take the team past the 200-run mark. If they are able to score 250, expect their bowlers to exploit the slowness of the pitch by taking the pace off the ball.
14:00 hrs IST
Warm-up underway
The two sets of players are in the middle and they are warming up for the rest of the match. New Zealand will resume their innings at 211/5 in 46.1 overs. Ross Taylor will resume innings at 67 and he will be partnered by Tom Latham (3).
13:49 hrs IST
Live pictures from the venue
Hardik Pandya is out on the ground and he is knocking the ball around. MS Dhoni is sitting in the dressing room, trying to figure out the conditions. It remains overcast in Manchester and rain could cause trouble once more.
We're back here at Old Trafford for the semi-final against New Zealand who will resume their innings on 211/5 in 46.1 overs.

Updates - https://t.co/NixsoE7TCH #CWC19 pic.twitter.com/zSgEOYUKn0

— BCCI (@BCCI) July 10, 2019
The sound off @hardikpandya7's bat 😍 #CWC19 | #INDvNZ pic.twitter.com/GNCpDZ0BBq

— Cricket World Cup (@cricketworldcup) July 10, 2019
13:36 hrs IST
India bowlers were on a rampage
New Zealand could muster only 27/1 in 10 overs and this was the lowest score by any team in the tournament in the first powerplay. This score by the Black Caps was one run short of India's total against England in the group stage. Including Hardik Pandya's 10th over, Indian bowlers bowled 43 dots in the first 10 overs and that helped in stifling the batsmen.
13:25 hrs IST
McCullum predicts winning score
Legendary Kiwi cricketer Brendon McCullum feels 250 could be the winning score on this wicket.
Around 250 would never be enough in a bilateral series between these two teams on this surface but in a World Cup semi final....it may just be! 🧐

— Brendon McCullum (@Bazmccullum) July 9, 2019
13:11 hrs IST
Record for Dhoni
Former India captain MS Dhoni became only the second Indian after Sachin Tendulkar to play 350 ODIs. Dhoni became the 10th cricketer to play 350 ODIs in the world after Tendulkar, who has played the most number of ODIs (463), Mahela Jayawardena(448), Sanath Jayasuriya(445), Kumar Sangakkara (404), Shahid Afridi (398), Inzamam-ul-Haq (378), Ricky Ponting (375), Wasim Akram (356) and Muttiah Muralitharan (350). Dhoni also became the first cricketer to play 350 ODIs at a stretch as a designated wicket-keeper. Sri Lanka's Sangakkara had played 360 ODIs as a keeper but those were not at a stretch. He had played 44 ODI as a specialist batsman too.
13:00 hrs IST
High praise for Rohit
"Rohit is one of the greatest one-day players. Whether he would have scored runs in this competition or not, just seeing his record over the years... the three double hundreds in ODIs "No one has done that. He has been really consistent for India at the top. His form was no surprise. If he chooses a tournament like the World Cup to get that form in, as a coach, I will take it," India head coach Ravi Shastri told ICC.
12:48 hrs IST
Weather update
The forecast suggest rain can play spoilsport once again today but at the moment, the weather in Manchester seem to fine. Much will depend upon the ground conditions a well. In case the match cannot be finished today, India will progress into the final.
12:37 hrs IST
All possible revised DLS targets for India
Here is what DLS target would be for India:
- If India get 46 overs, the target will be 237
- If India get 40 overs, the target will be 223
- If India get 35 overs, the target will be 209
- If India get 30 overs, the target will be 192
- If India get 25 overs, the target will be 172
- If India get 20 overs, the target will be 148
12:08 hrs IST
Record for Kane Williamson
New Zealand captain Kane Williamson yet again led his team from the front as he weathered an early storm to help build a strong platform in the crucial ICC World Cup semi-final encounter against India at the Old Trafford in Manchester on Tuesday. With the Indian pace duo of Jasprit Bumrah and Bhuvneshwar Kumar breathing fire with the new ball, Williamson dropped anchor and steered the Kiwis out of trouble after the early dismissal of out of form opener Martin Guptill.
Read about the record here.
11:49 hrs IST
Day for the Indian bowlers
Proof of India's growing bowling superiority lies in how a team struggles for 17 deliveries to get off the mark in a World Cup semi-final. But was that New Zealand's plan all along? With Kane Williamson as captain, one can never be too sure. Cut from the same cloth as MS Dhoni, Williamson believes in taking the game deep, playing out the entire quota of 300 balls and treating every delivery on its merit before it's time to throw caution in the air. It paid massive dividends in the Birmingham thriller against South Africa. Against a team on song like India however, it's tougher to pull off.
Read more about it here.
11:13 hrs IST
Experts not happy with the pitch
Former cricketers have come down heavily on the pitch used for the first World Cup semi-final between India and New Zealand here at Old Trafford. New Zealand found it tough to score runs after opting to bat on what seemed to be a slow and two-paced surface here on Tuesday. The Kiwis managed to reach 211 for five in 46.1 overs before rain pushed the match to the reserve day.
10:52 hrs IST
Controversy in the stands, again
Several spectators were Tuesday handcuffed and ejected from Old Trafford during the first World Cup semi-final between India and New Zealand after mounting a political protest. The fans were apparently Sikh separatists who wore T-shirts and held banners demanding a referendum on an independent homeland to be carved out of India.
Read more about it here.
10:40 hrs IST
Reserve day beckons
With less than four overs to go in what was a New Zealand batting innings that never really did get going, rain halted play first temporarily for three hours, and then permanently for the day. This, then, ensured that the umpires had no other option than to push the first semi-final of this World Cup into its reserve day on Wednesday, where the match will resume (hopefully, considering there is rain forecast for Wednesday as well) exactly where it left off; Bhuvneshwar Kumar bowling the 47th over to Ross Taylor.
Close