India vs West Indies Highlights, 1st Test, Day 1: Pant, Jadeja steer India past 200-run mark at stumps
Highlights:Rain has called for an early end to day's play as India remain at 203/6 at stumps on Day 1. Rishabh Pant and Ravindra Jadeja remain in the middle and will begin the day's play on Friday for India. Ajinkya Rahane's comeback innings ends at 81 as the batsman misses out on a ton. He was cleaned up by Shannon Gabriel as India go six wickets down. Hanuma Vihari edged a delivery from Kemar Roach to Shai Hope behind the stumps. Earlier, Jason Holder won the toss and elected to bowl first. Kohli said he would have batted anyways. India did not opt for Rohit Sharma and R Ashwin and went in with three genuine pacers and Ravindra Jadeja as the spinner.
India vs West Indies, 1st Test, Highlights: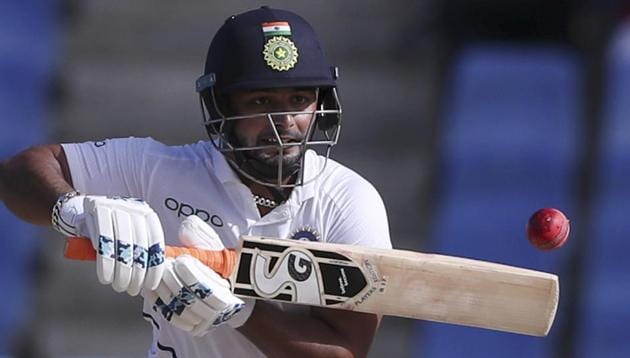 Updated on Aug 23, 2019 08:41 AM IST
02:21 hrs IST
That is Stumps
The umpires have called the rest of the day off with rain pouring heavily. India finish at 203/6 at stumps on Day 1. This has been a mixed bag of a day, and the match is evenly balanced at the moment.
02:08 hrs IST
Rain has arrived again
The rainfall has started falling down and the covers are on, the players are off. India 203/6 with Pant batting on 20 and Jadeja batting on 3.
02:05 hrs IST
Rain approaching
Dark clouds appear to be approaching the stadium as the groundsman have appeared nearby the boundary ropes. There is a chance of passing showers descending on the stadium soon enough. Again.
01:52 hrs IST
200 up for India
FOUR! Ashley Nurse pitches it outside off stump and Rishabh Pant has a go at it. Good shot, it clears the infield, and races to the boundary. 200 up for India.
01:37 hrs IST
Smart innings from Pant
Rishabh Pant is playing smartly at the moment. India are building a wall of defense to play out the final few overs. Pant is not playing a casual off short and defending the ball well. Smart innings from him so far.
01:23 hrs IST
OUT!
GONE! Ajinkya Rahane has been cleaned up by Shannon Gabriel for 81. BIG WICKET for West Indies. India are 189/6.
01:10 hrs IST
Pant needs to show maturity
After failing to perform in the limited-overs, Rishabh Pant needs to make the best of the opportunity at hand in the Test format. Or Wriddhiman Saha is right at the doorstep. He needs to show maturity here.
00:56 hrs IST
OUT!
Kemar Roach gets his third wicket as Hanuma Vihari as edges it to Shai Hope behind the stumps. India lose half their side for 175. Vihari walks back for 32.
00:48 hrs IST
Shannon Gabriel into attack
Miguel Cummins has been replaced and Shannon Gabriel comes into the attack. He dismissed Virat Kohli earlier. Can he get Rahane's wicket here?
00:35 hrs IST
Vihari looking good
Hanuma Vihari is looking good at the moment. He is ensuring, that, India maintain the run rate in the final session and take control of the day's play. Rahane playing a supporting role.
00:25 hrs IST
Play resumes
Cummins is on the attack. Vihari and Rahane are out to bat. India cross the 150-run mark with a boundary after the play resumes. Cummins and Chase are in the middle.
23:50 hrs IST
Tea
The umpires have dragged the players off the field and the covers are on. An early Tea is taken. This session was shared and as things stand right now, the game is in the balance. Rahane has hit his 50 and holds key to India's recovery. He is being given company by Hanuma Vihari, who has started well and his holding his end nicely.
23:39 hrs IST
50 for Rahane
India's vice-captain has hit a 50 and this has been a good, solid Test innings. Watchful up front and then slowly building his innings as the bowlers tire. He lifts his bat and salutes the dressing room, but he needs to stay put and chug on. India are not out of the mire, just yet and the right-hander is an absolute key.
23:29 hrs IST
India have to build again
After the partnership between Rahul and Rahane, India need another stand between these two. This game is evenly poised at the moment. Vihari has started with caution and Rahane looks confident. These two have to stick it out till Tea.
23:16 hrs IST
Some chin music for Vihari
In his short career so far, Vihari has not looked too good against the short stuff and well, Jason Holder has decided to test him out. He manages to evade a few, but this will be proper battle for the right-hander. Hello, hello, Test cricket!
23:05 hrs IST
Vihari takes guard
The young man was impressive in sterner tests back in England and Australia and he walks out once again in a pressure scenario. He has shown good temperament in the limited opportunities and a good innings here will only bolster his credentials.
22:50 hrs IST
Spin introduced and Rahul departs
What a shocking way to get out, full ball spinning down the leg side, Rahul tries to nudge it away and ends up nicking it behind to Shai Hope. Unfortunate and Windies have got a timely and extremely lucky strike. He hangs his head and trudges off and India have lost a wicket against the run of play. This partnership has been broken.
22:35 hrs IST
Rahul holding fort
This one has been one solid innings by KL Rahul. He has looked assured in defence, assured when looking for his strokes, and assured when leaving the length ball outside off stump. He has done the hard work and now needs to kick on and get to that triple digit score.
22:18 hrs IST
Rahane looking positive
It has been a good start post lunch for Ajinkya Rahane. The forward stride is back and those languid cover drives are back too. He is putting away the loose deliveries and then is content in leaving the length balls outside the off stump. This is good Test batting!
22:01 hrs IST
Action resumes post lunch
Ajinkya Rahane takes strike and Kemar Roach has the ball. Action begins again and the Indian batsmen will have to be vigilant in these initial few overs to kickstart the session. The sun has been blazing down on the pitch and this should ease the conditions a fair bit.
21:27 hrs IST
Lunch
West Indies won the first 45 minutes as they sliced through Indian top order. Kemar Roach got rid of Mayank Agarwal and Cheteshwar Pujara in one over. Shannon Gabriel then bounced out Virat Kohli and India were on the mat. However, KL Rahul and Ajinkya Rahane have dug in and saw off the session without any further alarms. This pitch has eased out, but the task is still a huge one post lunch.
21:07 hrs IST
Rahane digging in
India's vice-captain has found support from Virat Kohli and this is his chance to vindicate this trust. He is looking to fight it out and the conditions will improve as the sun beats down on the pitch. The fast bowlers will tire out and that will be the chance for the Indian batting to hit back.
20:44 hrs IST
Rahul looking more confident
After a slow and cautious start, the Indian opener is looking far more confident. He is putting away the loose deliveries and is watchful against the better balls.
20:31 hrs IST
Slow and cautious
The first one hour of the match belonged completely to West Indies. They bowled brilliantly and with three top batsmen back in the pavilion, India are not looking that confident in their approach. However, KL Rahul and Ajinkya Rahane are not taking any unnecessary risks and it is important for them to stitch together a significant partnership. IND 34/3
20:23 hrs IST
New Bowler
Miguel Cummins is introduced into the attack and with Ajinkya Rahane and KL Rahul looking to come back into the game, this is a good opportunity. Cummins and Jason Holder are both trying to get their rhythm right and that can allow the batsmen to get going. India 34/3
20:16 hrs IST
Holder into the attack
The captain takes the ball and he will be very effective on this surface. Gets the ball to bounce from a length and also has the ability to get the away shape. The challenge will not end for the Indian batting. Rahane and Rahul have to keep digging in
20:01 hrs IST
Kohli has been bounced out
This is fire, this is Test cricket and this is West Indies. Shannon Gabriel charging in, bangs the ball in, the ball rises on Kohli, who tries to fend it away, but then only is all caught up in a tangle and offers a simple catch to the gully. What a sensational start to the proceedings, India are in the dumps, they have been jolted here.
19:48 hrs IST
Kohli takes guard
The captain has to take guard early in the match and he gets away with a rather loose stroke outside the off stump. He collects a boundary but the bowler will not be too unhappy with that stroke. This pitch has assistance for the bowlers and India have a battle on their hands.
19:43 hrs IST
Pujara nicks, Pujara out
Now this is some start by the hosts. Roach is on the money and he has drawn the edge of Cheteshwar Pujara. Once again lands the ball on a perfect length, gets it to straighten just a touch and grabs the edge. No hesitation there, India have been rocked early in their campaign.
19:38 hrs IST
Kemar Roach strikes
What a start for the hosts, Roach lands the ball on a length, gets the ball to seam away and catches the outside of Mayank's bat. West Indies refer after the on-field says not out, and there is a spike on UltreEdge. India lose their first wicket and Mayank has to go back. Top delivery by Roach.
19:24 hrs IST
Mayank off the mark
A tap on the off side and a quick single - India get off the mark. Rahul has looked jittery, Mayank has looked confident. This West Indies attack will challenge these openers and well, right on cue, Shannon Gabriel produces an absolute jaffa to Rahul.
19:17 hrs IST
Rahul takes guard
Out walk Mayank Agarwal and KL Rahul. Kemar Roach charges in with the new ball, he will pose questions and Rahul is under pressure. Test cricket is here, folks, let's go.
19:09 hrs IST
West Indies team
Kraigg Brathwaite, John Campbell, Shai Hope(w), Shamarh Brooks, Darren Bravo, Shimron Hetmyer, Roston Chase, Jason Holder(c), Miguel Cummins, Shannon Gabriel, Kemar Roach
19:08 hrs IST
Indian team
Mayank Agarwal, Lokesh Rahul, Cheteshwar Pujara, Virat Kohli(c), Ajinkya Rahane, Hanuma Vihari, Rishabh Pant(w), Ravindra Jadeja, Ishant Sharma, Mohammed Shami, Jasprit Bumrah
19:01 hrs IST
Holder wins the toss
West Indies bowl first, Kohli says he would have batted anyway.
Virat Kohli - We were batting first anyway, look to put runs on the board and then attack with the ball. We know what to do in the middle, need to play consistent good cricket, no room for complacency. Mayank and KL will open in this series. Saha, Rohit, Ashwin, Kuldeep and Umesh are not playing today
18:54 hrs IST
Pitch report
'It's quite warm, a little bit of cloud and there's a strong NorthEasterly wind that blows from left to right. There is some grass on the surface and that means the bounce will be variable, should trouble the batsmen. There is some moisture on this track, pace dominates on this surface. The team batting first needs to be watchful, spin might not play a big role here,' says Daren Ganga, in his pitch report
18:44 hrs IST
Revised playing conditions
We will have an inspection by 9:20am local. If conditions are good, the toss will take place at 9:30am #WIvIND

— BCCI (@BCCI) August 22, 2019
18:37 hrs IST
Much better conditions
The sun is now shining through and the players are going through their drills. Much brighter conditions and very promising signs, but the toss, has been delayed. But the match will start, which is great news.
18:28 hrs IST
Rain
This is the scene from Sir Viv Richards stadium. Though both sides were out warming, the downpour just worsened. Probably no play first session. pic.twitter.com/gmoMizPkno

— Subash Jayaraman (@cricketcouch) August 22, 2019
18:20 hrs IST
Live visuals
Umbrellas are out, well, it has been that sort of a day for cricket. Rain stopped play in Colombo, rain is frustrating in Leeds and now rain is threatening an on-time start at Antigua. However, the good news is that the forecast is relatively clear for the rest of the day. So, we keep our fingers crossed.
18:04 hrs IST
Which combination will Virat Kohli prefer?
The biggest selection headache in front Kohli and the Indian Indian team management is the choice for the No.5 batsman. Test vice-captain Ajinkya Rahane has not been in the best of forms of late which could open the doors for Rohit Sharma who has now turned into one of best white ball players in the world.
This is what we believe can be India's XI for this match.
17:57 hrs IST
What should the captain winning the toss do?
If visuals on the eve of the first Test are to be believed, the pitch has a good coverage of grass and there is also considerable moisture which prompted West Indies Jason Holder to say that it was a 'bowl first track'.
Read more about the pitch and conditions here.
17:49 hrs IST
Squad intact
The players went out for a bonding session at an Antigua beach and skipper Virat Kohli uploaded the a photo of the same. All the players along with support staff were seen having a good time at the beach and Kohli's post read: "Stunning day at the beach with the boys."
Read about the story here.
17:46 hrs IST
Big series for R Ashwin
Against West Indies, he has played in 11 matches and has picked up 60 wickets at an average of 21.85 and with a strike rate of 46.2. The last series India played in West Indies was back in 2016, he claimed 17 wickets and was the Man of the Series. Back then, he had raced away to 350 runs and well, all the tricks were bearing fruits.
More about the man here.
17:31 hrs IST
Shoaib Akhtar predicts India's playing XI
Former Pakistan fast bowler Shoaib Akhtar has put his weight firmly behind India limited overs vice captain Rohit Sharma, asking skipper Virat Kohli and the Indian team management to include the stylish right-hander in India's playing XI for their first match of World Test Championships against West Indies starting Thursday at Antigua.
Read more about it here.
17:20 hrs IST
Rahane vs Rohit decision
India must get limited-overs opener Rohit Sharma to serve the role in test cricket too, former captain Sourav Ganguly has said as the team ponder on their combination for Thursday's first test against West Indies in Antigua. Rohit, 32, has cemented his place at the top of the batting order in the Twenty20 and 50-over formats and finished with most number of runs in the World Cup in England recently. The only player in the world with three double hundreds in one-day internationals, Rohit bats in the middle order in the longest format but has never really flourished as a Test batsman.
17:15 hrs IST
Indian cricketers on names and numbers on jersey
Team India is all set to start their journey in the World Test Championship as per a new experiment envisaged by the ICC, the names and numbers of the players will be inked at the back of their jerseys. Indian cricketers including captain Virat Kohli sported the new Test jersey with numbers on the backside. Skipper Virat Kohli will be sporting his preferred number 18 on his back.
Read what the players have to say here.
17:05 hrs IST
Sehwag advice for Rishabh Pant
Former India opener Virender Sehwag on Wednesday said left-handed batsman Rishabh Pant needs to work on his shot selection to perform well in the limited-overs format.
"Pant has played well in the Test matches. He has to settle himself in the limited-overs game. He has to work on his shot-selection and then he will serve the country for long," Sehwag told ANI.The 21-year-old is the only Indian wicket-keeper batsman who has scored a Test century in Australia and England.
17:01 hrs IST
Holder sounds confident
Despite losing both the T20I and ODI series to India, West Indies skipper Jason Holder said his men are in positive frame of mind and he is equally excited on the start of World Test Championship.
West Indies will host the Virat Kohli-led side for the two Test-match series, with the first one starting here on Thursday.
Read more about it here.
16:55 hrs IST
Confidence in West Indies camp
"If we can collectively play well, we have a chance of beating India. We have individual talents, but it is a matter of playing well as a unit. hopefully, we will be able to play as a team. At the end of the day, once we gel as a unit, we have a chance of winning," Sarwan told reporters ahead of the first Test match.
16:48 hrs IST
The Virat-Viv interview
Legendary West Indies cricketer Viv Richards was at his charismatic best when he spoke to India skipper Virat Kohli in a tell-all interview in Antigua. The Board of Control for Cricket in India (BCCI) uploaded the interview on its website where the two stalwarts of the game shared screen space for this special chat. Kohli donned the hat of a TV anchor and asked questions while Richards gave answers in his usual inimitable way.
Read more about the interview here.
16:32 hrs IST
Selection headache for Kohli
India are likely go into their World Test Championship opener with a four-bowler strategy, hinted skipper Virat Kohli on the eve of the first Test against the West Indies here on Wednesday. A lively pitch was dished out in the last Test played here between the West Indies and England. "We could not look at the wicket as it was still covered. After looking at the pitch, it is more or less a choice between three quicks and a spinner or two quicks and two spinners," Kohli said.
16:03 hrs IST
Hello and welcome
Indian captain Virat Kohli has spoken about the importance of Test cricket. He has also spoken about the World Test Championship and how this format will add relevance to Tests. There is so much to look forward to as the number 1 side lock horns with a formidable West Indies in Antigua.
Close Story