Indian cricket Board decides to wait and watch on pitch-fixing sting
Press Trust of India, New Delhi |
Press Trust of India
May 27, 2018 04:12 PM IST
The sting has been carried out by Al Jazeera channel and the Test matches in question are India vs Sri Lanka (Galle, July 26-29, 2017), India vs Australia (Ranchi, March 16-20, 2017) and India vs England (Chennai, December 16-20, 2016)
The BCCI on Sunday reacted cautiously to a sting operation which alleged pitch doctoring in three Test matches featuring India, saying it would consider action against implicated former cricketer Robin Morris only if he is found guilty in an ongoing ICC probe.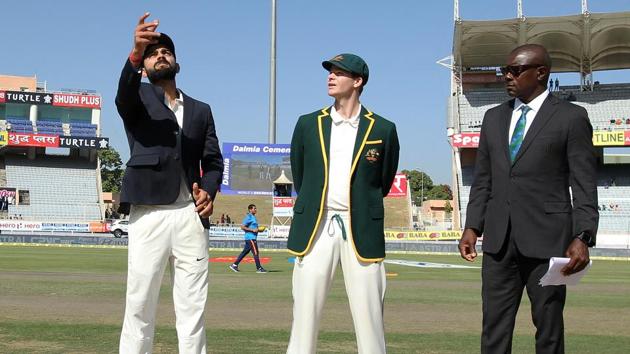 The sting has been carried out by Al Jazeera channel and the Test matches in question are India vs Sri Lanka (Galle, July 26-29, 2017), India vs Australia (Ranchi, March 16-20, 2017) and India vs England (Chennai, December 16-20, 2016).
The first and third Tests mentioned were won by India while the Ranchi encounter ended in a draw.
"We believe ICC has started its probe. Let them complete that and pronounce Morris guilty. The BCCI will only act when they have the verdict in hand," a senior office-bearer of the Board told PTI on Sunday.
He also said that Morris, who has played 42 first-class and 51 List A matches in his career is not currently involved in any BCCI projects.
READ | Three Test matches featuring Indian cricket team were fixed, claims Al Jazeera sting
"We need to check with our Anti Corruption Unit (ACU) whether Morris' name was there on the suspect list. Secondly, he is not associated with any BCCI or state unit project currently from where we need to pull him out.
"So the only thing left is BCCI domestic cricketers' pension of ₹22,500 (after deductions). If he is getting that pension, BCCI is well within its rights to cancel that but only after he has been proven guilty," the official said.
Morris, on his part, has reportedly denied any wrongdoing and has cried conspiracy.
In the documentary titled, Morris, alleged to be a match-fixer, is seen introducing Galle curator Tharanga Indika to the undercover reporter and boasting about getting pitches doctored as sought by fixers. The ICC has launched an investigation into the matter.
Morris, along with former Pakistan cricketer Hasan Raza (world record holder for being youngest ever Test cricketer), is allegedly seen in the video bragging about their connections and ability to fix pitches through groundsmen.
The Mumbai cricketing fraternity wasn't particularly shocked by the allegations against Morris.
READ | Robin Morris: Former Indian first class cricketer in the eye of match-fixing storm
A product of the famous Shardashram School and a disciple of Ramakant Achrekar (Sachin Tendulkar's formative coach), Morris was considered to be a handy limited overs cricketer, who quit cricket at 31.
"Had his best days coincided with IPL, he would have been a good domestic pick. But he went to the rebel (and now defunct) Indian Cricket League just after taking 8 wickets for Mumbai in Irani Trophy," a Mumbai cricket insider said.
A lot of people couldn't fathom why Morris, hailing from a middle-class family, left a secure job with Bharat Petroleum.
"I can bet he didn't earn a fortune playing domestic cricket and ICL. So in past few years, his lifestyle didn't actually add up. He would drive a Mercedes Benz, wear those expensive watches," said another close friend of the former player.
"Some of his old friends started keeping a distance from him. His frequent trips to Dubai did raise suspicion," added a former cricketer, who has played Duleep and Deodhar with Morris.
Since the controversy broke yesterday, Morris has disconnected his mobile number and has also deleted his Facebook account.