'Inzy bhai is far ahead of Rahul Dravid': Wahab Riaz's blunt comparison remark triggers huge debate on Twitter
Jan 05, 2023 04:38 PM IST
Wahab Riaz picked Inzamam-ul-Haq as a better batter than Rahul Dravid, triggering a debate on Twitter.
ingTeam India's head coach Rahul Dravid is widely regarded as one of the best batters in the history of the game. Dravid, who was an integral part of Indian team during his playing career, represented the side in 164 Tests and 344 ODIs, ranking among the Indians with highest appearances for the team. Dravid also captained the side between 2005-2007, with an international career spanning 16 years. The era saw a number of great batters including some in Dravid's own team; in Pakistan, Inzamam-ul-Haq ruled the roost with consistent performances for the national team. Like Dravid, Inzamam had also led the Pakistan side – although for longer tenure – and represented the team in 120 Tests and 378 ODIs.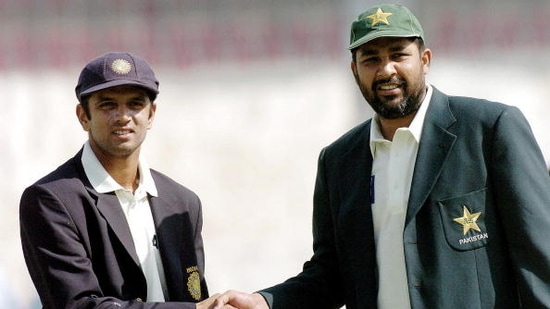 Dravid retired from the game in 2012 while Inzamam had called it quits five years prior to the India great; however, Pakistan's leading pacer Wahab Riaz ignited a debate with a rather straightforward response when he was asked to compare the two.
Also read: 'Hardik needs to focus on his attitude': Former BCCI selector asks Pandya to 'trust your players'
During an interview with CricBridge, the interviewer asked Wahab on picking one between Inzamam and Dravid as a better batter; the cricketer chose the former Pakistan captain, insisting that Inzamam performed brilliantly in both formats of the game.
"Inzy bhai. Inzy bhai performed exceptionally in all formats. He had a lot of time to play his shots against pacers. Inzy bhai is far ahead from Rahul Dravid," said Wahab.
The remark from Wahab Riaz triggered a debate on Twitter:
Inzamam finished with an impressive average of 49.33 in the longest format of the game, scoring 8830 runs in 120 matches. In ODIs, he remains the only Pakistan batter to have scored more than 10,000 runs (11,739 @ 39.53).
Dravid, meanwhile, is widely regarded as one of the greatest batters in Test cricket, and is currently the fourth-highest run-getter in the format. He scored 13288 runs in 164 Tests, and remains only behind Sachin Tendulkar, Ricky Ponting, and Jacqiues Kallis in the list. In ODIs, Dravid has 10,889 runs to his name in 344 matches (at average of 39.16).