India vs Bangladesh, Nidahas Trophy T20 final, Colombo, highlights: Dinesh Karthik blitzkrieg guides IND to victory
Mar 18, 2018 11:40 PM IST
Follow highlights of India vs Bangladesh, Nidahas Trophy tri-nation T20 final in Colombo here. Dinesh Karthik guides India to a thrilling win over Bangladesh in the summit clash of Nidahas Trophy T20 in Colombo on Sunday.
Dinesh Karthik and Rohit Sharma played crucial knocks as India beat Bangladesh to clinch the Nidahas Trophy T20 title. Needing 34 off the last two overs, Karthik slammed a 8-ball-29 to guide his team to victory after Rohit Sharma laid the foundation with a brilliant half century. Earlier in the match, Saabbir Rahman scored a brilliant half century off 37 balls to take Bangladesh to 166/8 in 20 overs. Yuzvendra Chahal took three wickets after India won the toss and decided to field. Follow highlights of India vs Bangladesh, Nidahas Trophy tri-nation T20 final in Colombo here. (LIVE STREAMING | LIVE SCORE)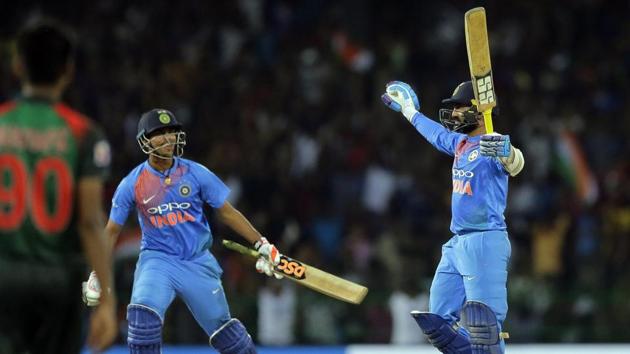 23:15 hrs IST: That's all from the series. Good night and good bye!
23:05 hrs IST: Washington Sundar is the man of the series. He was quite impressive in this tournament and this can be a huge stepping stone for the youngster.
23:03 hrs IST: "Really happy to come out of this tournament. Wouldn't have done justice to this tournament had we not won with the bunch of young guys in the team. I have been practising these shots - having a strong base and then hitting from there. Happy to be where I'm and thanks to the support staff who have kept on supporting me for the last few months." - Dinesh Karthik in the post-match press conference.
23:00 hrs IST: Dinesh Karthik is the man of the match for his brilliant innings!
22:55 hrs IST: "When I got out, I thought somebody has to get the runs. DK has done that in the past. He can get that quick 20 runs and we had the belief in him. And my god he did. They bowled well in the middle overs. Rohit was set and somebody had to go for the big hits. It was my job and I did that." - Manish Pandey after the match.
22:42 hrs IST: 29 off 8 balls - A match winning knock by the newly appointed Kolkata Knight Riders skipper!
22:40 hrs IST: A six off the last ball! Dinesh Karthik has done it! India clinch the Nidahas Trophy title!
22:36 hrs IST: 5 balls needed off the last ball. Vijay Shankar goes for the big one but is caught in the deep!
22:34 hrs IST: A crucial boundary for Vijay Shankar ! India need 5 runs to win from 2 balls.
22:29 hrs IST: A boundary on the last ball! 22 runs off 6 balls - This is a special innings from Dinesh Karthik. India need 12 runs in 6 balls.
22:27 hrs IST: Absolute brilliance by Dinesh Karthik! 6,4,6 - He has changed the game completely! IND 149/5
22:25 hrs IST: Stand and deliver! First ball and Dinesh Karthik hits it for a huge six. IND 139/5
22:23 hrs IST: OUT! Massive wicket for Bangladesh! Manish Pandey is caught in the deep for 28. India need 34 runs in 12 balls.
22:20 hrs IST: Back to back dot balls. Pressure on India! IND 132/4
22:17 hrs IST: Vijay Shankar steps up to the plate as he hits the ball for a four through mid wicket. IND 132/4
22:14 hrs IST: Quiet start to the over as the India batsmen are struggling to get boundaries. IND 126/4
22:12 hrs IST: A four for Manish Pandey kept the required run rate in control. India need 44 runs in 24 balls.
22:06 hrs IST: Consecutive boundaries for Manish Pandey. This is taking the pressure off India as they need 53 runs in 32 balls.
22:03 hrs IST: India need 63 runs in 36 balls to win the Nidahas Trophy title. IND 104/4
22:01 hrs IST: Vijay Shankar is not pulling any punches as he gets a boundary through square leg. IND 104/4
21:58 hrs IST: Huge wicket for Bangladesh as Rohit Sharma departs for 56. He went for the big one but is caught in the deep off the bowling of Nazmul Islam. IND 98/4
21:56 hrs IST: 70 runs needed off 42 balls. This match is going down to the wire!
21:53 hrs IST: The last 3 overs have been quite good for Bangladesh. 10 runs and a wicket. IND 94/3
21:48 hrs IST: Finally the fifty comes up for Rohit Sharma. It has been a brilliant innings by the skipper and looks like he will guide his team to victory. India need 76 runs in 48 balls.
21:41 hrs IST: OUT! KL Rahul (24) goes for the big one but Sabbir Rahman completes the catch at the fine leg boundary. IND 83/3
21:36 hrs IST: KL Rahul miscues the shot but the ball lands in a no-man's land. IND 75/2
21:32 hrs IST: Rohit Sharma is 6 runs away from a brilliant fifty and this knock has easily turn out to be the difference between the two sides tonight. IND 71/2
21:28 hrs IST: Another six! KL Rahul joins the party as he slams the ball over the mid wicket boundary. IND 64/2
21:23 hrs IST: This is looking too easy for Rohit Sharma as he is playing the bowlers quite comfortably. India need 111 runs in 84 balls.
21:18 hrs IST: Rohit Sharma is not bothered by the fall of wickets. A boundary straight down the ground followed by a huge six! IND 48/2
21:15 hrs IST: KL Rahul is the new batsman and he starts his innings with a brilliant boundary. IND 37/2
21:12 hrs IST: Suresh Raina departs for a duck! This is getting tough for India as Rubel Hossain claims his first wicket of the match. It was given not out by the umpire but the review went in Bangladesh's favour. IND 32/2
21:07 hrs IST: OUT A miscue from Shikhar Dhawan and Anamul Haque completes the catch! IND 32/1
21:04 hrs IST: A four and a six! This is turning out to be a huge offer for Rohit Sharma! IND 24/0
21:02 hrs IST: Solid contact for Rohit Sharma and the ball sails over mid wicket for a huge six! IND 14/0
21:00 hrs IST: Rohit and Dhawan off to a decent start. One big partnership should do it. India are 7/0 after the first over.
20:50 hrs IST: India were off to a great start before Bangladesh's recovery was led by Sabbir and Rahim first, before Mahmudullah, Shakib and Mehidy Hasan all played a part to push the score along.
20:46 hrs IST: A brilliant fifty by Sabbir Rahman takes Bangladesh to 166/8 in 20 overs against India.
20:42 hrs IST: A four and a humongous six for Mehedi Hasan.Very important runs towards the end of the innings for Bangladesh. BAN 158/8
20:40 hrs IST: 19 overs gone. Bangladesh are struggling at 148 for the loss of 8 wickets.
20:36 hrs IST: Sabbir Rahman's innings finally comes to an end as Unadkat castles him. Rubel Hossain is the next batsman to go as he departs two balls later. BAN 148/8
20:33 hrs IST: Two boundaries in the over and a run off the last ball. Sabbir Rahman will surely be quite happy with the over. BAN 145/6
20:29 hrs IST: An easy run out chance for Shardul Thakur but the throw was nowhere near the stumps. To add insult to injury, the LBW appeal was rejected by the third umpire. BAN 136/6
20:25 hrs IST: Another run out. A risky run goes wrong as Shakib Al Hasan departs for 7. BAN 133/6
20:23 hrs IST: Two sixes in the over for Sabbir Rahman! Horrible outing for Vijay Shankar as he has already conceded 47 runs in his spell. BAN 133/5
20:21 hrs IST: 4th T20 fifty for Sabbir Rahman. He has been the beacon of hope for Bangladesh in this match and they will be depending on him to take them to a big total. BAN 126/5
20:18 hrs IST: Sabbir moves towards his fifty as he hits a huge six over mid wicket. Great stuff! BAN 118/5
20:13 hrs IST: An absolute comedy of errors between the batsmen and it resulted in Mahmudullah getting run out. A huge blow for Bangladesh. BAN 104/5
20:10 hrs IST: 100 comes up for Bangladesh in the 14th over. They have lost four wickets but Sabbir and Mahmudullah are looking in fine touch. BAN 100/4
20:07 hrs IST: A deft touch by Sabbir Rahman as the ball rushes to the fine leg boundary. Next ball, it's a lofted shot over long off as Bangladesh fight back. BAN 98/4
20:03 hrs IST: A loose ball outside the off stump and Mahmudullah guided it to the third-man boundary. BAN 89/4
20:00 hrs IST: End of the 12 over. Bangladesh need to increase their run rate as they are 82 for the loss of 4 wickets.
19:56 hrs IST: A brilliant fielding effort by Suresh Raina and tight bowling by Vijay Shankar has kept Bangladesh under pressure. BAN 79/4
19:51 hrs IST: OUT! Third wicket for Yuzvendra Chahal! A rash shot by Mushfiqur Rahim and Vijay Shankar had no issues in completing the catch. BAN 68/4
19:47 hrs IST: Sabbir Rahman is going great guns right now as he is leading the fightback for Bangladesh. BAN 67/3 after 9 overs.
19:43 hrs IST: After 8 overs, Bangladesh are 59 for the loss of 3 wickets.
19:40 hrs IST: A six and a four! Horrible start for Vijay Shankar as Mushfiqur Rahim is hitting him all over the place. Good over for Bangladesh till now. BAN 57/3
19:37 hrs IST: Mushfiqur and Sabbir are not going for big shots and their main motive right now is to stabilise the innings after the quick wickets. BAN 45/3
19:33 hrs IST: A short ball from Shardul Thakur and although it took Sabbir's top edge, the ball flew over the keeper's head for a boundary. BAN 40/3 after 6 overs.
19:30 hrs IST: The Indian spinners have pegged Bangladesh back with 3 super quick wickets! This is exactly the kind of start that India needed in this summit clash! BAN 35/3
19:26 hrs IST: OUT! Second wicket for Yuzvendra Chahal as Soumya Sarkar swept it straight to Shikhar Dhawan at square leg. This is going horribly wrong for Bangladesh. BAN 33/3
19:22 hrs IST: Another wicket! Tamim Iqbal completely messed up his shot and Shardul Thakur pulled off a great catch in the deep to dismiss the in-form batsman. BAN 27/2
19:19 hrs IST: 4 overs gone. India have finally struck thanks to Washington Sundar and it will be interesting to see how Bangladesh will respond to this setback. BAN 27/1
19:17 hrs IST: I stand corrected! Washington Sundar has provided the breakthrough for India as Liton Das departs for 11 after playing a rather rash shot. BAN 27/1
19:15 hrs IST: A huge six and more crucial runs for Bangladesh in the third over. The openers are looking in good touch and till now, the Indian bowling has not yielded any result.
19:11 hrs IST: A good effort by Manish Pandey in the deep to save a boundary. These runs will be very crucial if the game goes down to the wire. BAN 16/0
19:08 hrs IST: Washington Sundar to bowl from the other side. He bothered the Bangladesh batsmen in their last game and an early wicket will be ideal for India. BAN 13/0
19:05 hrs IST: Cautious start by the Bangladesh openers as they are looking to get quick singles early on. However, a good end to the over as Tamim gets a boundary off the last ball. BAN 9/0
19:00 hrs IST: Tamim Iqbal and Liton Das to open the batting for Bangladesh. Jaydev Unadkat to bowl the first over.
18:55 hrs IST: The players are out in the middle and it is time for the national anthems.
18:45 hrs IST: Bangladesh (Playing XI): Tamim Iqbal, Liton Das, Sabbir Rahman, Mushfiqur Rahim(w), Soumya Sarkar, Mahmudullah, Shakib Al Hasan(c), Mehidy Hasan, Mustafizur Rahman, Rubel Hossain, Nazmul Islam
18:41 hrs IST: India (Playing XI) - Rohit Sharma(c), Shikhar Dhawan, Suresh Raina, Dinesh Karthik(w), Lokesh Rahul, Manish Pandey, Vijay Shankar, Washington Sundar, Shardul Thakur, Jaydev Unadkat, Yuzvendra Chahal
18:35 hrs IST: Jaidev Unadkat in for Mohammed Siraj while Bangladesh have made no changes to their squad.
18:31 hrs IST: Rohit Sharma won the toss and decided to field against Bangladesh.
18:22 hrs IST: Bangladesh will look to counter Washington Sundar in the powerplay overs after the youngster bothered them in the previous game.
18:16 hrs IST: It will be an important toss to win as both teams are quite comfortable while chasing in T20 Internationals.
18:10 hrs IST: A new chapter in the history book of cricket rivalries is being written by Sri Lanka and Bangladesh, as players from the two Asian countries have been engrossed in thrilling battles on the field marked by frenzied yet bizarre celebrations. Read the full story here.
18:02 hrs IST: It's unlikely Bangladesh will tinker with the combination that gave them a fascinating win over Sri Lanka while India may bring back pacer Jaydev Unadkat in place of Mohammad Siraj.
17:55 hrs IST: Bangladesh have featured in four finals - thrice in ODIs and once in T20Is - losing all four. This is the first time they play a final outside Dhaka.
17:47 hrs IST: India will be quite confident after the previous game against Bangladesh when Rohit Sharma stepped up after Shikhar Dhawan's rare lapse, and Dinesh Karthik and Manish Pandey put in assured performances in the middle-order.
17:41 hrs IST: According to our correspondent in Colombo, some clouds in the horizon but no chances of rain for the moment.
17:39 hrs IST: Hello and welcome to the Nidahas Trophy T20 final between India and Bangladesh!
During the last encounter between these two teams, Rohit Sharma struck a brilliant 61-ball 89 and was well supported by Suresh Raina as India edged past Bangladesh by 17 runs.
The summit clash of the series will be the eighth T20 face off between the two teams. Rohit Sharma & Co have emerged victorious in all the previous seven occasions. Also, India have won nine of their 11 games at the R Premadasa Stadium in Colombo.