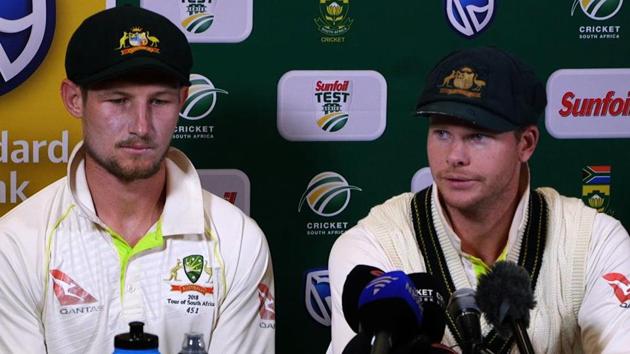 Mark Waugh seeks forgiveness for Steve Smith, David Warner and Cameron Bancroft
Steve Smith, David Warner and Cameron Bancroft were banned by Cricket Australia (CA) for their role in the ball-tampering scandal during the Cape Town Test
UPDATED ON APR 03, 2018 01:16 PM IST
Batting great and Australian team selector Mark Waugh wants to see the suspended trio of Steve Smith, David Warner and Cameron Bancroft return to cricket as soon as possible, citing their misdemeanour as a genuine mistake.
The accused were banned by Cricket Australia (CA) for their roles in the ball-tampering scandal, in which Warner was adjudged to be the instigator, Bancroft the perpetrator and Smith was punished for allowing it as captain.
The accused may choose to challenge the CA's decision by taking up the option of formal hearings under the board's code of conduct. Smith and Warner were banned for 12 months while Bancroft is set to serve a nine-month ban.
"I would (pick them), for sure. My personal contact with these three guys is they're all good people. They're very fine players," Waugh was quoted by www.news.com.au telling Sky Sports Radio on Tuesday.
"They've made a mistake. Everyone makes mistakes. This is a major one.
"We all hope they bounce back to their best form when the penalties are finished. We should all look at the facts and you've got to let them back into the fold again. You've got to forgive them."
Waugh, who retired from first-class cricket in 2004, also rejected the notion and negative labeling of the Australian cricket following the news of the scandal.
"I might be missing something, but I don't see this team as any different as any other team from previous eras. Of course there's the odd individual player who'll push the boundaries. That's always happened and is going to happen," said Waugh.
"But to then say because of that there's a whole toxic culture of Australian cricket, I'm just not seeing that.
"I think that people are drawing a long bow there, saying the whole cricket culture's toxic. Most of this team, they're so quiet on the field. You run through the players, there's not too many guys there up and in your face," added the 52-year-old.
Waugh also stated that the International Cricket Council (ICC) could have done more to prevent such incidents from taking place by strengthening their punishments against such offences.
"If there were stiffer penalties in place, it wouldn't have happened," he said.
"If you know you're going to get six months or 10 games for ball tampering, do you think it's going to go on? Or if you're going to sledge someone in an aggressive way, if you're going to get 10 games, do you think they'll be much of it?
"I think the ICC out of this will certainly ramp up their penalties and that'll help the game as well."
Close