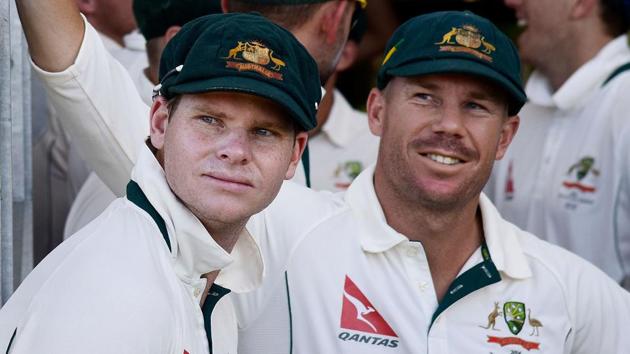 Steve Smith, David Warner and Cameron Bancroft suspensions too severe: Australian Cricketers' Association
Australian Cricketers' Association (ACA) president Greg Dyer believes the bans handed down to Steve Smith, David Warner and Cameron Bancroft for ball-tampering are too harsh as he called on Cricket Australia (CA) to consider downgrading the suspensions.
Reuters, Sydney | By Reuters
UPDATED ON APR 03, 2018 09:47 AM IST
Australia's players' union has called for a reduction in the bans handed out to Steve Smith, David Warner and Cameron Bancroft for their part in the ball-tampering scandal in South Africa last week, describing them as "disproportionate".
Former captain Smith and former vice captain Warner were handed 12-month bans, and batsman Bancroft suspended for nine months by Cricket Australia after the latter was caught using a piece of sandpaper on the ball in the third test in Cape Town.
"The proposed penalties are disproportionate relative to precedent," Australian Cricketers' Association (ACA) president Greg Dyer told a news conference in Sydney on Tuesday.
"We ask that consideration be given to recalibrating the proposed sanctions, to consider options such as suspending or reducing part of the sanction.
"To consider allowing the players to return to domestic cricket earlier, for example, as part of their rehabilitation."
READ: Jacques Kallis feels Australia's ball tampering episode is a wake-up call
The players have until Thursday to appeal their bans, decisions Dyer believed were "imminent" but "highly personal" to be decided by the players with their own legal counsel.
The trio returned to Australia at the end of last week, all three giving emotional news conferences where they accepted responsibility for their actions with none suggesting they might appeal.
Smith and Warner, who were also stripped of their leadership positions, stand to lose millions of dollars in earnings with sponsors dropping them last week and the bans costing them $1.85 million Indian Premier League contracts for this season.
Smith and Bancroft were banned from holding leadership positions within the Australian team for two years, while Warner will never be able to hold such a position again.
The harsher penalty for Warner reflects the findings of the Cricket Australia investigation which alleged the opening batsman was the chief instigator of the plot to cheat.
Warner, who has said he was resigned to not playing for his country again, attracted some criticism after his news conference in Sydney on Saturday for not answering questions, instead deflecting them with a pre-prepared line.
Bancroft was cast as the junior player led astray by Warner, while Smith appears to be well on his way to redemption after breaking down in tears after his arrival news conference.
Dyer said the contrition of the players should be taken into account along with the precedent -- no player has previously received more than a one-match ban for the offence -- and a lack of due process in the Cricket Australia probe.
"I think Australia cried with Steve Smith last Thursday. I know I certainly did," Dyer added. "We ask for this extraordinary contrition to be taken into account by Cricket Australia just as it would be in any fair and proper process."
Close