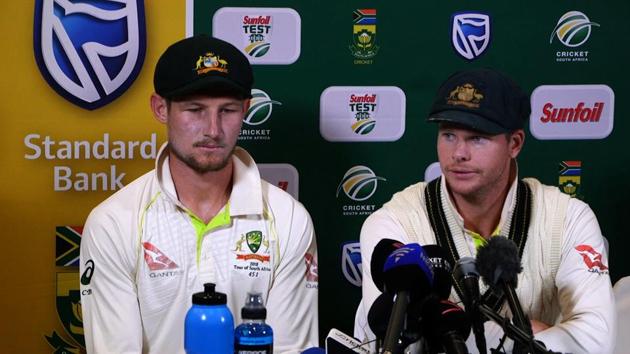 Time to support Cameron Bancroft: Michael Klinger writes heartfelt admission
Michael Klinger, with a column in Players Voice provided some insight into Cameron Bancroft's character highlighting their conversation during the period when the ball tampering controversy broke out
UPDATED ON APR 02, 2018 05:40 PM IST
Cameron Bancroft had already been caught on camera and admitted to ball during Australia's Test against South Africa in Cape Town when he received a WhatsApp message from state teammate Michael Klinger.
Opinions have remained divided since, on the character's of the three players involved in the scandal – Bancroft, Steve Smith and David Warner – who have also been banned by Cricket Australia for cheating.
READ | Steve Smith, David Warner to push for relaxation of their cricket bans - Reports
Klinger, with a column in Players Voice provided some insight into Bancroft's character highlighting their conversation during that -- understandably difficult period for the 23-year-old, who was also served a nine month suspension thereafter.
Klinger, who retired from first-class cricket last month, having shared the dressing room with Bancroft during their time with domestic outfit Western Warriors, had messaged him offering his support.
"I sent Cameron Bancroft a WhatsApp message in the period between his initial press conference with Steve Smith at Newlands and the sanctions being announced," Klinger wrote on Players Voice. "It was something along the lines of, 'Thinking of you, mate'.
READ | IPL 2018: Heinrich Klassen replaces Steve Smith in Rajasthan Royals squad
"He thanked me, then turned the discussion to my family. He said my wife, Cindy, is going through something of far greater significance than what he was experiencing in South Africa. That, he added, was true perspective.
"Cindy was diagnosed with breast cancer a few months ago.
"Personally, I think that's a pretty remarkable way for a 25-year-old bloke to respond in the middle of the biggest crisis of his life, one that was being documented all over the world."
Bancroft, Smith and Warner have all issued public apologies in emotional press conferences' since returning to Australia. Klinger further urged the Australian public to take into context the human angle behind the incident, citing it to be a genuine mistake from Bancroft's end.
READ | Injury-stricken Tim Paine hails battling Australia in 4th Test vs South Africa
"He's not a criminal. He's not a bad bloke. He's a kid who made a mistake, the consequences of which he will live with for the rest of his life," Klinger stated.
"He has endured public scorn, experienced humiliation and dealt with sanctions that will hurt him financially, professionally and reputationally.
READ | Steve Smith's father dumps son's cricket kit in garage after ball-tampering scandal - Video
"That's a lot for any human being to go through.
"It's time to support him."
Close