Mohammed Shami charged with violence, attempt to murder, poisoning in wife's police FIR
Hindustan Times, Kolkata |
HT Correspondent
Mar 10, 2018 08:51 AM IST
Mohammed Shami's wife Hasin Jahan went to the court on Friday. Earlier, she met Kolkata Police to file an FIR against the Indian cricket team pacer
Police have charged India pace bowler Mohammed Shami and his brother under sections of the Indian Penal Code related to rape, domestic violence and causing hurt with poison following a complaint by Hasin Jahan, the wife of the cricketer. (Nidahas Trophy full coverage)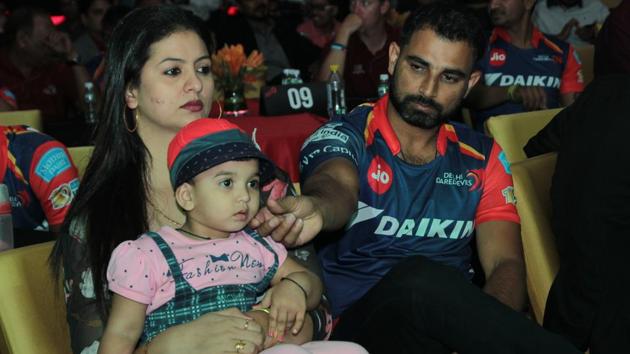 The sections invoked against the 27-year-old, who made his one-day international debut for India in January 2013, include 307 (attempt to murder), 498A (domestic violence), 506 (criminal intimidation), 328 (causing hurt by means of poison), 34 (acts by several persons in furtherance of common intention) and 376 (rape). The last section was brought against Mohammed Shami's elder brother. Offences under some sections are non-bailable and carry prison terms of up to 10 years or more.
READ | Mohammed Shami calls wife mad after she says cricketer 'can even cheat India'
"My husband's elder brother, Hasib Ahmad, raped me when I went to my in-laws' place in Uttar Pradesh last year," Jahan said on Friday.
Some sections are non-bailable and carry prison terms of up to 10 years or more.
Kolkata police commissioner Rajeev Kumar and joint commissioner (crime) Praveen Kumar Tripathi did not respond to calls and text messages.
"I have been informed by Kolkata Police officers over phone that they have slapped non-bailable sections against Shami and starting a case against him," said Zakir Hossain, Jahan's lawyer.
READ | 'He's a big flirt': Mohammed Shami's wife slams cricketer husband for cheating on her
Shami and Jahan were married on April 7, 2014, about two years after they met at a Kolkata Knight Riders party. They have a two-and-a-half-year old daughter.
Jahan said around noon on Friday that she was yet to be called by the police for recording her statement.
Although Shami hails from Uttar Pradesh, he represents Bengal in domestic cricket. He lives with his wife and daughter near the upscale South City Mall in south Kolkata.
Shami has played 30 Tests, 50 ODIs and seven T20 internationals for India. The cricketer's contract with the Board of Control for Cricket in India was put on hold after Jahan's allegations against Shami surfaced on Tuesday.
"What is being said about my personal life is completely false. It's definitely part of a big conspiracy against me. This is just an attempt to defame me," said Shami in a tweet on Wednesday from Dharamshala, where he was playing the Deodhar Trophy which ended on Thursday.
READ | Mohammed Shami's wife meets cops, alleges cricketer had dirty chats with women, tortured her
On Wednesday, Jahan and her lawyer Zakir Hossain met police commissioner Rajeev Kumar and filed the complaint against Shami. She and her daughter are now staying at the apartment where they used to live. "It is my right. Why should I vacate it?" she asked.
She also claimed that her parents and brother have refused to support her in her fight against her husband. "He has affairs with multiple women. Many are from other parts of India while some are residents of Pakistan and countries in Europe. He used to spend time with them in different hotels while on tour. He used to chat with them using video apps," Jahan alleged on Wednesday before filing her police complaint.
She also alleged that Shami has been physically and verbally abusing her for the past two years.
Shami refuted the allegations on Thursday, saying Hasin is not in stable mental health. "As far as Hasin's statements are concerned, I am 100 per cent sure that she has lost her mental stability. The accusations need to be proved," Shami said. "I have been trying to reach Hasin's family but have not been able to contact her. I think it's a big conspiracy by the people around her. My only question is why is Hasin saying all these things now and not earlier?"