Mohammed Shami demands investigation, says relationship with wife Hasin Jahan over
Updated on Mar 16, 2018 07:27 PM IST
Mohammed Shami, Indian cricket team pacer, has in an interview given his account of the day's events when his brother is alleged to have raped his wife Hasin Jahan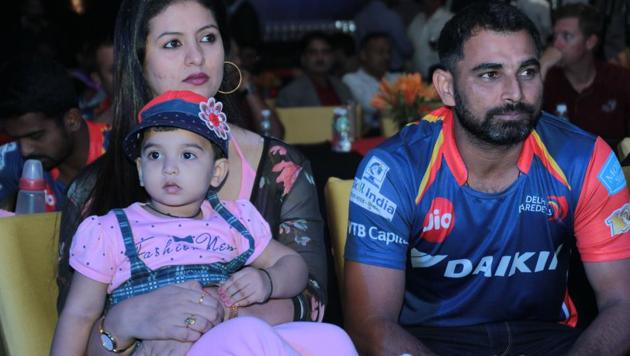 India's fast bowling spearhead Mohammed Shami has admitted his relationship with wife Hasin Jahan has reached a point of no return, demanding the authorities to investigate the allegations that have been laid on him properly. (SRI LANKA vs BANGLADESH LIVE)
Apart from alleging domestic violence on Mohammed Shami and charges of rape on his brother, the cricketer's wife has also claimed that he took money from a Pakistani woman named Alishba.
READ | 'She hid her first marriage' - Shamed by wife, cricket star Mohammed Shami hits back in bitter battle
"My request to the BCCI, or the anti-corruption unit, or the local police or any committee would be to take is seriously, there are many lives at stake here. I want it to be properly investigated," Shami told India Today.
"As far as it is about my family and my household, for my wife and my daughter, I have done everything to save it. If say I had even only one per cent chance to save it, I tried. But now Hasin herself has said in her interview that she wants to settle this in court. I don't think any hope is left. I have made all family members talk (to her). Such things prove she does not even have that one per cent,"
"I kept saying it all along, even in my interviews that I was trying hard. I felt if I could do anything, or even bow my head down which could help me save my house, I wouldn't take a step back. But that hope is over now," he added.
READ | Bad news for Mohammed Shami: Charges against cricketer can't be withdrawn at will
Shami's version
When asked about his reply to the allegations of rape on his brother, Shami said he can prove the whereabouts of his estranged wife, his brother and himself.
Shami said, "I have all proofs and details of December 7. We played a Test against Sri Lanka here (in New Delhi). The game ended on 6th following which we had Bhuvi's reception (Bhuvneshwar Kumar's marriage reception) here. On the morning of 7th — I have record of a credit card swipe — we checked out at 10:00am. She had attended the reception on the previous day."
"She was there when we checked out. BCCI has the information of providing a cab for me at 10:00am. It took 4-5 hours to get home, where we reached around 3:30pm. I dropped her and our luggage at home and headed out straight to the farm house. I was wearing a sleeveless jacket; I was coughing, I was unwell. It was a bit cold too," he added.
READ | Mohammed Shami's wife sends documents related to her complaint to Vinod Rai
"I returned from the farm house with my brother, who immediately leaves for his home in Muradabad and I stayed in my village. If this is a rape case, the person has to be there, no? If the person is not there then this isn't a rape case. You can check his location," Shami claimed.
Meanwhile, Shami's participation in the upcoming Indian Premier League (IPL) 2018 remains uncertain. He was picked up by the Delhi Daredevils.
Personalise your news feed. Follow trending topics