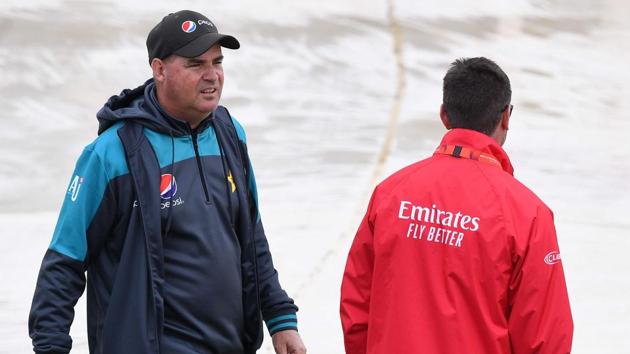 Pakistan vs Sri Lanka, ICC Cricket World Cup 2019 Highlights: Match abandoned due to rain and wet outfield
As it happened: After almost five and half hours of delay, the match has been finally called off due to rain and unfavourable conditions in Bristol. The rain had finally relented but the conditions weren't good for cricket as per the officials. Both Pakistan and Sri Lanka will receive one-point each.Follow highlights from Pakistan vs Sri Lanka here -
UPDATED ON JUN 07, 2019 08:34 PM IST
20:21 hrs IST
Match called off
Bad news coming in from Bristol folks. The match has been abandoned because of damp pitch. Rain relented but the conditions weren't favourable. Both teams will get one point each.
Disappointing news from Bristol. #PAKvSL has been abandoned – both sides have been awarded a point. #WeHaveWeWill #LionsRoar #CWC19 pic.twitter.com/VyZlS6RVGx

— Cricket World Cup (@cricketworldcup) June 7, 2019
20:10 hrs IST
Umpires walking off
Umpires Ian Gould and Nigel Llong are walking off the ground now and we should hear from them soon. There is not much time left for further inspections so its one way or the other.
19:19 hrs IST
Umpires finish first inspection
The umpires have finished their first inspection. They are yet to give their verdict on the status of the ground at the moment. They will have another look at 7:45 pm IST.
18:41 hrs IST
Rain stops, covers starting to come off
The rains has finally stopped in Bristol and the covers are starting to come off. The umpires will inspect the ground at 7 pm IST and play is expected to start at 7:45 pm.
18:13 hrs IST
Rain subsides in Bristol
Good news! The rain has subsided in Bristol, but light drizzle continues. The ground will have to handed over to the umpires at 7:30 pm IST if any play is to take place today.
16:55 hrs IST
Not many people in the stands
11:37 Local - It's pouring. Not sure how many people are there in the stands but I can count 9 umbrellas #PAKvSL pic.twitter.com/hjxVCyWKG3

— Kaushik R (@kaushik_cb) June 7, 2019
16:23 hrs IST
Fans find a way to smile
The weather may not be great – but the fans are still smiling. #PAKvSL #LionsRoar #WeHaveWeWill pic.twitter.com/TRT4eVIxZy

— Cricket World Cup (@cricketworldcup) June 7, 2019
16:01 hrs IST
70 percent chance of rain
It continues to rain in Bristol and the forecast doesn't look any better. There's a 70 percent chance that rain will continue for the rest of the day.
15:51 hrs IST
Rain arrives on an auspicious day
Today's date marks an auspicious day for cricket as the first-ever cricket World Cup began on this day in 1975. West Indies' Clive Lloyd was the first World Cup-winning captain.
15:36 hrs IST
Rain continues
Heavy rain continues in Bristol and there are no signs of play yet. Meanwhile, India are set to play a blockbuster match against Australia on Sunday. Batting legend Sachin Tendulkar issues warning for Team India. Read more.
15:04 hrs IST
Umpires can wait until 8:45 pm IST
The ground has to be ready for play by 8:45 pm IST if a match with reduced overs is to take place. If the conditions are alright by the stipulated time, then the two teams can play a 20-over match.
15:03 hrs IST
Yellow warning in Bristol
There's a yellow warning in Bristol, which means that the locals will have to be cautious of heavy rain in their area. This could be the first match that is abandoned in this World Cup.
14:52 hrs IST
Something different
While we stay the toss of the Pakistan vs Sri Lanka match at Bristol, a certain might interest you all - MS Dhoni's gloves. Dhoni's gloves has become a matter of national debate after he decided to sport a gloves with Army insignia on it. Here's all you need to about the Dhoni gloves story
14:45 hrs IST
Not the ideal sight
Unfortunately it's not looking too pretty in Bristol ☔ #PAKvSL #CWC19 pic.twitter.com/pnlG9mO713

— Cricket World Cup (@cricketworldcup) June 7, 2019
14:40 hrs IST
Pakistan arrives
The Pakistan team has arrived in the stadium but there's no sign of the Sri Lankan team yet and quite understandably so as the rain is quit heavy in Bristol so we can expect a long delay
14:12 hrs IST
Heavy rain in Bristol
It's raining heavily in Bristol. Local media reports coming in that the teams haven't left the hotel for the ground. The match is surely going to start later than scheduled.
13:54 hrs IST
Rain may delay start of play
Unfortunately it's raining at the County Ground in Bristol. The covers are on the ground at the moment. Rain many delay start of play, which is scheduled to begin at 3 pm IST.
13:47 hrs IST
Dimuth Karunaratne hopes for a better batting performance
"Pakistan is an unpredictable team and we also come into this game on a winning note. The win always gives you confidence. Finally we got that. We did good things in that match. But we have parts to learn about the batting. We have to focus on that and make sure we don't repeat the mistakes."
13:32 hrs IST
Grant Flower on Pakistan's Babar Azam
"I think Babar Azam has come a long way. His game is improving all the time and so is his strike-rate. I think he's close to the top of his game. He is really exciting to watch. He is going to be one of the best players in the world."
13:12 hrs IST
Player battles
Sri Lanka's worries lies in their batting department which has looked completely lack lustrous in the first two games and the side led by Dimuth Karunaratne would hope to put on a better front against their Asian rivals. For Pakistan, Mohammad Amir's return to wicket-taking form signals that positive things could be on their way.
Here is a look at the five key player battles that might define the match between Pakistan and Sri Lanka.
12:46 hrs IST
Sri Lanka predicted XI against Pakistan
Sri Lanka are likely to bring back Jeevan Mendis to provide more steel to the middle-order. Suranga Lakmal is likely to be left out for this clash. The fact that Mendis is also a handy leg-break bowler, tips the scale in his favour.
Here's a look at Sri Lanka's predicted XI.
12:22 hrs IST
Pakistan predicted XI against Sri Lanka
Shoaib Malik is likely to sit out of this clash as he was pushed to number 7 against England. He is likely to be replaced by Imad Wasim, who was dismissed for just 1 in the opener and was subsequently dropped.
Here's a look at Pakistan's predicted XI.
12:00 hrs IST
Hello and welcome
Welcome to the live coverage of the ICC World Cup match between Pakistan and Sri Lanka. Pakistan made an excellent return to form with a 14-run victory over England, while Sri Lanka managed a 34-run victory over Afghanistan in their previous match.
Close