Party over, time to focus
Updated on Aug 28, 2012 12:46 AM IST
Experts believe Unmukt Chand and left-arm spinner Harmeet Singh are ready to take the next big step. The U-19 heroes must be provided direction to stay on course. N Ananthanarayanan reports.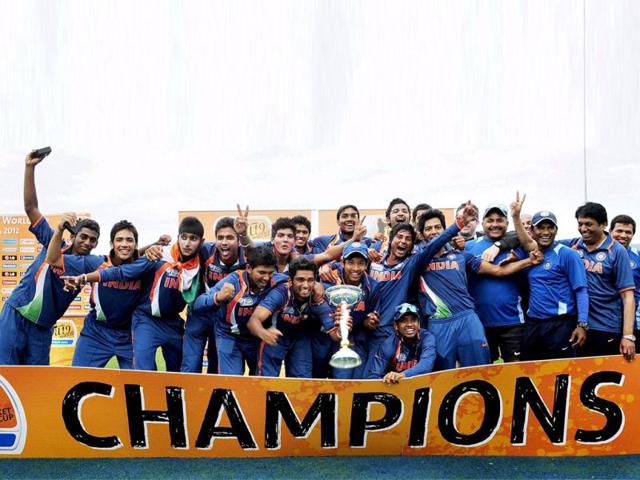 Four years ago in Kuala Lumpur, he watched from the stands as the team, led by his ward, went berserk with joy after winning the under-19 World Cup final against South Africa. "They went mad, enjoying themselves. After all, they were kids," Raj Kumar Sharma told HT, recalling that triumph where his trainee, Virat Kohli, as skipper, was the centre of focus.


But Sharma also remembers what it took to remind Virat that it was only a job well begun, and how much hard work lay ahead if he was to graduate to the senior India team.
As Unmukt Chand's boys are toasted, following their superb victory Down Under, Sharma is anxious that the talented group does not get carried away. His fears are understandable. The cricket board has already announced Rs 20 lakh for each player. Many already play first-class cricket and some have IPL deals. "It is obvious they are a talented bunch. But it is the responsibility of the state associations and BCCI to take care of the boys, make sure they do not get distracted by IPL contracts, etc," said Sharma.
Under-19 teams have been the feeder line for India aspirants, but success can leave a talented player dazed. And Sharma should know. "Big contracts like IPL can distract them. I have seen that happen with my ward (Virat). I had to work hard to make him get over that." The batsman himself has spoken about how he got caught in the flashlights of stardom.
Experts believe Unmukt and left-arm spinner Harmeet Singh are ready to take the next big step. Sharma believes Harmeet, whose pure action and willingness to flight has been compared to Bishan Singh Bedi, is ready to play for India. But Sanjay Bhardwaj, Unmukt's coach, cautions that the bowler must hone his skills further.
No illusions
Bhardwaj advocates an old-fashioned approach. "Parents and coaches should take responsibility, make sure these kids are groomed properly.
"Cricket mazdoori ki tharah hai, har roz khel na hai, perform karna hai," says Bhardwaj, who is also Gautam Gambhir's coach. "Not everyone can be a Sachin Tendulkar, who was so mature at a young age."
The batsmen at 19 are more ready to play for India than the bowlers. "Bowlers still have to work on tactics and technique. For example, you can't play Harmeet in place of Pragyan Ojha straightaway. He will be up against batsmen who have scored thousands of runs."
So, what next for the young heroes? Bhardwaj is clear: "They should forget what they achieved in Australia. They should tell themselves the season starts in September, and they have to do well in Ranji Trophy, make a new start."
Personalise your news feed. Follow trending topics