Ravichandran Ashwin's been innovative as Kings XI Punjab captain in IPL 2018
As captain of Kings XI Punjab in the 2018 Indian Premier League (IPL 2018), Ravichandran Ashwin has been refreshingly flexible in approach, including the mind boggling way he morphed from an off-spinner to into a quality leg-spinner.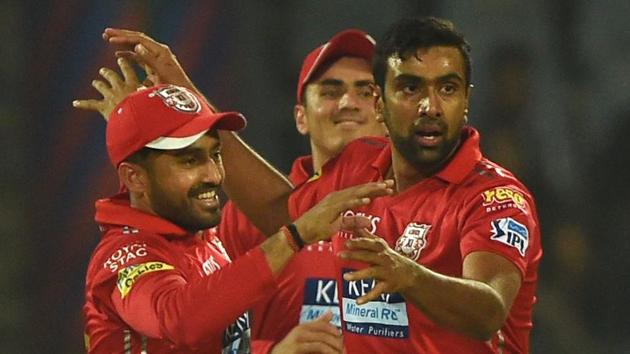 Published on Apr 24, 2018 10:55 AM IST
Hindustan Times |
Amrit Mathur
The standout feature of 2018 the Indian Premier League (IPL 2018) this year is not last-ball results or Chris Gayle and Andre Russell muscling balls out of the stadium. The real star is Ravichandran Ashwin — nothing matches what he has done. (IPL 2018 full schedule)
As captain of Kings XI Punjab, Ashwin has been innovative and aggressive, refreshingly flexible in approach. And for the world's best off-spinner to suddenly morph into a quality leg-spinner is mind boggling. (IPL 2018 results)
This isn't someone learning a new trick to send down the occasional doosra or leg-cutter or knuckle ball or the floater that drifts away from the bat. Ravichandran Ashwin is a completely new bowler, tossing up pure wrist spin like Anil Kumble — genuine stuff. He regularly bowls in the powerplay and, as if to prove a point, confronted his former captain MS Dhoni with leg-breaks and with a slip in place!
READ MORE | How Delhi Daredevils got undone by a Kings XI Punjab bowling gamble in IPL 2018
That someone can reinvent himself so radically shows remarkable courage and extraordinary self belief. Not to forget great skill. Ashwin becoming a leggie is like Virat Kohli turning left-handed.
One possible reason for Ashwin's makeover is a desire to improve, grow as a bowler and become better. The change could also be triggered by the pressure of T20 cricket which has almost forced regular off-spinners out of business.
Seen in that context, Ashwin represents the plight of all bowlers in T20s and points to the increasing imbalance between bat and ball.
READ MORE | Snubbed by West Indies, Jofra Archer seeks 'better life' in England
An equal bat versus ball matchup is fundamental to traditional cricket, not T20. Here rules favour batters with field restrictions, powerplays, four overs per bowler rule, tram-lines to monitor wides, freehits and limit on bouncers.
The stakes are loaded so heavily against bowlers, the contest resembles a fixed boxing bout where one has a hand tied behind his back. On designer pitches, batsmen are rarely challenged and average team scores keep climbing. Nowadays, 180 is unsafe and 200 not unusual. Scoring 60 in the powerplay is just about par and chasing down 70 in the last five is very doable.
To push the runrate, fearless batsmen use friendly conditions to create new shots. First came the scoop, reverse sweep and the front-foot pull off fast bowlers. Now it is the ramp shot, slashed strikes for six over thirdman, square cuts over point and the most spectacular of all — the straight bat backfoot drive off fast bowlers that clears long-off or long on.
READ MORE | IPL: I don't try to hit like AB de Villiers, Chris Gayle - Kane Williamson
Bowlers have responded to the onslaught by undergoing a refresher course that taught them new questions to ask batsmen. Earlier it was yorkers, back of the hand stuff, slow bouncers. Now it's wide yorkers and, if available, raw pace.
But this tactic is the exception, not the rule. More than before, spin is in fashion with teams bowling 12 overs of spin. Slow bowlers bowl with the new ball and 'mystery' bowlers Sunil Narine and Rashid Khan keep batsmen guessing.
(Amrit Mathur is a senior cricket writer and has been involved with IPL in official capacity)
Disclaimer: The opinions expressed by author in this article are personal.
Close Story