'You feel bad. There's no guarantee…': Ravindra Jadeja opens up on India comeback for Australia Test series
Published on Jan 24, 2023 07:39 AM IST
Veteran Indian all-rounder Ravindra Jadeja will lead Saurashtra in their final group game of the Ranji Trophy on Tuesday.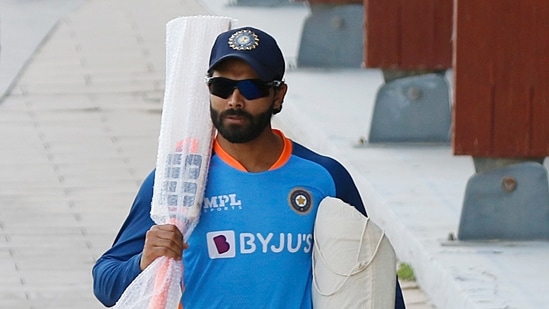 After being sidelined for months and missing a major chunk of the 2022 season, veteran Indian all-rounder Ravindra Jadeja is closing in on his India comeback. The senior all-rounder is set to play his first competitive match after being out of action for five months. Jadeja will lead Saurashtra in their final group game of the Ranji Trophy. Hoping to secure the top spot in the Elite Group B, the Jadeja-led Saurashtra side will lock horns with Tamil Nadu at the MA Chidambaram Stadium on Tuesday.
Jadeja, who is leading Saurashtra in the absence of veterans Jaydev Unadkat and Cheteshwar Pujara, had to undergo knee surgery in 2022. The Indian southpaw last played an international match for Rohit Sharma-led Team India in August in the Asia Cup. Speaking to the media ahead of the Ranji Trophy Group B league match against Tamil Nadu, Jadeja said that he is prioritising match fitness as the star all-rounder is hopeful of making an impact against Australia.
ALSO READ: 'Sent Jaddu a WhatsApp text. He immediately wrote back saying…': Ravindra Jadeja's comeback date revealed
"I am feeling good to be back on the field. Very excited. Hopefully, it will come good as a team and as an individual also. See my first priority is to get on the field and be fit...100 percent fit. Once I am 100 percent fit, I will work more on my skills, whether it is batting or bowling. Now, my first priority is fitness. I was at the NCA for 20 days. I was doing batting and bowling. Match scenario is different. I wanted one game before the Australia series, that's why I am here," Jadeja said ahead of the Ranji Trophy match in Chennai.
Jadeja revealed that he suffered a ligament injury that kept him out for five months. The veteran all-rounder will have to prove his match fitness if he wants to return to play the series opener against Australia in Nagpur on February 2. He has been named in the squad for the firstt two Tests, subject to fitness.
"You feel bad. Nobody wants to get injured at your peak time. It is part of the game. You have to keep that in mind and be prepared for it. You can't do anything. There is no guarantee that one won't get injured in cricket. It was a ligament tear. It is coming good. I am slowly getting confident. As I said, a match is a different thing. Different ball game...I will try to give my 100 percent. I will try to go slowly, slowly. Let's see how my leg is feeling and then we will see," Jadeja added.
The left-handed batter and left-arm spinner was campaigning for his wife in the Gujarat elections during the time he was away from cricket and said it helped him
"Fortunately, I was busy with some other things. My full focus was there. It helped me a lot. I was also not thinking too much about cricket. Those initial three months after I got injured and got done with my surgery, I was busy with some election things. That helped me a lot. I wasn't really watching [India] matches. But a few games I did see."