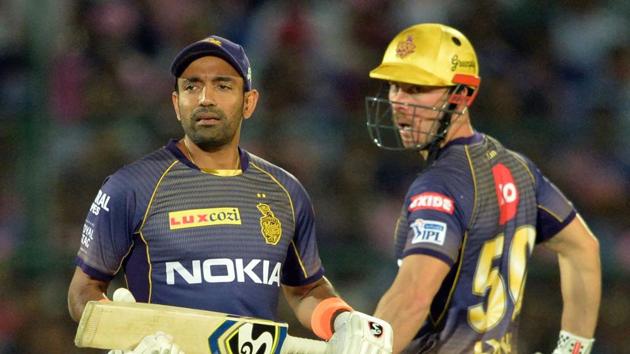 IPL 2019 Highlights, RR vs KKR, Match 21 at Sawai Mansingh Stadium: Kolkata win by eight wickets
Highlights: Openers Sunil Narine and Chris Lynn tore the Rajasthan Royals bowling attack to shreds to help Kolkata Knight Riders notch up an easy eight-wicket win in their IPL match in Jaipur on Sunday. Chasing 140 for a win, Narine (47) and Lynn (50) shared 91 runs for the opening stand in 8.3 overs to take the game away from Rajasthan Royals as KKR reached the target with 6.1 overs to spare. ((Full Scorecard))
Follow RR vs KKR highlights below -
UPDATED ON APR 08, 2019 08:21 AM IST
22:53 hrs IST
Kolkata win by eight wickets
Ben Stokes bowls a wide in the last ball of the 14th over and that hands Kolkata an eight-wicket victory. Chris Lynn and Sunil Narine's opening partnership of 91 runs set up the match beautifully. Thereafter, Robin Uthappa and Shubman Gill carried out the finishing touches. KKR win the match with 6.1 overs to spare.
22:48 hrs IST
KKR need 3 runs from 41 balls
Shubman Gill misses the delivery with his bat, but the ball hits his legs and runs away for a boundary. KKR need just 3 more runs to win.
22:42 hrs IST
Easy peasy for KKR
The Kolkata Knight Riders are cruising to their target at the moment. Shubman Gill and Robin Uthappa have to just work around for singles and they will reach home in no time.
22:35 hrs IST
Lynn scores fifty and departs
Lynn brings up his fifty in just 31 balls and then gets out caught to Shreyas Gopal. A magnificent innings by the opening batsman comes to an end. KKR need 26 runs off 55 balls.
22:32 hrs IST
KKR bring up second fastest 100-run score in this season
Chris Lynn hits a four through the third man boundary and the Kolkata Knight Riders record the second fastest 100-run score in this season of the IPL. They reach the hundred-run mark in 9.3 overs.
22:29 hrs IST
Narine departs for 47
Steve Smith takes a sharp catch at first slip to dismiss Sunil Narine for a well-made 47. The West Indian has set up the game with a quick-fire innings. KKR need 48 runs from 66 balls.
22:25 hrs IST
Narine nears fifty
Sunil Narine smashes Sudhesan Midhun for two sixes in the eighth over as he move to 47 runs off 24 balls. This is a gem of an innings by the West Indian. KKR need 56 runs from 72 balls.
22:19 hrs IST
Gopal concedes just 3 runs
Finally, the Rajasthan Royals have managed to stop the easy flow of runs. Leg-spinner Shreyas Gopal concedes just three runs in the seventh over. Kolkata: 68/0.
22:10 hrs IST
KKR reach 54/0 in 5 overs
Lynn and Narine have got KKR off to a flyer. They have reached 54 in just five overs. The Rajasthan bowlers are not able to maintain their lines and lengths.
22:03 hrs IST
Kulkarni dismisses Lynn, but not quite
Kulkarni's delivery hits the top of leg-stump, the bails light up but they don't dislodge. Lynn starts walking off, but realises he's not out. Rahane has a chat with the umpire to no avail. Lynn survives as KKR move to 46/0 in 4 overs.
21:56 hrs IST
Narine hits Gowtham for 22 runs
Looks like KKR won't need Andre Russell tonight. Narine thrashes Gowtham for 22 runs in the second over. The West Indian strikes four boundaries and a six!
21:50 hrs IST
Lynn inside-edges a delivery for four
Lynn tries to pull a delivery from Kulkarni and ends up inside edging the ball to the fine-leg boundary. Rajasthan will need early wickets to stay in this game.
21:35 hrs IST
Rajasthan Royals post 139/3
Harry Gurney concedes just eight runs in the last over as Rajasthan Royals post 139/3. Steve Smith couldn't hit the big shots in the last over as he remains unbeaten on 73 at the end of the innings.
21:26 hrs IST
Streaky boundary for Smith
Prasidh Krishna bowls a full delivery just outside the off-stump and Steve Smith guides the ball to the third man boundary. Rajasthan: 127/3 in 18.3 overs.
21:19 hrs IST
Smith survives a review
Smith tries to sweep a delivery off Narine and misses the ball completely. The ball hits the pads and the KKR players go up for an appeal. The umpire turns them down, but Karthik calls for a review. Replays show that the ball would just clip the leg-stump and therefore Smith survives on umpire's call.
21:11 hrs IST
Tripathi departs for 6 runs
Tripathi takes on Gurney and presents a high catch to Piyush Chawla. It's not easy to play big shots on this slow wicket. Tripathi goes for six runs as Rajasthan lose their third wicket.
21:05 hrs IST
Steve Smith scores fifty
Steve Smith pulls Prasidh Krishna for a boundary and brings up his first fifty of this season. Rajasthan have moved to 103/2, can they get to 150 from here?
21:01 hrs IST
Smith nears fifty
Steve Smith has played a very cautious innings so far. The Rajasthan Royals batsman is working the ball around for ones and twos and only putting the loose deliveries away.He has scored 39 runs off 39 balls so far.
20:52 hrs IST
Gurney's first IPL wicket
Harry Gurney couldn't have asked for a better first IPL wicket. After being hit for a six, Gurney got Buttler out caught for 37 runs. It's down to Steve Smith to bat through the innings.
20:50 hrs IST
Buttler hits a huge six
Buttler gets hold of a delivery from Gurney and send it way into the stands.
20:44 hrs IST
Lucky boundary for Smith
Smith didn't read the wrong'un from Kuldeep and streakily edges the ball to the third man boundary. Rajasthan move to 61/1 off 10.2 overs.
20:38 hrs IST
Rajasthan cross 50 in 9 overs
Buttler and Smith managed a boundary each off Kuldeep Yadav's bowling to take Rajasthan past 50 in 9 overs. Now that both batsmen are set, they will look to up the ante in the next few overs.
20:33 hrs IST
Smith survives a LBW shout
Sunil Narine strikes Steve Smith's pads and goes up for an appeal. It seems like the ball would have gone down leg side and the umpire turns down the appeal too.
20:26 hrs IST
Lowest Powerplay score for RR this season
The Rajasthan Royals have managed just 28/1 in the Powerplay overs. They have recorded their lowest score in the Powerplay overs in this season. The wicket is slow and therefore the par score seems to be 160.
20:22 hrs IST
Chawla consedes just two runs
Piyush Chawla bowls a brilliant fifth over for the KKR. He concedes just two runs as Rajasthan move to 26/1.
20:16 hrs IST
Cheeky shot by Buttler
Buttler judges the length of the delivery by Krishna and goes for a ramp shot. He gets four runs for that. Could this be one of Buttler's best days in the IPL? He's looking very comfortable at the crease.
20:12 hrs IST
Buttler is away
Jos Buttler gets off the mark with a lovely shot on the leg-side. He reads Chawla's wrong'un and dispatches it to the boundary.
20:06 hrs IST
Rahane departs for 5
Early wicket for Kolkata! Prasidh Krishna traps Ajinkya Rahane LBW. The RR skipper goes for just 5 runs. Steve Smith walks out to bat.
20:00 hrs IST
Match underway
Rahane tries to tuck a delivery from Piyush Chawla for a single, but he will have to hold his ground. The Kolkata Knight Riders are baking on spin first up.
19:53 hrs IST
Stat attack
89: Runs Steven Smith needs to become complete 3500 runs in T20s.
2: Ben Stokes needs to hit 2 sixes to complete 100 sixes in T20s.
5: Shreyas Gopal needs 5 wickets to reach 50 T20 wickets.
2: wickets needed by Russell for completing 50 wickets in IPL for KKR.
51: Chris Lynn is 51 runs away from becoming the 9th player and the 1st Australian to score 1000 runs for KKR.
27: Runs needed by Dinesh Karthik to complete 3500 IPL runs.
19:38 hrs IST
Captain's corner
Ajinkya Rahane - We have played three games in five days, we won against RCB and looking forward to this match. We were batting first, we need to play well against a team like KKR. We have to be aggressive against him (Russell) and bowl good line and lengths. Prashant Chopra and Midhun are in, Binny and Aaron miss out.
Dinesh Karthik - We will bowl first. The wicket looks good, will hold good for 40 overs, we would like to chase. We just need to keep the spirits high in the camp, the expectation on the team is always there, a score around 140 should be a par score. One change for us, Harry Gurney replaces Lockie Ferguson.
19:35 hrs IST
Playing XIs
Rajasthan Royals: Ajinkya Rahane (c), Jos Buttler (wk), Steven Smith, Rahul Tripathi, Ben Stokes, Prashant Chopra, Krishnappa Gowtham, Jofra Archer, Shreyas Gopal, Dhawal Kulkarni, Sudhesan Midhun
Kolkata Knight Riders: Chris Lynn, Sunil Narine, Robin Uthappa, Nitish Rana, Dinesh Karthik (c/wk), Shubman Gill, Andre Russell, Piyush Chawla, Kuldeep Yadav, Harry Gurney, Prasidh Krishna
19:30 hrs IST
Toss update
KKR captain Dinesh Karthik have won the toss and elect to bowl first. And again all eyes will be on Andre Russelll. Can the West Indian take Kolkata to another sensational win?
19:25 hrs IST
Teams may look to chase
The teams in this IPL have preferred to chase in this IPL and even in this match both captains may look to bowl first at the toss. With Russell in the KKR camp, Rajasthan may look to see of they can restrict the batsman if his team is setting a target rather than chasing a target.
19:19 hrs IST
RCB lose their sixth straight match
The Royal Challengers Bangalore went down once again, this time against Delhi Capitals. RCB lose by four wickets in Bengaluru. The toss for the match between Rajasthan and Kolkata coming up shortly.
19:11 hrs IST
Player battles
The key to this match perhaps lies in who Ajinkya Rahane deputes to keep the marauding Andre Russell in check, a proposition which looks impossible as of now. Read the full analysis done by Hindustan Times here.
19:05 hrs IST
KKR's predicted XI
Lockie Ferguson could be benched for this match and Harry Gurney, who has made quite a name for himself as a T20 specialist, could get a game instead. Read more here.
19:00 hrs IST
RR's predicted XI
Dhawal Kulkarni and Varun Aaron are set to retain their respective places in the squad as out-of-form Jaydev Unadkat is likely to warm the bench again. Read more here.
18:49 hrs IST
Sayan: Kuldeep Yadav will trouble Jos Buttler
Kuldeep Yadav hasn't performed well in this IPL so far and therefore he would certainly like to come to the party in this match. If Buttler gets going once again, Kuldeep could be the one who restricts his innings.
18:41 hrs IST
Rohan: Jos Buttler is back in form
If Kolkata Knight Riders have Andre Russell, the Rajasthan Royals have Jos Buttler in their camp. Buttler played an excellent innings of 59 runs against Royal Challengers Bangalore and he can surely take on the Kolkata bowling attack.
18:35 hrs IST
Sayan: Andre Russell can take on any bowler
The Rajasthan Royals may have won against Royal Challengers Bangalore, but whoever they bring on to bowl when Andre Russell is at the crease, the West Indian will have no issues whatsoever. Russell has performed in each of his matches in IPL 2019 with scores of 49*, 48, 62 and 48*.
18:28 hrs IST
Rohan: Rajasthan are on a high
The Rajasthan Royals are on a high after clinching their first points of the tournament on Tuesday. The leg-spinner Shreyas Gopal bowled brilliantly to dismiss Virat Kohli, AB de Villiers and Shimron Hetmyer. He could get the better of Andre Russell in this match against KKR.
18:06 hrs IST
Hello and welcome
A very warm welcome to the live blog of match 21 of the Indian Premier League match between Rajasthan Royals and Kolkata Knight Riders. The Rajasthan Royals will be looking to build on their momentum after beating Royal Challengers Bangalore in their last match, while the Kolkata Knight Riders would hope that Andre Russell is not single-handedly winning them matches. My name is Rohan Pathak and I think that Rajasthan Royals will triumph against Kolkata while my colleague Sayan Ghosh is sure that Andre Russell will be the key factor once again.
Close