Sachin Tendulkar, cricket great, debuts as singer, Sonu Nigam is his partner
Updated on Apr 03, 2017 12:28 PM IST
Sachin Tendulkar, cricket legend, made his singing debut with a song on cricket. Famous singer Sonu NIgam is also part of the song.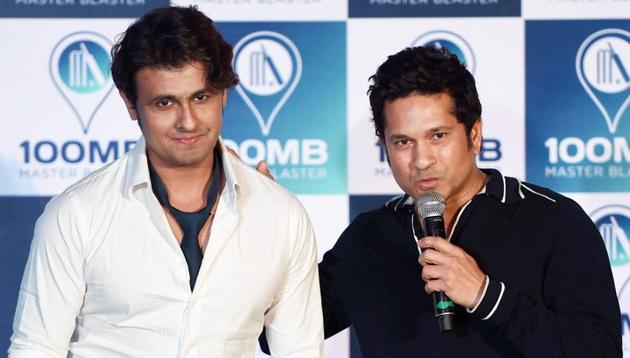 Following in the footsteps of some sporting legends like John McEnroe, who indulged in music after retirement, India's Sachin Tendulkar has also made his singing debut. The cricket legend is known for his various other passions including food, cooking and cars, but dabbling into singing is quite a surprise.
For all Indian Premier League (IPL ) 2017 stories - CLICK HERE
Though it's on expected lines that his first song is on cricket, it was revealed at the launch of his digital application "100MB" on Thursday night.
The first lines of the song, sung along with famous Bollywood singer Sonu Nigam, go something like… "Gend aayi, bala ghuma, mara chaka, Sachin, Sachin... nacho nacho sab cricket wali beat pe…"
"I have thanked all the cricketers with whom I have played in the six World Cups," said Tendulkar, while talking about his passion for music.
The Indian maestro arrived in the Grand Finale of Indian Idol and presented the trophy to winner LV Revanth.
"The love for music was always there. Music helped you control your emotions before going to bat, it helped you calm down after the innings," he said, taking about the benefits of music.
"I listen to various types of music. I have listened to Spanish songs, even though I wouldn't understand a word of it, but I listened as I liked the music. I listen to old Hindi songs, new Hindi songs, English songs, rock music, anything which is soothing to the ear."
Recently, he was also seen playing tabla on stage with maestro Zakir Hussain.
Shy by nature, Sachin Tendulkar admitted it took a lot of convincing by his wife, his friends and business partners to get him to sing. "They all ganged up and finally got me to sing."
Singer Sonu Nigam said Tendulkar surprised him by how effortlessly he got his pitch right during the recording. "Singers can't get their pitch right, to see The Master pitching right in the music was heartening. We didn't have to use a pitch corrector for Sachin," said Nigam, sharing the stage with the former India captain.
Sachin Tendulkar announced the song will be played on Sunday at 10pm on his app, a platform he called as his second innings after cricket. "I feel the digital platform will show a different side of me, it will be more engaging. Wait and watch there is a surprise for you!"
Personalise your news feed. Follow trending topics