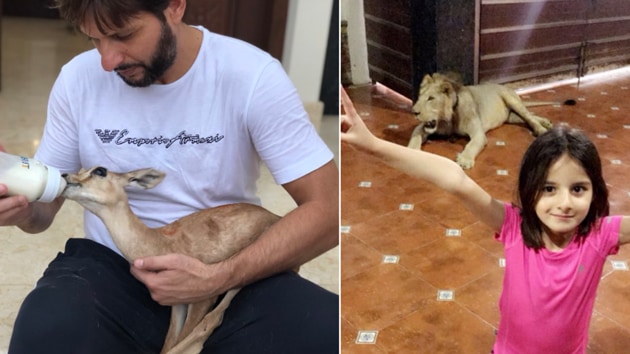 Shahid Afridi tweets love for animals, roasted for posting pic of chained lion
Shahid Afridi shared a picture of his daughter with a chained lion in the background and earned the wrath of several Twitter users.
UPDATED ON JUN 11, 2018 12:26 PM IST
Shahid Afridi, former Pakistani captain's recent tweet has earned him the wrath of users of the microblogging site.
Afridi took to Twitter on June 9 to share two images - one of him feeding milk to a fawn and the other of his daughter standing with her hands raised - imitating her father's wicket-taking celebration style. However, the image also had a chained lion in the background. The caption that accompanied the two pictures spoke of spending time with loved ones and caring for animals.
"Great to spend time with loved ones. Best feeling in the world to have my daughter copy my wicket taking celebrations. And yes don't forget to take care of animals, they too deserve our love and care :)" read the tweet.
Enraged twitter users wasted no time in pointing out the irony of Afridi's widely-shared tweet. "You didn't understand he is asking people to generously feed animals during Ramzan so they can slaughter them later n enjoy a big feast late," tweeted LS_dweet.
"Where is this? Come how there are wild animals in unnatural environment? Isnit legal?" replied another user who goes by the screen name @afiasalam.
Sample some more reactions:
Afridi, however, also found support from a few people:
Close