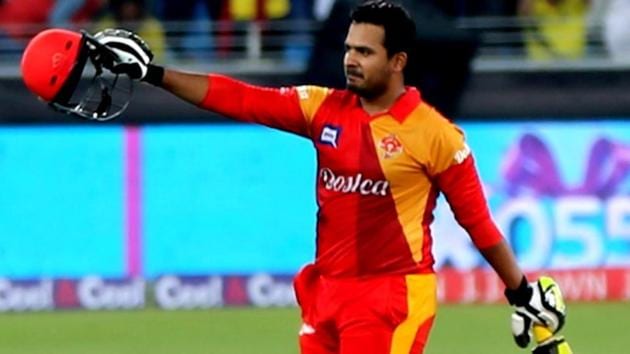 Sharjeel Khan, Khalid Latif Pakistan Super League row angers former cricketers
Former cricketers have criticised the Pakistan Cricket Board after Sharjeel Khan and Khalid Latif were provisionally suspended on charges of spot fixing in the on-going Pakistan Super League.
Mumbai | By HT Correspondent
UPDATED ON AUG 21, 2019 07:21 AM IST
Former Pakistan skipper Javed Miandad slammed the Pakistan Cricket Board (PCB) after Pakistan cricket plunged into another corruption controversy on Friday.
Sharjeel Khan and Khalid Latif were provisionally suspended on charges of spot fixing by the PCB for their involvement in the Pakistan Super League which kicked off in the United Arab Emirates.
FOLLOW | Live score - India vs Bangladesh, Hyderabad, Day 3
Sharjeel and Khalid, who represented Islamabad United in the T20 tournament, were forced to return home while the investigations are on.
Outspoken Miandad said the PCB set a bad example after fast-tracking tainted pacer Mohammed Amir back in the national fold despite pleading guilty of spot fixing on the 2010 England tour and completing his punishment term.
READ | Sharjeel Khan, Khalid Latif suspended in Pakistan Super League spot-fixing row
"Only the Board is to blame for this mess. In a population of 20 million people, the Board insisted on recalling Mohammad Aamir to the national side as if they were no other talent available in the country," Miandad was quoted as saying in the Pakistani media. "When you set such examples what do you expect from other players," he added.
Aamir was among three players, the other two being former captain Salman Butt and Muhammad Asif, who were all banned for five years in 2010 for spot-fixing while touring England.
While the Board is yet to recall Butt and Asif after they completed their five year bans in September 2015, it fast tracked the return of Aamir to the Pakistan team early last year insisting he had completed his punishment and was very young when banned for the spot-fixing scandal.
READ | Pakistan Super League 2017: Quetta Gladiators beat Lahore Qalandars by 8 runs
Miandad said it was a deliberate attempt from Sharjeel to throw away his wicket. "What I am saying is a technical thing but when I saw him getting out it was obvious to me there was something wrong. You don't get out in this fashion," Miandad said about Sharjeel getting caught in front of the stumps in the second over of the Islamabad innings.
Former Pakistan pace ace Shoaib Akhtar wasn't surprised with Pakistan cricket's latest brush with corruption. "Match-fixing allegations in PSL extremely gutting but honestly I saw it coming. If proven, it shud b non-negotiable. Guilty shud b punished," Akhtar tweeted.
"Soul of my beloved game n my country's image should not be compromised in d razzmatazz of PSL. We've already lost so much ground," Akhtar said in his second tweet.
Former Test captain Aamir Sohail and former Test opener Shoaib Muhammad also criticized the board for showing their weakness on dealing with corrupt players by allowing Aamir back into th national fold.
"It was a bad decision and it was bound to have repercussions. Once a player is involved in corruption there should be no leniency for him at all. Unfortunately in Pakistan cricket things have been swept under the carpet," Sohail, also a former chief selector, said.
READ | Pakistan Super League 2017: Eoin Morgan 80* gives Peshawar Zalmi thumping win
"Look at some of the people involved in the PSL and with the board. No names but they have been serious allegations and inquiries made about them and fixing," he said.
Shoaib Muhammad said that this controversy would badly hit the credibility of the PSL.
"The PCB for long has avoided involving our legends who know the game inside out and with a clean track record obviously this is what will happen."
(With inputs from PTI)
Close