Sourav Ganguly, VVS Laxman and Harbhajan Singh relive Eden win 17 years on
Updated on Mar 21, 2018 11:15 PM IST
At Sourav Ganguly's book launch, the former India skipper and heroes of Eden 2001, VVS Laxman and Harbhajan Singh, talk about the 'freak' Test win against Australia.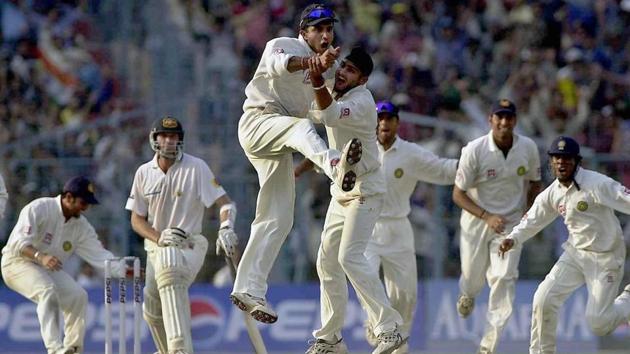 Few Tests have aged as well as the one India won at Eden Gardens 17 years ago to this March. No sooner had the audio-visual clip ended, the applause broke out. And you got the feeling it would have been a lot louder had the men not been in formals and the women in all their finery.
"It was a freak Test which we won because of some magnificent cricket and luck," said Sourav Ganguly, looking every bit the co-author of 'A Century Is Not Enough' in a blazer, dark trousers and leather shoes. Also present at the book launch here on Wednesday were two of the three gladiators of Indian cricket who made that victory possible. VVS Laxman came in a suit but standing out like he did on that final day's post-tea session was Harbhajan Singh in a white tee.
(Read | IPL 2018: Kolkata Knight Riders hopeful of Andre Russell, Chris Lynn returns)
For over one hour, the conversations flowed with even Cheteshwar Pujara sometimes looking wide-eyed as Ganguly, Harbhajan and Laxman took people back in time. "It was such an emotional experience that it left me exhausted," said Pujara, remembering the series which happened when he was 13.
With everyone in their element, the joint venture produced nearly as many anecdotes as the number of wickets that Harbhajan took in that 2001 series win against Australia.
(Read | Sponsorship revenue from cricket accounts for Rs 4700 crore in 2017)
Sample these: John Wright and Sourav were like husband and wife, said Laxman; Laxman would spend a long time in the shower before going out to bat leaving the one after him very jittery, said Ganguly; even before he went bare-chested at Lord's, Ganguly wore a towel for a shirt for all of Day 4 when Rahul Dravid and Laxman were batting, said Harbhajan and that it was actually a chit from his father that got Ganguly to think that it was time to declare on Day 5.
India finally declared at 657/7, setting Australia a target of 384 before winning by 171 runs. "And I was thinking we would bat only one hour. Maybe I would have otherwise become the first Indian to get to a triple hundred," said Laxman, who made 281 of the finest runs ever scored at Eden.
(Read | England and Wales Cricket Board to allow replacements for concussed players in domestic matches)
"After Day 4, I knew we couldn't lose, I really didn't know if we would win but Harbhajan's ability to generate bounce gave me hope," said Ganguly. So, he called the team over for a party at his place and though Dravid and Laxman were so dehydrated they had to be put on drip, they came. "When the skipper calls, you obey," said Ganguly.
Ganguly said the 2003 series in Australia which India drew 1-1 was special and that he knew then that this team could win the series in Pakistan next year. But as Harbhajan put it: "It was at the Eden that we got that self-belief." And it was helmed by a skipper Harbhajan described as 'jigre wala'.
(Read | Harbhajan Singh's track on Bhagat Singh gets praise from Sachin Tendulkar & others)
'Pujara as important as Kohli'
Sourav Ganguly said the best team usually has the best No 3, and if India are doing well now, it is because Pujara bats at that position. "He is as important as Virat Kohli but sometimes he goes unnoticed," said Ganguly.
Harbhajan Singh added: "These days, neither the batsmen nor the bowler has patience. If you are hit for a six, the field gets pushed back. Dada (Sourav) never gave me a long-on. Virat is such a great batsman, but he attacks so much that you will always fancy your chances. If India are batting to save a Test and Virat and Pujara are gone, you will be in trouble," said Harbhajan.
"The era of match-savers is gone because of the influence of T20," said VVS Laxman. Pujara conceded he was somewhat influenced by all this to try lofted shots at the nets but he would "still prefer old school cricket."
Personalise your news feed. Follow trending topics