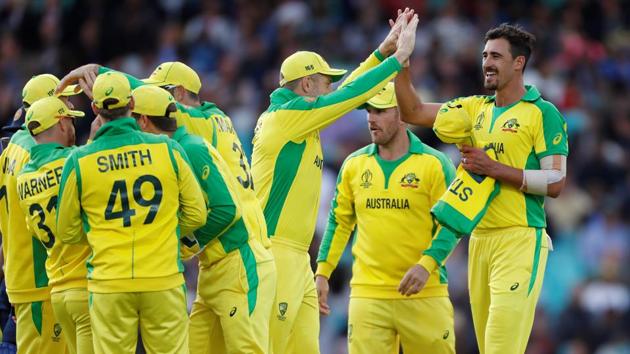 Sri Lanka vs Australia Highlights, ICC World Cup 2019: Finch, Starc fire Australia to 87-run win
Sri Lanka vs Australia As it happened: Mitchell Starc ended the innings with four wickets as Australia beat Sri Lanka by 87 runs. Kane Richardson also scalped 2 wicket as Sri Lanka were bundled out for 247. Earlier, captain Aaron Finch's 153 powered Australia to 334 for 7 after they opted to bat first against Sri Lanka at The Oval. Finch registered the highest score by and Australian skipper in World Cup. Steve Smith too played his part, scoring 73 off 59 balls. Sri Lanka did pull things back towards the end through Isuru Udana and Lasith Malinga but Glenn Maxwell's cameo (46 off 25 balls) ensured Australia post in excess of 330.
Follow Sri Lanka vs Australia highlights:
UPDATED ON JUN 15, 2019 10:40 PM IST
22:32 hrs IST
Match ends
Pat Cummins picks the last wicket of the innings and with that Australia win the match by 87 runs. Mitchell Starc picks four wickets while Kane Richardson ends with three. Earlier, Aaron Finch's century powered Australia to a humongous total which they defended well despite Dimuth Karunaratne's 97.
22:23 hrs IST
Out.. well almost!
Dhananjaya de Silva plays a paddle shot and gives away and easy catch to Jason Behrendorff at short fine leg. The fielder pointed he wasn't sure if he had taken the catch cleanly and so third umpire was called into play. Replays showed that the ball had indeed fell in front of Behrendorff.
22:15 hrs IST
Another one
As soft as it can get. Lasith Malinga chips it straight to the cover fielder. Richardson gets his third wicket of the night. Australia one step away from winning this one.
22:06 hrs IST
Richardson gets into act
OUT! Another one bites the dust. A terrific catch by Finch. Length and around off, this one bounces a touch more and it is also the slower one. Udana looks to flat-bat it but mistimes it high up in the air behind mid off. Finch runs backwards and takes a very good catch. Not easy when you have to run like that and also, the sun might have just been in his eyes. Two wickets away now Australia from winning this one.
21:57 hrs IST
Starc on a roll
Edged and taken! This is all too simple for Australia now. It's hard to believe that Sri Lanka had their noses in front even a little while ago but now it's juts a one way traffic. Starc gets his fourth of the night. Kusal Mendis goes and dare we say, with him Sri Lanka's hopes.
21:50 hrs IST
Six and out!
BOWLED! Two wickets in the over for Mitchell Starc. That's Thisara Perera for you. He started off with a first-ball six and then tried to hit another one in his third ball but does not get the elevation and Warner at mid on takes a good reflex catch.
21:47 hrs IST
Starc castles Siriwardena
Timbeeeeer! Full, quick, straight, the batsman gets late and woodwork gets disturbed, a way too familiar script for Starc and his wickets. Milinda Siriwardana had no answer to that. Sri Lanka are losing their way.
21:40 hrs IST
Mathews departs
OUT! Mathews is furious with himself as he walks back. And so he should be. Short and down the leg side. Mathews looks to pull but it kisses the glove and goes straight into the hands of Carey who takes it and appeals. The umpire has his finger up. Mathews' poor form continues. Sri Lanka slip further. 130 more needed in 85 balls.
21:34 hrs IST
Mendis smokes it
SIX! Straight back past the bowler. Kusal Mendis dismisses Starc from his presence. Full and wide outside off and Mendis shows the full face of his bat and smacks it for a straight six.
21:26 hrs IST
Karunaratne falls for 97
Oh no! What have you done Karunartne? An innocuous delivery outside off stump from Richardson, Karunaratne could've hit it anywhere in the ground but he just guides it straight into the hands of Glenn Maxwell at backward point. He departs for 97, three short of his maiden ODI ton and now Australia have a chance put pressure on Sri Lanka's middle order.
21:10 hrs IST
Nervous 90s for Karunaratne
Karunaratne has entered the nineties. he has slowed down a little but as long as he stays there Sri Lanka will fancy their chances of pulling this off
21:03 hrs IST
Good period for Australia
Only 9 runs from 3 overs, just what Australia needed. Thirimanne's wicket has pegged Sri Lanka back a little. The fact that Karunaratne has been away from the strike has not helped either.
20:50 hrs IST
Thirimanne departs
Edged and gone! Behrendorff strikes. He looked threatening in this over and Thirimanne never looked comfortable till the time he was out there, gets a faint tickle to the keeper, who makes no mistake.
20:46 hrs IST
Some problems for Thirimanne
The physio is out to have a look at Thirimanne's arm. He is in some pain but should be fine to continue. Behrendorff's short ball hit him straight in the arm and the quick call for single from his partner did not help either.
20:29 hrs IST
Karunaratne breaks the shackles
FOUR! Good shot from Karunaratne. Maxwell provides some width, Karunaratne jumps onto his backfoot and cuts it between the point and short thirdman fielder for a boundary. 9 runs coming from the over, a good one for Sri Lanka.
20:25 hrs IST
Starc on the money
Good stuff from Starc, only 1 run from the over and Australia are slowly but surely clawing their way back into the match.
20:12 hrs IST
Starc gets Perera
BOWLED! Starc does the trick for Australia, provides the breakthrough with a full and straight delivery. Slogging Starc is not always easy. The Aussie speedster keeps his line very straight and darts it in on the fuller length at 145 kph. Perera winds up for a big heave across the line but is beaten for pace. It goes right through him to light the stumps. Finally, Australia have a breakthrough and they are looking relieved.
20:08 hrs IST
Perera joins the party
A yorker on middle, Perera jams it out on the leg side and takes one. Brings up his fifty. His 13th in ODIs and it has been a wonderful knock so far. He has take the attack to the bowlers right from the word go. Still needs to continue though.
20:00 hrs IST
50 for Karunaratne
1st half- century against Australia in ODIs.
This is 4th half-century of his career.
This is his 3rd half-century in last 4 innings.
19:54 hrs IST
A waste of a review
That was more in hope than anything concrete from Australia. It didn't seem Perera had got anything there but Richardson and Carey convinced Finch to go for the review and replays show there was a big gap between the bat and ball. Australia lose their only review
19:47 hrs IST
18 runs from the 9th
6, 2, 5,1. , 4: 18 runs from Behrendorff's third over. Perera and Karunaratne can do no wrong at the moment. Some real concerns for Aaron Finch and Australia. Sri Lanka have raced away to 79 for no loss in 9 overs - this is now their highest score in Powerplay in this World Cup.
19:38 hrs IST
Fifty up for Sri Lanka
Another inside edge, another boundary and this time it brings up Sri Lanka's fifty inside 7 overs. They could not have asked for a better beginning. Yes, Karunaratne has had a bit of luck but Sri Lanka won't mind.
19:34 hrs IST
Karunaratne looking good
Back-to-back boundaries for Dimuth Karunaratne off Pat Cummins. The second one a bit streaky but as Kumar Sangakkara said in commentary, the scoreboard will not say how he got it, it will only note the boundary. Sri Lanka looking good.
19:30 hrs IST
Behrendorff begins well
It was almost a maiden but for a slight misfield at short mid-wicket. But nonetheless a very good first over by Jason Behrendorff, his first over in World Cup yields only 1 run.
19:22 hrs IST
Starc fights back
Good comeback from Starc, only 2 runs coming from his second over, and finally we get some breathing space. It has been an action-pakced chase by Sri Lanka so far.
19:18 hrs IST
Perera on the charge
Kusal Perera hits two boundaries off Pat Cummins. Cummins was guilty of pitching it short on both occasions and Perera pulls it to the boundary. What a start this is for Sri Lanka, 24 runs after 2 overs.
19:15 hrs IST
12 from the 1st over
Two boundaries from the first over, the ideal start for Sri Lanka. The fire and ice combination of Perera and Karunaratne can get Sri Lanka off to a good start.
19:10 hrs IST
The Sri Lanka chase begins
The Sri Lankan openers Dimuth Karunaratne and Kusal Perera have made their way out, it will be Mitchell Starc with the new ball for Australia.
18:41 hrs IST
Australia finish with 334/7
10 runs from the last over, not a great finish for Australia but they would be happy with 334 on the board. Glenn Maxwell remains unbeaten on 46 off 25 balls.
18:34 hrs IST
Brilliant spell from Udana
Udana finishes his spell with a lovely over. 10 overs 2 for 57 for Udana and runs have dried up for Australia at the wrong time.
18:31 hrs IST
Udana the fielder strikes
RUN OUT! Not one but two. First Carey and then pat Cummins. Udana bowls good deliveries on both occasions and then collects the ball quickly to knock the stumps down with direct hits.
18:27 hrs IST
Good over from Malinga
Brilliant from Malinga, only 7 runs coming from the 48th over. The veteran Sri Lankan finishes off with figures of 1 for 61. Australia 317 for 5 with two to play.
18:21 hrs IST
Udana gets Marsh
OUT! Unfamiliar territories for Shaun Marsh and he perishes. This could well be a blessing in disguise for Australia as Marsh just could not get away. Once again the slower one does the trick for Udana. It is on a length and around off. Once again there is spongy bounce. Marsh looks to smash it over mid-wicket but only manages to hit it high up in the air towards deep mid-wicket where Siriwardana takes it nicely. Just the 4 runs and a wicket from this over. That is outstanding at this stage.
18:12 hrs IST
22-run over
Glenn Maxwell takes apart Nuwan Pradeep. Four boundaries and a six in the over. A horrible day for the Sri Lankan fast bowler, he finishes off his 10 overs but not after conceding 88 runs.
18:04 hrs IST
Slinga Malinga
BOWLED! Somethings never get old, a Malinga toe crushing yorker is one of them. Nothing that Smith could have done to keep that out, just an excellent yorker from Malinga and it crashes onto the off-stump. Sri Lanka go bang bang, Smith departs for 73 off 59.
18:00 hrs IST
Finch falls for 153
OUT! The marathon innings of Aaron Finch comes to an end. He leaves the stadium to a standing ovation. A slower delivery from Udana, Finch clears his front leg, tries to deposit it in the stands but the lack of pace brings about his downfall. He gets a top edge and Karunaratne takes an easy catch at cover, Finch departs for 153.
Glenn Maxwell walks out to bat
17:54 hrs IST
Colossal hit from Smith
SIX! That looked like, it's going to land in Melbourne. What a strike from Smith, picks up the slower one from Malinga, positions himself and smacks it over mid-wicket, the ball lands deep into stands.
17:51 hrs IST
150 for Finch
He got to his century with six and now Finch gets to 150 with a boundary towards deep mid-wicket, he gets there off just 128 balls. Can he become the first Australian to get to score an ODI double hundred?
17:49 hrs IST
Finch nears 150
Two more fours, Finch takes apart Pradeep, four boundaries from the 41st over, the Australian batsmen are toying with the Sri Lankans.
17:45 hrs IST
Smith joins the party
Back-to-back boundaries from the bat of Steve Smith. It's boundary or nothing at the moment here. Not much wrong on Pradeep's part though, juts some excellent batting from Smith.
17:41 hrs IST
Finch accelerates
A heave over mid-wicket for a six followed by a boundary past backward point. It looks like Finch has decided to take the attack to the Sri Lankans, how much will Australia get in the last 10 overs?
17:36 hrs IST
Fifty for Steve Smith
A single to get to fifty, Steve Smith continues to have a dream-run in World Cup, this is his 8th half-century in 10 World Cup innings.
17:32 hrs IST
Cracker from Finch
FOUR! That made a cracking sound, Finch smokes it past backward point and away she goes for a boundary. Ominous signs for Sri Lanka here.
17:19 hrs IST
35 gone
The umpires have called for drinks after the end of the 35th over with Australia in full control at 195 for 2. With the likes of Maxwell and Carey still in the hut, Australia would be fancying their chances of posting a total well in excess of 320.
17:10 hrs IST
WOW Finch
What a glorious way to get to your 100, a six over long-off with the most beautiful flow of the bat you'll ever see, Aaron Finch gets to his 14th ODI century off 97 balls, superb innings from the captain.
17:06 hrs IST
No ball, free hit
What happened there? The umpire has called it a no ball and is signalling a free hit but why? Well apparently Sri Lanka did not have enough fielders inside the thirty-yard circle, that's something which you really don't expect at this level. But it didn't cost Sri Lanka much as Malinga lands a perfect yorker.
17:02 hrs IST
Lucky Finch
Almost, Finch almost drags it onto his stumps but it whizes past the off pole and thuds onto the keeper's pads, can't really call that a drop chance, just a lucky escape for Finch. Meanwhile 9 runs coming off Siriwardana's first over
16:54 hrs IST
Finch takes on de Silva
FOUR, SIX, SIX: Aaron Finch is on the charge and he has decided to target Sri Lanka's best bowler of the day Dhananjaya de Silva, 20 runs coming from it. Finch in the nineties.
16:50 hrs IST
Smith = class
Pure class from Steve Smith, a full and wide delivery from Udana, Smith lunges forward, opens the face of his bat ever so slightly to get the placement and gets it past point to collect a much-needed boundary for Australia.
16:43 hrs IST
Wristy Smith
FOUR! Brilliant wrist work from Steve Smith. It was a juicy full toss alright but he still had to put it away by placing it in the gap and Smith does it to perfection with a whip of his wrists.
16:37 hrs IST
Finch pulls it for a six
BANG! What a cracker of a pull shot from Aaron Finch. You could almost feel the tension mounting in the Australian camp after a good period of play for Sri Lanka and Finch decides enough is enough. Pradeep bangs it in short, Finch gets on top of it and deposits it deep into the stands, first boundary for Finch after 40 balls.
16:33 hrs IST
De Silva removes Khawaja
OUT! This was on the cards. Khawaja wasn't looking comfortable at all, he was struggling with his timing and wanted to break free by playing the sweep shot against de Silva but didn't get it in the middle and picked out the deep square-leg fielder. What a day de Silva's having, first Warner and now Khawaja, Sri Lanka are back in it.
16:31 hrs IST
100 for Australia
A booming slap down the ground from Aaron Finch for a single to bring up Australia's 100 in 22.4 overs. A solid start from the Aussies.
16:22 hrs IST
Khawaja looks scratchy
An outside edge for a four and then a bouncer that rattles him, hard times for Usman Khawaja but he needs to guts it out and tay with his captain, important period of play.
16:16 hrs IST
50 for Finch
Lovely innings by the captain. Started off with a bang, driving with absolute precision against the seamers. He has sprinted away to his 50 and now would want to dig in and play a big innings here. Australia need their skipper to bat deep today.
16:11 hrs IST
Warner departs
Finally, Sri Lanka have their first wicket. Dhananjaya de Silva fires one ball in, Warner wants to cut, is cramped for room and the ball smashes the stumps. It was not a very fluent innings from Warner and Sri Lanka will be happy they have broken through
15:52 hrs IST
Finch is looking very good
Hope I don't put the Moz on him, but never seen Aaron Finch's technique look better than the last two games. When Amir was hooping them down the line early, he was balanced with great access. RT Ponting magic dust?

— Ed Cowan (@eddiecowan) June 15, 2019
15:43 hrs IST
50 up
Aaron Finch is driving them with absolute ease. He is creaming the full balls today and then stays back, trusts the bounce on the surface to slash it away past point and cover for another boundary. Australia have zipped past 50, Sri Lanka are looking ragged out in the centre, they need to get things back on track pretty soon.
15:27 hrs IST
Tight bowling
Malinga and Pradeep have been tight so far, not offering any freebies. However, Finch is looking very good, he has opened a stance and this is allowing him to drive balls through mid on with ease
15:13 hrs IST
Warner watchful, Finch expressive
Three overs have rolled by. Warner is extremely watchful against the seam of Lasith Malinga while Finch is seeing and timing the ball beautifully against Pradeep. The bat is making a nice sound and the skipper is looking very positive
15:01 hrs IST
It begins
David Warner and Aaron Finch are out there and there is a cloud cover. Lasith Malinga is with the new ball. 2 balls bowled, and Warner has been beaten once already
14:37 hrs IST
Australia playing XI
Aaron Finch(c), David Warner, Steven Smith, Usman Khawaja, Shaun Marsh, Glenn Maxwell, Alex Carey(w), Pat Cummins, Mitchell Starc, Kane Richardson, Jason Behrendorff
14:37 hrs IST
Sri Lanka playing XI
Dimuth Karunaratne(c), Kusal Perera(w), Lahiru Thirimanne, Kusal Mendis, Angelo Mathews, Dhananjaya de Silva, Thisara Perera, Isuru Udana, Milinda Siriwardana, Lasith Malinga, Nuwan Pradeep
14:36 hrs IST
Finch speaks
Aaron Finch: Still haven't managed to win a toss. I would have bowled first. A bit of cloud cover. Will swing around initially and we will have to bat well to see that phase through. We haven't done too well particularly with the bat. We have done well in patches in the tournament, but it hasn't come together for us. We need to be disciplined against the new ball. Hopefully no more spin from me today. NCN is stiff and sore, and Behrendorff will be replacing him.
14:36 hrs IST
Sri Lanka win the toss
Karunaratne: We'll bowl first. It has been rainy, so the moisture will help seamers initially so we need to take advantage. Pradeep is fit to play, he's been playing really well and has recovered. Siriwardene will play instead of Lakmal. We have trained harder since it has been frustrating with all our games getting rained out. Training hard. That's all we can do.
14:30 hrs IST
Pitch report
"Fresh pitch. Looks fantastic as always. Vauxhall end - very short off-side boundaries. From the Pavilion end, the off-side is about 10m longer, and a 72m straight boundary. An outstanding batting pitch. A green tinge, so some extra bounce and pace, but it'll flatten out. Looks like another 300+ batting wicket to me."
14:02 hrs IST
Grumpy Sri Lanka
Sri Lanka manager Ashantha de Mel on Friday complained to the International Cricket Council (ICC) about the "unfair" pitches provided for the island nation's matches in the ongoing World Cup so far. He also highlighted the poor condition of training facilities and accommodation.
13:52 hrs IST
Final touches
Last minute hits... #CWC19 pic.twitter.com/xWNbBWEqT1

— cricket.com.au (@cricketcomau) June 15, 2019
13:31 hrs IST
Australia's predicted XI
Australia will look to come out with a commanding performance when they take on Sri Lanka in the ICC World Cup 2019 encounter at the Kennington Oval on Saturday.
With six points in four games, the defending champions are sitting pretty in the top section of the points table and, therefore, would aim to gain two points to get to the top of the chart.
Read about their predicted XI here.
13:17 hrs IST
Updated points table
Hosts England vindicated the number 1 ranking as well as the favourites billing by absolutely crushing the West Indies in a one-sided contest at Southampton.
Here is the updated points table.
13:16 hrs IST
Sri Lanka predicted XI
Sri Lanka have not played a match at the World Cup since June 4, forced to split points with Bangladesh and Pakistan following two washed out games.
The island nation, who won the tournament back in 1996, stands fifth with just one win -- against minnows Afghanistan in a rain-hit match -- from four games.
Read about their predicted XI here.
13:15 hrs IST
Ponting warns other sides
David Warner has overcome the challenges of reintegrating himself into the Australian team and with the explosive opener nearing his best, he could well end up as top scorer in this World Cup, feels assistant coach Ricky Ponting.
Read about it here.
13:14 hrs IST
Injury concern for Australia
All-rounder Marcus Stoinis' injury has upset the team balance, Australia coach Justin Langer said ahead of his side's World Cup group stage match against Sri Lanka at The Oval on Saturday.
Stoinis missed Wednesday's victory over Pakistan due to a side strain he suffered against India three days earlier, prompting the reigning champions to fly in Mitchell Marsh as cover.
Read more about the developement here.
13:10 hrs IST
Sri Lanka seek survival, Australia momentum
After rain breaks, washouts and defeats, Sri Lanka will finally walk on to the park. Well, and they need to believe they can still make it to the semi-finals. Yes, the route will not be easy, but World Cups are never meant to be easy. For starters, they need to stand up and be counted against Australia and then take control against England, South Africa, India and West Indies. South Africa, on the other hand, have to win three out of their remaining five fixtures and this match could be the one they look at to gather momentum in their campaign
Close