The girls are coming
Jan 30, 2023 11:23 PM IST
There were the Mithali and Jhulan years, then came Harmanpreet and Smriti, but now we have a generation that can set off a million dreams.
Dreams are made of this. A string of euphoric teenaged girls sprinting towards the pitch, punching the air, screaming, hooting and living every second of the adrenaline rush of winning an inaugural U-19 World Cup final. It will be years before they realise what they have achieved. But looking in from the outside—doffing the hat to those who bore the brunt of poor administration till women's cricket rose to heights from where they could dream of winning a World Cup, only to be denied in 2005, 2017 and 2020—this feels nothing less than a seminal moment.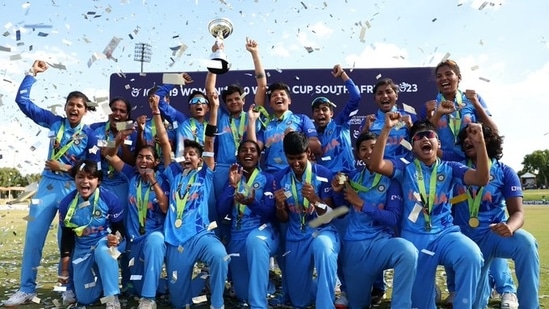 There were so many little and big things that went and could have gone wrong. Shafali Verma, who joined with 74 senior games to her name, wasn't in prolific form. The Super 6 loss to Australia could have a debilitating effect but India regrouped, won the other games till they made a mismatch of the final against a strong England side. After years of skipped heartbeats and prayers gone unanswered, reconciling with a nerveless India side at a World Cup final wasn't easy. And with it came confirmation of what we already know: The girls are coming.
The timing of it couldn't have been more perfect. Recognition has come, albeit at its own pace. The MCC opened its doors to women only at the turn of the century. In India, women made equal pay grade only this season, 17 years after the BCCI took them under their wings. Accommodation and travel are of the plushest level considering two decades back, women were travelling in trains and putting up in mid-level hotels. Change was being rung in, but the sustained push was still lacking a catalyst—an ICC trophy. Now that's it out of the way, Indian women's cricket can finally work out its own roadmap in a year it also finally gets a franchise league.
From that perspective, it's probably better that the next building phase kicks off on the back of a U-19 World Cup win. Because nothing connects to the youth like the young. For years, we had feisty characters who slogged away, legends like Diana Edulji, Shanta Rangaswamy or Purnima Rau who rarely got their due. Anjum Chopra was probably the first household name, partly because she was equally free-speaking as her forgotten seniors and more because of her Test series-winning 98 in Taunton in 2006. On the heels of Chopra joined Mithali Raj and Jhulan Goswami, followed by the age of Harmanpreet Kaur and Smriti Mandhana who were scorching turfs around the world, but never a bunch of unknowns bound together by a World Cup win.
The work behind this too needs to be mentioned. An U-19 T20 Challenger Trophy was scheduled, players were chosen and sent on a preparatory tour of South Africa well ahead of the World Cup. Verma and Richa Ghosh, both seniors, were added to lend more experience. But the overall vision was never lost. And now, in plain cricketing parlance, India finally have a proper measure of its talent with a generation that can set off a million dreams.
There is also an unmistakable sense of déjà vu stemming from the U-19 World Cup 2000, the tournament that prompted India to take age-group cricket more seriously. India won that tournament, obviously. And like Sunday's final, that too was particularly one-sided after hosts Sri Lanka were rolled over for 178 before India cantered to the target with 56 balls to spare.
From that batch hail Yuvraj Singh and Mohammed Kaif who introduced much-needed agility in India's fielding. Twenty-three years on, when you watch Archana Devi pull off a one-handed blinder to dismiss England's top-scorer, it just tells you how little we still know of women's cricket.
But that's the thing about living in the age of social media. Moments like Archana's catch will go viral but also serve as a reminder of what this team could be honed into. With TV coverage picking up, women's cricket is always in the eye of the public now. And having already been witness to the stop-start progress of women's cricket, we now have another point of origin, a happy one at that.
In its sprint to catch up with other countries, this was just the boost the game needed. There's more to come. From this batch, as Rahul Dravid had once said, will emerge three or four players for the future. In another World Cup cycle, another batch will be released into the pool.
There will be the IPL, more bilateral matches in all probability, definitely more ICC events and who knows, maybe another World Cup soon. The T20 World Cup is in February. The ODI World Cup is in 2025. The opportunities are endless. As Verma said after lifting the World Cup, "This is just the beginning".
Enjoy unlimited digital access with HT Premium
Subscribe Now to continue reading