Three is crowded schedule for Australia pacer Pat Cummins
Jul 09, 2018 07:24 PM IST
Australia's Pat Cummins has admitted that it's 'really hard' for fast bowlers to maintain their place in the national team across all three formats.
Australia fast bowler Pat Cummins is contemplating if it's still possible to play across formats in top-flight cricket.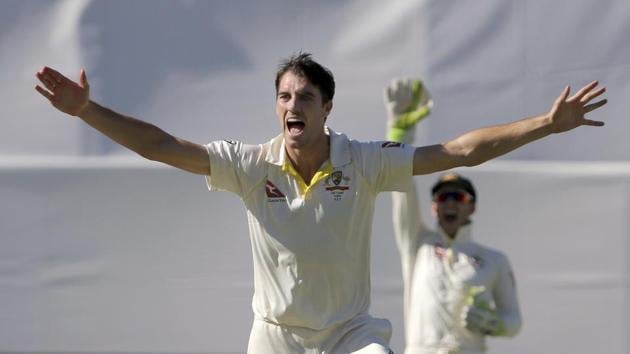 Cummins' solid show helped Australia win the last year's Ashes 4-0. However, long injury lay-offs for him, Mitchell Starc and Josh Hazlewood have resulted in tougher times for the national team in England and Zimbabwe.
ALSO READ: Glenn Maxwell says not shaking hands with Sarfraz Ahmed 'genuine oversight'
The Australian troika will most likely return for Pakistan series in the UAE later this year.
Australia are also set to play an ODI series against South Africa, India and Pakistan in the build-up to the next year's World Cup in England apart from their Test fixtures at home against India and Sri Lanka.
Cummins was quoted as saying by ESPNCricinfo, "I think it's really hard. Especially for Australian bowlers it seems like our Test matches always go for basically the full five days and the bowlers are bowling lots of overs. I think certain tours, like India last year, in some games the pace bowlers didn't bowl heaps of overs, Bangladesh the same. I feel like the Australian summer is pretty brutal, there's lots of pretty flat wickets, hard wickets and it's a lot of bowling."
ALSO READ: Australia sweat over injury to key test batsman Shaun Marsh
"It's about finding that balance, you want to play as much as you can, you also need to keep bowling, you can't just play a game and have a few weeks off. I'd love to play every single game for Australia, but realistically I think you get up for the Test matches and then make sure you're 100 per cent for the ODIs and then taking one series at a time," he said.
Cummins added, "You're making sure you're 100 per cent right to go but knowing if you're not, it's not worth it. There's so much other cricket and so many other guys that are banging down the door, you can't play unless you're 100 per cent right to go."
ALSO READ: KL Rahul attains career-best third T20 ranking, Aaron Finch retains top spot
'Hoping to make it to UAE'
Cummins hopes that he along with Hazlewood and Starc should be fit in time for the UAE tour. "We're still hoping to make the UAE," Cummins said.
"Hoff and Starcy and I are all on a pretty similar programme, we're all hoping to start bowling by the end of July and that'll give us a two or three-month lead-in to the Tests. We're all on track for that, just got to get a final scan in a few weeks and get the final sign-off that my back's alright.
"It's one of those weird injuries in that you feel fine and I'm pain-free, don't feel my back at all, but you're basically dictated by a scan because it's bone and a bit of a waiting game. You can try and rehab everything around it as much as you like, but you've just got to wait for it to be right. Still hoping to start bowling by the end of the month and be right for the UAE," he explained.