Virat Kohli lucky to have had 13 home Tests in a single season: Sourav Ganguly
Updated on Mar 31, 2017 11:04 PM IST
In a column for the ICC, Sourav Ganguly said he couldn't recall any Indian captain and its team having an opportunity to play as many as 13 Tests at home in a single season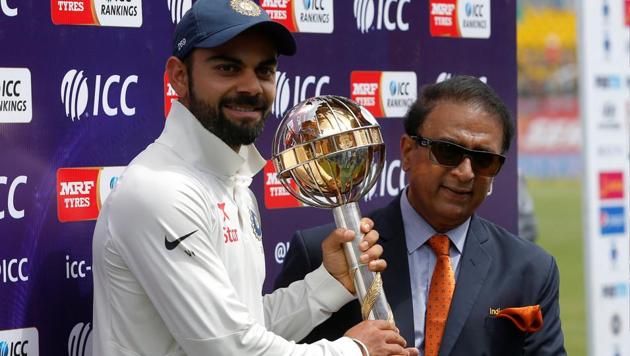 Former India skipper Sourav Ganguly believes Virat Kohli was fortunate to have a string of 13 home Tests in a season, but hails the No 1 ranked side for taking performances to a new level.
In a column for the ICC, Ganguly said: "Virat will consider himself lucky as I don't recall any Indian captain and his team having an opportunity to play as many as 13 Tests at home in a single season.
Read more | Emotion consumed Virat Kohli the batsman: Sourav Ganguly
"You still have to win a game, even at home, but we all knew India would win at least eight Tests, and they won as many as 10, missing out on a sure win in one, saving one and losing one."
Australia batted out of their skin to save the Ranchi Test while India lost the first game in Pune. The hosts had to fight for a draw in the first Test against England in Rajkot.
Raising standards
Ganguly believes the current team has set new standards.
"Having watched the last 13 home Tests, I hope Virat and his team really has the potential to win anywhere — in or outside India."
He was particularly impressed with the Dharamsala win.
Read more | IPL: Kolkata Knight Riders say they have no news of Umesh Yadav's unavailability
"I was sitting at home around lunch time on Day three when Australia began its second innings. Over the next hour or so, I watched such great fast and hostile bowling by Umesh Yadav and Bhuvneshwar Kumar. The way they got the Australians hopping and succumbing to the pace, I am so pleased for Virat.
"The most memorable win came in conditions actually tailor-made for the Australians more than the Indians. The fact that India beat the Aussies at their game will surely give another twist to Virat's captaincy.
"Umesh is so confident. He knows what he's doing and credit to Virat for making Umesh realise what he can do. When India travel to South Africa this year and to England and Australia the next Virat will need his pacers to be fit and strong. If he can get a good third fast bowler, behind Umesh and Mohammed Shami, India will be a threatening side."
Galle loss the catalyst
Ganguly believes Virat's turnaround as skipper happened following the heartbreak in Galle, at the start of his first full Test series at the helm. "I think the trigger happened sometime in August, 2015 when, from a seemingly unassailable position, India slipped and lost the Galle Test.
"For a young captain and an equally young team, it was heartbreak and I was actually worried for Virat Kohli. But I was wrong.
"Like any good leader, Virat sensed the problem, spoke to his team and what has followed since has reinforced my belief in him and his team.
Read more | I am Chris Gayle, king of T20, says Royal Challengers Bangalore's six machine
"When I was the captain, and with such a brilliant team, we all knew winning abroad would make our cricket memorable for the fans. Our overseas success was due to these three factors, and in that order only: bowling, batting, slip catching. I can see the same level of hunger in this team and this is the legacy of this home season.
"The captain is more passionate and more of a leader than anything else. He wants to win and win every day, and while it may not be possible always, I see Virat not settling for anything that isn't No 1."
Virat's courage has floored Ganguly.
"Why do I salute him the most? During the England series and in the Kolkata Test against New Zealand, I spoke at length with Virat and not once did he ask me or the curator for any alterations to the pitch. He was just willing to take on the opposition, no matter how the conditions were."
Personalise your news feed. Follow trending topics