When Yashpal Sharma hit a statement six off Bob Willis at the 1983 World Cup
An equally pivotal contribution was the all-round effort of Yashpal Sharma—who died on Tuesday after a cardiac arrest—in the semi-final against England at Old Trafford.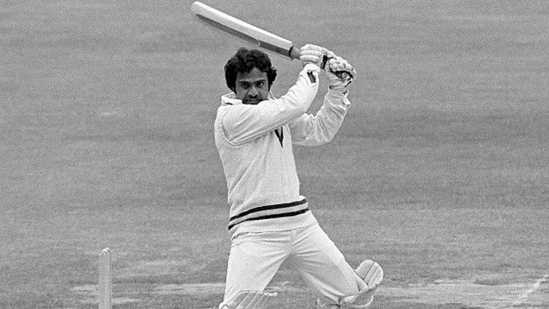 Updated on Jul 13, 2021 08:24 PM IST
It's a go-to shot in white ball cricket now, walking across the stumps and heaving the ball behind square-leg against fuller length deliveries. But we are talking 1983, when bats weren't as thick, pitches weren't as flat and the boundaries weren't as short. One-dayers still meant 60 overs per innings in white flannels with red balls where asking rates of around five per over were dreaded by batsmen. Now picture a World Cup semi-final against the home team. The chasing team needs 86 in 18 overs. Factor in the nerve of playing the first ever World Cup semi-final and it would be a nerve-wracking situation for most players even now.
ALSO READ: Yashpal Sharma, India's 1983 World Cup winning team member, passes away
Taking stance is Yashpal Sharma, known for his restraint and grit, for allowing others to push forward while he held on at the other end. But now, he needed to do something: India, against all odds, were on the cusp of their maiden World Cup final.
Facing him was England fast bowler Bob Willis. He ran in and bowled full and at Sharma's leg-stump.
WATCH VIDEO - Yashpal Sharma innings against England in 1983 World Cup semi-final
Here, Sharma did something completely unexpected, but perfectly in line with India's astonishing run in the tournament. He took his back foot across the stumps, swivelled on his left foot and swung his bat. It was a shot a rare shot for a rare moment. Perhaps even the camera people were taken by surprise, because they couldn't quite capture the trajectory of the ball as it flew over the boundary.
"That six he hit over fine-leg moving across his off-stump was nothing short of a T20 shot if you ask me," said Sharma's 1983 teammate and wicketkeeper Syed Kirmani.
ALSO READ: Yashpal Sharma, the man who started India's 1983 World Cup campaign with a bang
Not known flair, Sharma was still highly regarded for his ability to thwart any bowling attack. In that semi-final, with India losing openers Sunil Gavaskar and K Srikkanth before the team, chasing 213, had even reached 50, Sharma decided to unleash a side of his batting the world had not seen. At the other end was Mohinder Amarnath, who wanted to tread cautiously. Revisiting that innings at a film launch party in 2017, Amarnath remembers telling Sharma: "I said I'll go for it, tu aaram se khel (play calmly). He said, "Haan, haan, Jim pa."
"First over, I stepped down the track and hit a four. Yash toh Punjabi hai, sahan nahin hua (Yash is a Punjabi, how could he hold back?). Next over, he steps down and hits a four. I told him, listen to me, thoda chill kar (relax a bit), we shouldn't lose a wicket. He said, "Yes Jim pa, no problem!"
Next ball, Sharma had hoicked Willis for that six.
Mortified, Amarnath told Sharma: "Yaar, good shot, but why are you taking risks? Yash said, all agitated, 'Jim pa, you don't know! He had abused me in Madras.'"
In the end, Sharma scored a 115-ball 61. It was the highest score in the match. Though Sharma isn't the first name that comes to mind when talk turns to India's first World Cup triumph, his runs were absolutely critical in the campaign. This was the third of India's seven matches till the final where Sharma finished as the highest scorer of the game. The first came in the opening game, where India handed West Indies their first ever World Cup defeat riding on the back of Sharma's 89, and immediately sparked the beginnings of an improbable dream. The second, a 40 against Australia in a big win.
Willis ultimately got his man in the semis; but by then India were romping home.
Topics
Close Story