69 hectares of Uttarakhand forest land gutted in fire
The state forest department has estimated a loss of
₹
70,000 in the damage caused by wildfires since February 15 this year in Uttarakhand.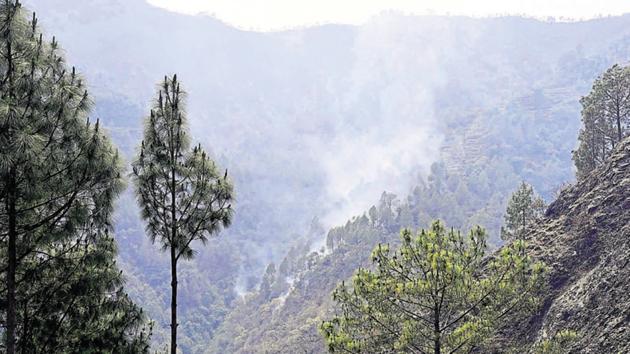 Updated on Mar 08, 2018 07:25 PM IST
Sixty-nine hectares of forest land in Uttarakhand have been gutted in the past three weeks, with as many as 81 incidents of fire being reported, according to officials of the state's forest department.
The forest fire season in the country varies from February to June, with environment ministry's previous reports estimating about 6.17% of Indian forests being subjected to severe fire damage every year.
The state forest department has estimated a loss of ₹70,000 in the damage caused by wildfires since February 15 this year in Uttarakhand, where the Kumaon region has been the worst affected despite reporting a fraction of fire incidents in comparison to the Garhwal region. More than 60% of the damage was reported from forest reserves.
The department had in February cancelled the holidays of all its staff for the next four months, that is until the fire season prevails.
"We have started witnessing fire incidents as the weather is dry and humidity is low. However, we are prepared," Jai Raj, head of forest force (HoFF), said.
According to official figures, Garhwal reported 68 incidents of fire in which over 31 hectares were gutted. In Kumaon region, 12 incidents of fire damaged 33 hectares of forest land while one incident in Kedarnath Wildlife Sanctuary damaged 5 hectares, officials said.
The HoFF said the department has set up 14,000 crew stations where forest staff will be stationed to report and also rush to the spot to provide assistance in case of any incident of fire.
The department has also decided to include the villagers and gram panchayats, and constituted teams to deal with the wildfires.
"We have consulted the villagers and have asked for their assistance in dousing the wildfires," BP Gupta, a nodal officer for forest fires, said.
Experts are of the view that dry weather conditions are likely to prevail in the state which could be damaging to the forest. "The department is prepared but it would be challenging to deal with the dry weather and low humidity on the ground," Dinesh Pandey, a Haridwar-based activist, said.
Close Story