Nearly 50% population in Doon, Haridwar consumes alcohol, finds AIIMS survey
The highest percentage of alcohol consumers were from the age group of 30 years to 49 years, with 72 per cent males and 28 per cent females struggling with the problem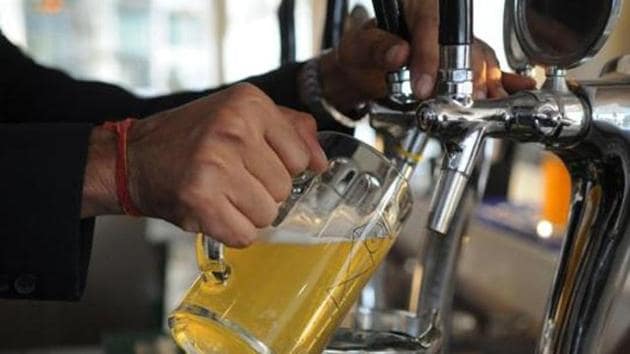 Updated on Jul 27, 2018 10:56 PM IST
Press Trust of India | By Press Trust of India
The tourist districts of Dehradun and Haridwar are in the grip of an alcohol problem, a study published by AIIMS, Rishikesh has indicated.
About 50 per cent population of these two Uttarakhand districts consume alcohol in varying degrees, it said.
The report also said alcoholism is a rising trend among women.
Sub-Dean of the All India Institutes of Medical Sciences, Rishikesh, Kumar Satish Ravi conducted the survey over a period of two years, interviewing 400 people, who were divided into four sample groups of urban, rural, rural town and slum areas.
He called the situation "alarming".
Not only were the study participants interviewed, but also their blood samples were tested to ascertain alcohol levels.
Ravi told PTI that the highest percentage of alcohol consumers were from the age group of 30 years to 49 years, with 72 per cent males and 28 per cent females struggling with the problem.
Thirty-eight per cent of married people, 28 per cent of unmarried people and 33 per cent of people who were divorced or widowed were found to be consumers of alcohol, he said.
The tipplers were categorised in accordance to the World Health Organisation guidelines -- current, daily, heavy and heavy episodic drinkers.
Ravi, who also serves as an associate professor at the anatomy department of the AIIMS, Rishikesh, attributed the alarming trend to the lack of employment opportunities, poor awareness on the ill-effects of liquor and the available de-addiction and rehabilitation centres.
"The working population of Uttarakhand is predominantly female. Men have little to do to keep themselves busy. To break this monotony, the tendency to binge drink begins, which gradually grows into a habit and finally leads to alcoholism," Ravi explained.
Lack of education and poor awareness perpetuates this habit as few have faith or knowledge on the curable therapies, he said, adding that the social stigma associated with drinking sometimes stops victims from going to rehabilitation centres.
He said the study will cover all 13 districts of Uttarakhand and soon it will be taken up in Chamoli, Uttarkashi, Pauri and Tehri districts.
The focus of the survey will now be shifted to the affects of binge drinking on drivers.
"The emphasis on driving in the study will help map out the far reaching adverse affects of drinking, especially in view of the growing number of road accidents in Uttarakhand," said.
Close Story