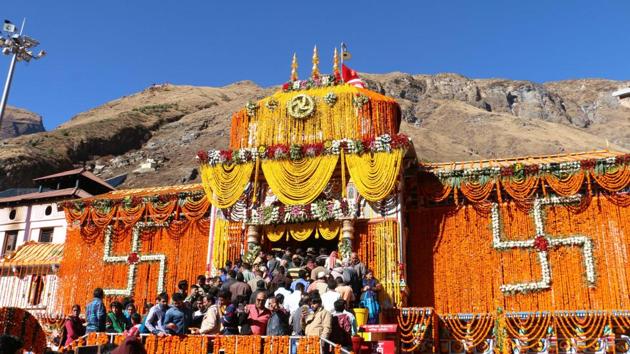 Badrinath facelift: Centre approves
₹

40-crore project

In a bid to upgrade facilities for pilgrims visiting Badrinath, the central government has approved a multi-million project under which the Himalayan shrine, part of the fabled Chardham, would be given a complete infrastructural facelift

PUBLISHED ON APR 14, 2018 10:19 PM IST
In a bid to upgrade facilities for pilgrims visiting Badrinath, the central government has approved a multi-million project under which the Himalayan shrine, part of the fabled Chardham, would be given a complete infrastructural facelift, officials revealed.
"The Centre has approved a Rs-40 crore project, under which the Badrinath shrine area would be given a complete infrastructural facelift," tourism secretary Dilip Jawalkar said. "The project aims to ensure that pilgrims face no problems while having darshan of Lord Badrinath and their stay is also hassle-free."
Tourism minister Satpal Maharaj expressed "gratitude to the Centre on behalf of the people of Uttarakhand" for approval of the project. He said the scheme would "help boost the tourist arrivals in the state besides sparing them the inconvenience they face owing to heavy rush in the Himalayan shrine" during the Chardham yatra (pilgrimage). This time the yatra begins on April 18.
"Efforts are also on to ensure maximum facilities for pilgrims visiting Kedarnath," Maharaj said.
Giving details of the project, Jawalkar said the infrastructure to be developed in Badrinath would include a changing room, a cloak room, a restaurant and a waiting hall equipped with all facilities so that visitors could access information through all mediums. "A car parking and a pathway (astha path) have also been proposed under the project, so there is enough room to accommodate the heavy rush of pilgrims during the Chardham yatra."
The Uttrakhand Tourism Development Board (UTDB) had been identified as the implementing agency for the project, said the official, who is also a nodal officer for the Badrinath project. He assured that the Badrinath Dham (shrine) "is going to emerge" as one of the preferred destinations for pilgrims in the next two years.
The project also had two "key components" aimed at checking the environmental pollution. "One of these includes waste management scheme. Besides, a network of covered drainage channels would also be built in the project area", Jawalkar clarified. A first-aid centre would also be set up along with trash bins, solar lights and benches for the pilgrims' convenience. "Under the project, a tourist facilitation centre will also be set up for pilgrims," he said.
Close